---
Following new blood pressure guidelines could prevent deaths among stroke survivors
By American Heart Association News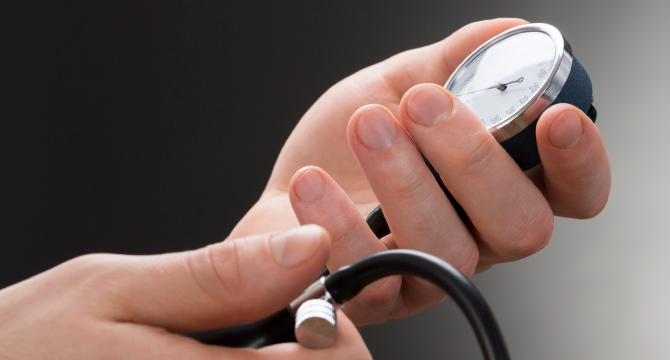 Using the latest guidelines on high blood pressure would result in nearly 950,000 more U.S. stroke survivors diagnosed with the disease and could reduce deaths among stroke survivors by nearly one-third, according to new research.
The study, published Wednesday in the Journal of the American Heart Association, comes in the wake of updated guidelines on detecting, managing, preventing and treating hypertension, or high blood pressure, a condition in which the force of blood flowing through the blood vessels is too high. Last November, the American College of Cardiology and American Heart Association issued new guidelines in more than a decade, redefining high blood pressure as 130/80 versus the previous 140/90.
Researchers wanted to see how the new guidelines might impact survivors of stroke, an interruption of blood flow to the brain that can cause paralysis, slurred speech and altered brain function. Undetected or uncontrolled high blood pressure can lead to stroke, as well as to heart attack and heart failure.
"There is a potential to curb the death toll among stroke survivors," said the study's lead author, Dr. Alain Lekoubou, a clinical neurophysiology fellow and clinical instructor at the Medical University of South Carolina in Charleston.
"Major progress has been made in the management of stroke. However, many people still die from stroke," he said, pointing to statistics that show among the estimated 800,000 strokes that continue to occur yearly in the U.S., nearly one out of four are recurrent strokes.
The study looked at data from more than 6 million people age 20 and older who took part in federal surveys between 2003 and 2014. Investigators used the data to compare the new ACC/AHA hypertension guidelines with older high blood pressure guidelines known as Joint National Guidelines Seventh Report, or JNC7.
Researchers found that compared to JNC7, the new ACC/AHA hypertension guidelines resulted in a 67 percent relative increase in U.S. stroke survivors who should be treated for high blood pressure, from 1,415,974 survivors to 2,361,075. Death rates among stroke survivors would go down by nearly a third, from 8.3 percent to 5.6 percent, if the new guidelines were applied, the study showed.
"According to the new guidelines, more stroke survivors will now have hypertension … and the proportion of stroke survivors that will be recommended blood pressure medications will be much higher," Lekoubou said. "Our results highlight the potential challenges in implementing into practice the new guidelines, but also raise hope for a continuous decline in stroke mortality."
Lekoubou said he'd like to see more in-depth studies that examine how many doctors are adhering to the new guidelines, how social media might help more people use the guidelines, and how the guidelines are impacting stroke recurrence and mortality.
Dr. Brian Silver, a neurologist at UMass Memorial Medical Center in Worcester, Massachusetts, called the study "a very impressive analysis that raises the awareness of the importance of getting blood pressure down further."
Silver, who was not involved in the research, said some doctors have been reluctant to treat stroke victims – especially older patients – who don't meet the new blood pressure threshold.
"Some [doctors] say it's very difficult to get people down to 130 or 120, that it requires a lot of medication and there's a concern we could make people hypotensive, which is when the blood pressure is too low that it might reduce oxygen to the brain, which could cause dementia," he said. "Physicians also worry about polypharmacy – patients taking too many medications."
The key, Silver said, is treating patients on a stringent case-by-case basis. He called the process "part science, part art."
"We have the scientific data, but we also have to ask how old is the patient? Are they the best candidate [for medication]? There's a fine balance in terms of trying to hit a target, but not overshooting the target," he said.
If you have questions or comments about this story, please email [email protected].
---