---
Singing the praises of nurses
By American Heart Association News
In honor of National Nurses Week, the Zac Brown Band, Ice-T and other celebrities recently recognized the work of nurses working in cardiac care, emergency care and other specialties.
Country music stars Coy Bowles, Jimmy di Martini and John Hopkins of the Zac Brown Band say thank you to nurses. Hopkins knows firsthand about the dedication of nurses: his wife is one. (Photo by Getty images.)
Singer Andra Day's hit song "Rise Up," featured on "Grey's Anatomy," could be an anthem for nurses.
Puerto Rican singer and songwriter Luis Fonsi, best known for his hit "Despacito," brought medicine and supplies to assist nurses and responders as they aided victims of Puerto Rico's hurricanes. Fonsi last year won four Latin Grammy awards, including Song of the Year.
Loren Allred got her start as a finalist on season 3 of NBC's "The Voice" and most recently was the voice behind character Jenny Lind in "The Greatest Showman." She knows that nurses are the force behind healing and hope.
"Kinky Boots" star and Tony Award winner Billy Porter, who also belted it out as Little Richard in the CBS miniseries "Shake, Rattle and Roll," thinks nurses deserve a special award.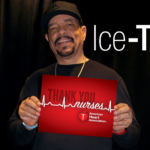 Rapper and actor Ice-T sends a message of thanks to nurses. As a detective on "Law & Order: SVU," he's constantly interacting with nurses, particularly those acting as emergency room or crisis specialists.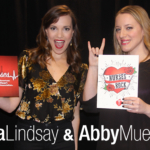 Kara Lindsey (left) and Abby Mueller (right) appeared in the Carole King biopic "Beautiful," as well as many other Broadway hits. Here, they show how beautiful they think nurses are.
Often called the granddaughter of hip-hop, LeA Robinson says "rock on!" to nurses. LeA's grandmother, founder and CEO of the hip-hop label Sugar Hill Records, died of heart failure in 2011.
Lisa Loeb's first No. 1 hit, "Stay (I Missed You)," launched her career in the 1990s. She's been going strong ever since, with children's books and ballads, building good will and hope, as do the nurses she salutes.
Miami-born singer Richard "Rico" Camacho of the Latin pop band CNCO is known for singing his heart out about love. Here, he shows his love for nurses.
R&B singer Elle Varner grew up around music and made it her life's passion. She thanks nurses, also known for following their passion.
(Photos by Marie Manning unless noted otherwise)
If you have questions or comments about this story, please email [email protected](link opens in new window).
---