---
AHA, ACC reaffirm new cardiovascular prevention guidelines, risk calculator
By American Heart Association News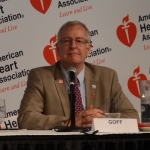 One in three Americans will die from heart disease or stroke, and fully 60 percent will have a major vascular event before they die. Recognizing this burden on public health, the American Heart Association and American College of Cardiology recently released four clinical practice prevention guidelines in the areas of lifestyle, obesity, cholesterol and risk assessment.
A concern about the performance of the risk calculator developed as part of the newly released cardiovascular prevention guidelines has attracted attention, but the calculator is just one of many tools to help physicians appropriately target risk reduction therapies to their patients, scientists with the AHA and ACC said Monday during Scientific Sessions.
The risk calculator is used to determine 10-year risk for heart attack and stroke and recommended as a tool to help clinicians evaluate people ages 40-79. It uses an updated equation developed from community-based populations and includes race, gender, age, total cholesterol, HDL cholesterol, blood pressure, use of blood pressure medication, diabetes status and smoking status.
In media reports, Harvard Medical School professors Paul Ridker, MD, and Nancy Cook, PhD, said the cohort groups used to develop the calculator may not reflect current societal health trends. On Monday, Ridker issued a follow-up statement saying he strongly supported the key messages of the new guidelines, and that his questions about the risk calculator should be relatively easy to address.
Ridker, who directs the Center for Cardiovascular Disease Prevention at Brigham and Women's Hospital in Boston, met with the AHA and ACC on Saturday evening. The AHA-ACC panel discussing the guidelines Monday said Ridker shared results of some data he used to evaluate the calculator, and he suggested the calculator may overestimate risk.
AHA and ACC experts who helped develop the guidelines spoke during a briefing Monday to provide further details and answer questions about their work, after the media reports suggested the calculator overestimates risk and the subsequent need for statins.
"This risk calculator was subjected to rigorous external validation during the development process," said David Goff, Jr., MD, PhD, FAHA, FACP, Dean of the Colorado School of Public Health, who co-chaired the committee that wrote the risk assessment guidelines.
"When we applied the tool to two newer community-based populations, MESA and REGARDS, with short-term follow-up, we saw modest overestimation of risk by the calculator," he said. "This appears to be due to the substantial initiation of statins that occurred, especially in high-risk people, after the baseline examination. With a third of Americans dying from cardiovascular disease and 60 percent suffering major vascular events, guidelines that recommend about a third of adults be considered for statin therapy seem about right."
The experts reiterated that the risk calculator – which is designed to inform discussions between healthcare providers and their patients – can help save lives by starting deeper patient-physician conversations.
The cholesterol guidelines recommend lifestyle changes and, in some cases, statins to help prevent cardiovascular diseases and stroke – the leading causes of death in the world.
"The goal is not to get more people on statins," said American Heart Association President Mariell Jessup, MD, FAHA, FACC, FESC, Medical Director of the Penn Medicine Heart and Vascular Center at the University of Pennsylvania. "The goal is to help Americans reduce their risk of cardiovascular diseases and stroke. The goal is to help people live longer, healthier lives. This means we have to treat the right people – those at the highest risk who have been shown to benefit."
Goff said the updated calculator does an excellent job of assessing and ranking risk. He pointed out that it is only one part of these very extensive, research-based guidelines documents.
"I think that the context is really important," he said. "Our risk assessment guideline doesn't tell you who to treat — it just estimates risk. That risk has to be put in the patient's specific context. It's never just a number, but is a starting point for a risk discussion."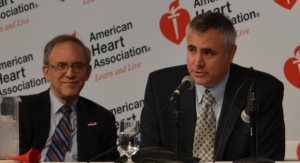 Donald Lloyd-Jones, MD, ScM, FAHA, Senior Associate Dean for Clinical and Translational Research and Chair, Department of Preventive Medicine at the Northwestern Feinberg School of Medicine, said the risk-calculator results are based on data from cohorts that are representative of the general U.S. population.
"Drs. Ridker and Cook applied our risk calculator to highly selected low-risk groups who had very low vascular disease event rates," he said. "It would be a surprise if the calculator did not overestimate risk in these low risk groups that are not representative of the U.S. population. This focus on perceived imperfections with the risk calculator is distracting attention from the important issue of reducing risk for our nation's leading killer."
Neil Stone, MD, Professor of Medicine at the Northwestern Feinberg School of Medicine and chair of the committee that wrote the cholesterol guideline, said the calculator can't pinpoint every person precisely. Some people may need statins even if their risk scores are low because of other factors, he said.
"We didn't specify that that number gives you an automatic prescription," Stone said. "Risk assessment is the start of the process, not the end." ACC Vice President Kim Williams Sr., MD, FACC, FAHA, FASNC, agreed that the bigger picture here is the fact that too many people are at high risk for developing cardiovascular disease.
"If a controversy over a calculator can get more people in the room, then that's a good thing," said Williams, the Dorothy Susan Timmis Professor and Chair of the Wayne State University Division of Cardiology. "We need to get the word out."
The AHA-ACC group said Monday it was more than willing to consider additional information in the recommendations as merited by advances in science.
Sidney Smith, MD, FAHA, FACC, Director of the Center for Cardiovascular Science and Medicine at the University of North Carolina at Chapel Hill and a former AHA President, said the guidelines have been developed over five years and accurately reflect the latest views of scientific and medical experts.
"These guidelines are the result of experts poring over hundreds of clinical research studies and then developing recommendations about what works best, equipping doctors across the country to provide the most up-to-date care," he said. "This has been an extensive period of time and we think we've come up with a good risk instrument to do that. This is not computer medicine — we're using every tool possible to try to get the best care to patients."
In addition to recommending that obesity be treated like a disease and offering the best dietary pattern and exercise for heart health, the updated guidelines also give doctors the first-ever formulas to calculate heart and stroke risk specifically for African-Americans, who face disproportionate risks for these diseases.
The guidelines are based on rigorous, comprehensive, systematic evidence reviews originally sponsored by the National Heart, Lung, and Blood Institute. The AHA and ACC worked with a number of professional organizations in the process of finalizing these guidelines, and multiple stakeholder organizations were invited to review and endorse the final documents.
---