Rise Above Heart Failure Toolkit for Health Care Professionals
Let's rise above heart failure together. Use our new tools to empower your heart failure patients.
Featured Tools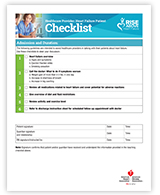 Heart Failure Patient Education Checklist
Deliver consistent and effective patient education by using our new patient education checklist. This tool can help ensure your discharge team provides patients needed information and instructions before they leave the hospital.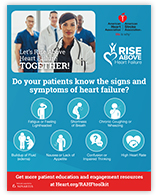 Heart Failure Signs and Symptoms Infographic
Remind your team to educate patients about the signs and symptoms of heart failure with this poster.
Additional Resources
---