Treatment Options for Atrial Fibrillation
Medical treatment guidelines are written by a panel of experts to document the science that helps health care professionals choose the right treatments. The guidelines spell out what has proven most helpful to the greatest number of people. For atrial fibrillation, also called AFib or AF, the guidelines include some basic decisions that every AFib patient should understand.
Treatments will vary depending on your diagnosis.
Treatment options may include:
This downloadable sheet, Partnering in Your Treatment (PDF), can help you discuss your goals and options with your health care professional.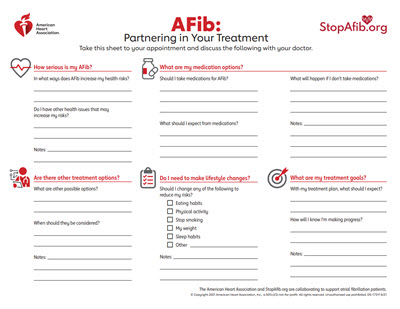 Clinical Trials
Clinical trials are scientific studies that determine if a possible new medical advance can help people and whether it has harmful side effects. Find answers to common questions about clinical trials in our Guide to Understanding Clinical Trials.
---