CPR advocate, award recipient comes full circle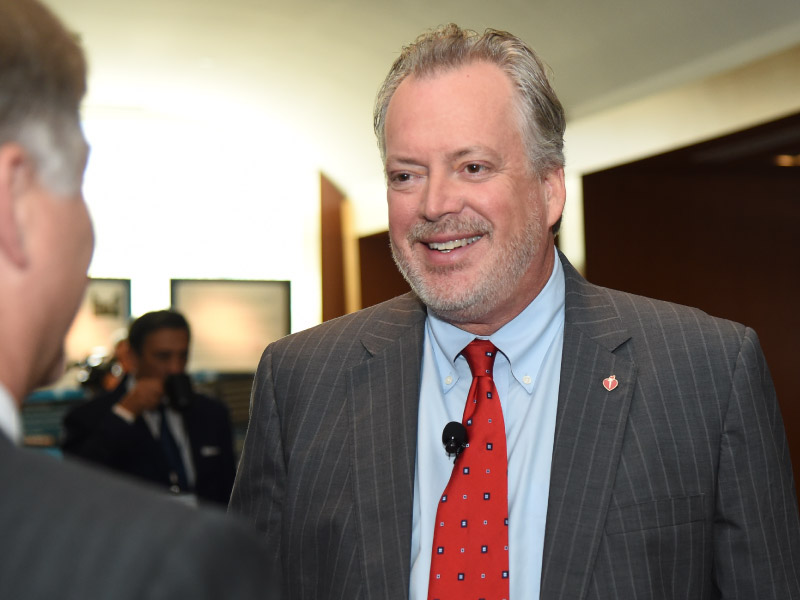 As an ambitious teenager living in Florida, John Meiners became a scuba diver, an EMT and helped lead a maritime search-and-rescue team.
He left the high seas behind as an adult to launch a career as a trailblazing fundraiser and executive at the American Heart Association. But eventually, he made a 360-degree turn back into life-and-death emergency care when he became an innovator of CPR training at the AHA.
"It surprised the heck out of me to come full circle back into emergency care," Meiners said. "But I think being a rescue diver taught me important life skills that have helped me throughout my career, like how to be resilient under stress."
Resiliency is a hallmark of the many roles Meiners has taken on during his 31 years with the AHA. He will be presented with the organization's highest employee honor — the Earl B. Beagle Award for Staff Excellence — in a virtual ceremony that will be livestreamed June 22.
Known as a big thinker with a lead-by-example mentality and a "roll up your sleeves and get the job done" perseverance, Meiners leads with his heart and his passion for saving and changing lives.
Meiners joined the AHA in 1990 in St. Petersburg as a development director in fundraising. He moved up to metro director in Tampa, where he organized the city's first Heart Walk and Heart Ball. He then came to the organization's Dallas headquarters to help the AHA board of directors consolidate 56 separately incorporated affiliates into one entity.
After serving for seven years as executive vice president for the Ohio Valley and Great Rivers Affiliates, Meiners returned to Dallas to lead emergency cardiovascular care, the area he first became passionate about as a teenager. That role grew to include global strategies and led to his current job as chief of mission-aligned businesses and health care solutions.
A big part of Meiners' job is finding new ways to train people worldwide in CPR, which dramatically improves the chances of survival after cardiac arrest.
"We've been able to grow at phenomenal levels," he said. "We now train 24 million people a year around the world and have 450,000 instructors."
But he knows there's still a lot of work to be done, particularly in the U.S., which lags behind some European countries in the percentage of people who know CPR, according to Meiners. Among his many efforts to build a "Nation of Lifesavers," Meiners campaigned tirelessly to make CPR training a high school graduation requirement. It's been enacted in 38 U.S. states and counting.
"CPR is a life skill as vital as reading, writing and arithmetic," he said. "Everyone should know how to save a life with CPR."
AHA volunteer Doug Boyle has worked closely with Meiners for eight years and said he's inspired by his vision for bringing people together locally, nationally and internationally.
"He's great at building partnerships and seeing how different parties with different skills can work together," said Boyle, co-chair of the AHA's International Committee. "John knows how to make practical, sustainable progress for our mission. He's a big part why American Heart Association stands out from other nonprofits."
Ron Haddock, a former AHA chairman of the board who has worked with Meiners for more than a decade, said his dedication and passion for the AHA and for positively impacting other people's lives is unparalleled. "His many years of having to overcome major obstacles has contributed greatly to making the AHA into the worldwide change organization that it is today," Haddock said.
Meiners said he's proud of how the AHA has persevered through the COVID-19 pandemic — in part because of its ongoing focus on digital platforms.
"In the challenging year we've had, it's amazing to see how the whole organization stepped up and found new ways to make things work," he said. "I think we're so much stronger as a result. It makes me excited for the future because in some ways, we're just getting started."
While Meiners spends most of his time forward-thinking, he also never forgets the past. In 1990, when he started with the AHA, nobody in his family had cardiovascular disease. Since then, three of his grandparents died of heart disease and several other family members now have it.
"When you're younger, you don't think about heart disease, but as you get older, it becomes the most important thing in your life," he said.
"The American Heart Association has created hundreds of lifesaving interventions, and our greatest challenge is getting them implemented. If we just do that, we can save and extend millions more lives. Implementing the science we already have is what gives me hope for the future."
---