Oregon & SW Washington
Join us to equitably increase healthy life expectancy for all Oregonians.
A Culture of Health in Oregon & SW Washington
We're working to create a world free of heart disease and stroke - a world where everyone can live your healthiest life. We know that true health is influenced by the places you live, learn, play and pray. Our work in Oregon & SW Washington includes working with local industries to improve the health of workers, increasing access to healthy food in our community, teaming up with city and state leaders to promote health policies, and providing our kids with more opportunities to be active in school.
Donate to Support our Mission
Join us to improve the health of Oregon & SW Washington
Local Events
Help fight heart disease and stroke by joining an event in Oregon and Southwest Washington!

Heart & Stroke Walk
This year's Heart & Stroke Walks are going VIRTUAL! We're meeting YOU where you are as we get active, celebrate heart and stroke survivors, and raise money for lifesaving research. Dr. John Hunter, Chair of the 2020 Heart & Stroke Walks, has more.
Supporting those with Heart Failure
Although it can be difficult living with a chronic condition like heart failure, people can continue to enjoy full lives as they address their symptoms. We are working with OHSU to provide heart failure resources – such as self-monitoring tools, ways to recognize the signs, tips on lifestyle changes, and questions to ask providers – all in an effort to help people manage the condition.
Changing the Culture of an Industry
Just like any professional athlete, industrial workers' bodies are their most valuable asset. We are working with the local construction industry to help identify and manage key health risk factors, and support the industry with tools and resources to improve health of its professional trade workers.
Promoting Healthy Hearts From the Start
A healthy diet supports a healthy heart. We're working to increase access to healthy foods and beverages to increase the health of our community. AHA is partnering with local businesses to ensure employees have healthy food options at the office. Working side-by-side with organizations in our community, the AHA is addressing food insecurity specifically in Clackamas County.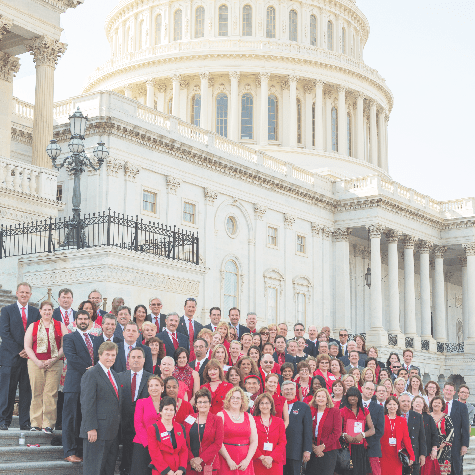 Advocating for Health Policies
We will only beat heart disease and stroke if we work together. From tobacco control and prevention to safe routes to school and healthy food access, we advocate for policies that prevent cardiovascular diseases, improve the quality of and access to care, increase research funding and protect youth from nicotine addiction.