Oregon & SW Washington
Help us ensure that everyone in Oregon has the opportunity to live a longer, healthier life.
A Culture of Health in Oregon & SW Washington
We're working to create a world free of heart disease and stroke - a world where everyone can live your healthiest life. We know that true health is influenced by the places you live, learn, play and pray. Our work in Oregon & SW Washington includes working with local industries to improve the health of workers, increasing access to healthy food in our community, teaming up with city and state leaders to promote health policies, and providing our kids with more opportunities to be active in school.
Local Events
Help fight heart disease and stroke by joining an event in Oregon and Southwest Washington!

Did you know that South Asians account for 25% of the world's population but 60% of the world's burden of heart disease?
The AHA hosted a webinar, Dil Ki Baat: Matters of the Heart, focusing on heart health in the South Asian Community. Dr. Nandita Gupta, AHA Oregon & SW Washington Board Member and OHSU Health-Hillsboro Medical Center's Director of Cardiovascular Service Line was joined by Dr. Ami Bhatt, Head of Outpatient Cardiology at Massachusetts General Hospital and AHA Board Member in Boston. They discussed heart disease challenges facing the South Asian population, and steps we can take to mitigate risks for this growing and vibrant community.
2020 Resiliency Roadmap Tour
As organizations and employees face unprecedented challenges amidst the COVID-19 pandemic, the American Heart Association and local sponsor Regence BlueCross BlueShield of Oregon continued critical conversations as part of the 2020 Resiliency Roadmap Tour.
A discussion on prioritizing the mental health of employees and building a more resilient workforce
We're only beginning to understand the long-term effects of the pandemic on physical and emotional health. In this video, FOX 12 Oregon's Stephanie Domurat and Dr. Jim Polo, Executive Medical Director, Regence BlueCross BlueShield of Oregon discuss prioritizing the mental health of employees and building a resilient workforce.
A discussion on health equities and disparities amidst the COVID-19 pandemic
The COVID-19 pandemic greatly impacted the landscape of healthcare and health equity. In this video, hear from Dr. Eduardo Sanchez, Chief Medical Officer, American Heart Association; Tonya Adams, Chief of Customer Experience and Operations, Regence BlueCross BlueShield of Oregon and member of the AHA Oregon & Southwest Washington Board of Directors; Katie Thornton, Regional Manager for Multnomah County's North and Northeast Health Centers; and Steve Lesky, Sr. Program Officer for the Cambia Health Foundation for a discussion on the state of health equity and disparities – 3 perspectives (retrospective, current and future) in the final stop of the 2020 Resiliency Roadmap tour.
Supporting those with Heart Failure
Although it can be difficult living with a chronic condition like heart failure, people can continue to enjoy full lives as they address their symptoms. We are working with OHSU to provide heart failure resources – such as self-monitoring tools, ways to recognize the signs, tips on lifestyle changes, and questions to ask providers – all in an effort to help people manage the condition.
Changing the Culture of an Industry Through Hard Hats with Heart
Just like any professional athlete, industrial workers' bodies are their most valuable asset. We are working with the local construction industry to help identify and manage key health risk factors, and support the industry with tools and resources to improve health of its professional trade workers.
Promoting Healthy Hearts From the Start
A healthy diet supports a healthy heart. We're working to increase access to healthy foods and beverages to increase the health of our community. AHA is partnering with local businesses to ensure employees have healthy food options at the office. Working side-by-side with organizations in our community, the AHA is addressing food insecurity specifically in Clackamas County.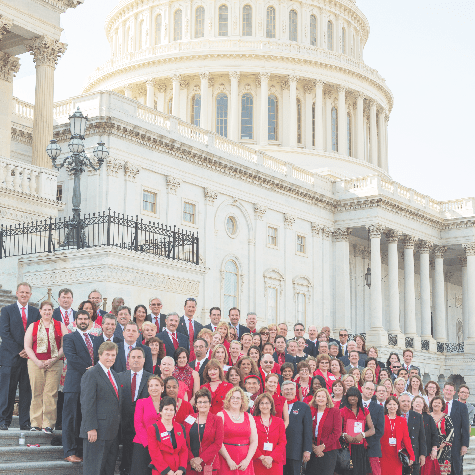 Advocating for Health Policies
We will only beat heart disease and stroke if we work together. From tobacco control and prevention to safe routes to school and healthy food access, we advocate for policies that prevent cardiovascular diseases, improve the quality of and access to care, increase research funding and protect youth from nicotine addiction.