American Heart Association, One Health Ohio collaborate to help patients control blood pressure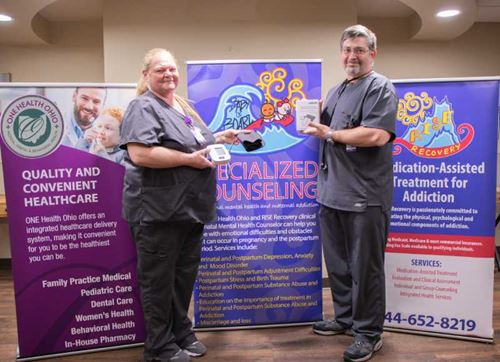 YOUNGSTOWN, OHIO (May 2, 2021) – One Health Ohio and the American Heart Association are collaborating to help improve blood pressure rates of Mahoning and Trumbull County residents. Through a new program, three One Health Ohio locations are now offering a self-measured blood pressure program and educational materials for patients and providers, along with blood pressure loaner machines that patients can borrow to monitor their blood pressure from home. The program also includes follow up with a provider to help manage and improve blood pressure over time.

"High blood pressure is known as the 'silent killer' because most of the time there are no obvious symptoms. When left untreated, the damage that high blood pressure does to your circulatory system is a significant contributing factor to heart attack, stroke and other health threats. That's why it's so important to know your numbers," said Valerie Weber, Community Impact Director for the Northeast Ohio Chapter of the American Heart Association. "In Mahoning and Trumbull counties, nearly a third of residents have already been diagnosed with high blood pressure and an estimated one in four more are unaware they even have high blood pressure."

The three One Health Ohio locations participating in the blood pressure program include: ONE Health Ohio @ Youngstown (726 Wick Ave), ONE Health Ohio @ Lloyd Mccoy (1977 Niles Rd SE, Warren) and ONE Health Ohio @ Warren West (716 Tod Avenue SW, Warren). These locations impact roughly 8,100 people annually.

"Our clinicians are excited to have these additional resources to provide to our patients," said ONE Health Ohio's Chief Medical Officer Dr. Maria D. Kowal MD, MBA. "Our patients often live in under-resourced communities with multiple social determinants of health. This means the conditions in the environments where they live, learn, work, and play affect their risk for heart disease and stroke. This program gives us another tool to help take down barriers to care that may stand in our patients' way in achieving their optimal health." The program helps to transform the health in our community through access to vital equipment and resources allowing for a more accurate picture of blood pressure over time and better health outcomes around blood pressure control.
###
About the American Heart Association
The American Heart Association is a relentless force for a world of longer, healthier lives. We are dedicated to ensuring equitable health in all communities. Through collaboration with numerous organizations, and powered by millions of volunteers, we fund innovative research, advocate for the public's health and share lifesaving resources. The Dallas-based organization has been a leading source of health information for nearly a century. Connect with us on heart.org, Facebook, Twitter or by calling 1-800-AHA-USA1.
For Media inquiries:
Jessica Smylie, Communications Director
[email protected], 717-891-8122