American Heart Association
Cleveland
Help us ensure everyone in Cleveland has the opportunity to live longer, healthier lives.
Healthy for Good
Living healthy and free of disease makes a critical difference in quality of life. That's why we're working to raise awareness about the vital effect lifestyle has on health and helping communities form healthy habits.
Be Safe. Be Well. Cleveland
No matter the season, ensuring you and your family are safe and healthy is essential. When you know you have the resources and information to help create safe and healthy environments, you have more time to focus your attention on making memories and having fun.
American Heart Association Celebrity Ambassador Susan Lucci with Go Red for Women Real Women Ambassadors
The American Heart Association's signature women's initiative, Go Red for Women, is a comprehensive platform designed to increase women's heart health awareness and serve as a catalyst for change to improve the lives of women globally.
Local Events
Join the fight to end heart disease and stroke by attending a Cleveland event!
There are no upcoming events in your area at this time.
CPR & First Aid Training
Emergencies leave us feeling helpless, but they don't have to. Take two minutes to learn Hands-Only CPR™ now. 70 percent of out-of-hospital cardiac arrests happen in homes. When a person has a cardiac arrest, immediate CPR can double or triple their chance of survival. Prepare to save a life, find a CPR course near you today.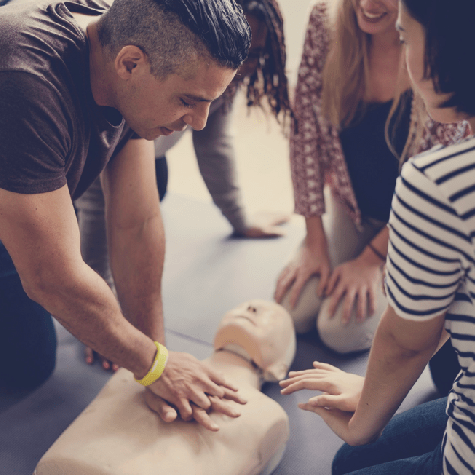 Lorraine Dodero STEM Goes Red For Girls Scholarship
STEM Goes Red for Girls Scholarship Award

Applications being accepting now through January 30, 2021.

For this second annual opportunity, the Scholarship will award five more (5) scholarships of $5,000 each to qualifying student applicants.
Shave and a BP Reading, Two Bits!
In Cleveland, a nontraditional yet effective approach is underway: taking on high blood pressure in barbershops.
Blood pressure readings and information about the condition are now available at six barbershops that serve mostly African American clients.
The effort is part of the Barbers, Beauties and Blood Pressure program supported by the American Heart Association and Cleveland State University's Partnership for Urban Health program.
Initiative improves kids' drink options when eating out
For many Cleveland kids, it's a struggle to find healthy food and drink options. Fast food, processed snacks and sugary drinks — with the potential to increase risks for obesity, diabetes and other major health problems — are seemingly everywhere.

Restaurant kids' meals, which often include sugary drinks, are rarely any better. All told, the average Cleveland kid consumes enough sugar to fill a 30-gallon bathtub!
The American Heart Association is trying to change this picture. The organization convened a coalition of local advocates, health care providers and community groups to better serve kids.
With funding from Voices for Healthy Kids, the Cleveland Healthy Kids' Meals Campaign was rolled out in 2019. The goal was to persuade City Council to pass a measure ensuring drink options in restaurant kids' meals are healthy, offering water, low-fat milk and 100% juice.
After a significant delay due to the COVID-19 pandemic, the measure passed unanimously in July 2020. Lawmakers say the policy is a common sense measure, and a tangible way to address health disparities among Cleveland kids.
The AHA brought nearly 40 organizations in to support the policy and worked to identify champions among City Council members. The group also found common ground with restaurant and beverage industry representatives.
Cleveland
1375 E. 9th Street, Ste. 600
Cleveland, OH 44114
Phone: (216) 791-7500