American Heart Association
Cleveland
Help us ensure everyone in Cleveland has the opportunity to live longer, healthier lives.
Healthy for Good
Living healthy and free of disease makes a critical difference in quality of life. That's why we're working to raise awareness about the vital effect lifestyle has on health and helping communities form healthy habits.
Be Safe. Be Well. Cleveland
No matter the season, ensuring you and your family are safe and healthy is essential. When you know you have the resources and information to help create safe and healthy environments, you have more time to focus your attention on making memories and having fun.
Local Events
Join the fight to end heart disease and stroke by attending a Cleveland event!
There are no upcoming events in your area at this time.
Heart Walk
Stream the Cleveland Heart Walk Audio Journey. This fun experience, emceed by 3 News' Lindsay Buckingham, is filled with music, heart and brain health and wellness tips, and the inspiring story of a young heart attack survivor that will remind you why the steps you took as part of the Cleveland Heart Walk were vital to the American Heart Association's lifesaving mission.
This Audio Experience is brought to you by Adcom.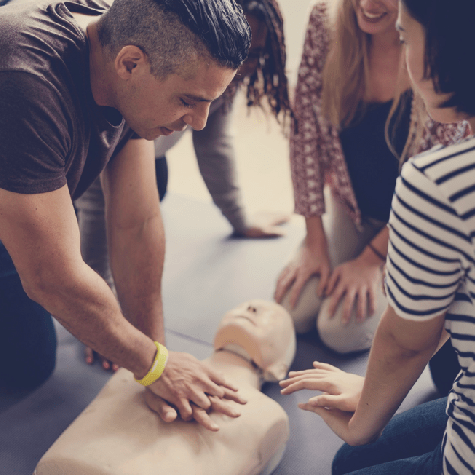 CPR & First Aid Training
Emergencies leave us feeling helpless, but they don't have to. Take two minutes to learn Hands-Only CPR™ now. 70 percent of out-of-hospital cardiac arrests happen in homes. When a person has a cardiac arrest, immediate CPR can double or triple their chance of survival. Prepare to save a life, find a CPR course near you today.

Lorraine Dodero STEM Goes Red For Girls Scholarship
STEM Goes Red for Girls Scholarship Award

Applications being accepting now through January 30, 2021.

For this second annual opportunity, the Scholarship will award five more (5) scholarships of $5,000 each to qualifying student applicants.
Shave and a BP Reading, Two Bits!
In Cleveland, a nontraditional yet effective approach is underway: taking on high blood pressure in barbershops.
Blood pressure readings and information about the condition are now available at six barbershops that serve mostly African American clients.
The effort is part of the Barbers, Beauties and Blood Pressure program supported by the American Heart Association and Cleveland State University's Partnership for Urban Health program.
Changing Policy
Our legislative and regulatory priorities help to mitigate risk factors and protect survivors in communities across the country. We advocate for federal, state and local policies that help Americans build healthier lives free of cardiovascular disease and stroke.
Cleveland
1375 E. 9th Street, Ste. 600
Cleveland, OH 44114
Phone: (216) 791-7500