American Heart Association
Cleveland
Help us ensure everyone in Cleveland has the opportunity to live longer, healthier lives.
Healthy for Good
Living healthy and free of disease makes a critical difference in quality of life. That's why we're working to raise awareness about the vital effect lifestyle has on health and helping communities form healthy habits.
Be Safe. Be Well. Cleveland
No matter the season, ensuring you and your family are safe and healthy is essential. When you know you have the resources and information to help create safe and healthy environments, you have more time to focus your attention on making memories and having fun.
Heart Walk
Stream the Cleveland Heart Walk Audio Journey while you walk where you are! This fun experience, emceed by 3 News' Lindsay Buckingham, is filled with music, heart and brain health and wellness tips, and the inspiring story of a young heart attack survivor that will remind you why the steps you're taking are vital to the American Heart Association's lifesaving mission.
This Audio Experience is brought to you by Adcom.


Watch Me Step Up!
Cleveland Philanthropist Lorraine Dodero Encourages You to Step Up and Give with $30,000 Challenge Grant for Go Red for Women Movement


One of our most inspirational leaders, Lorraine Dodero of the Sam J. Frankino Foundation and the Corinne L. Dodero Foundation (pictured left with her daughter, Corinne Dodero-Salvador), is chairing this year's Go Red for Women movement campaign and has generously committed a $30,000 gift to the AHA mission to inspire you to give to the cause.

During the months of September and October, every dollar raised up to $30,000 will be matched by Lorraine, doubling the overall impact of your donation!
Local Events
Join the fight to end heart disease and stroke by attending a Cleveland event!
There are no upcoming events in your area at this time. Please participate in a Virtual Heart Walk.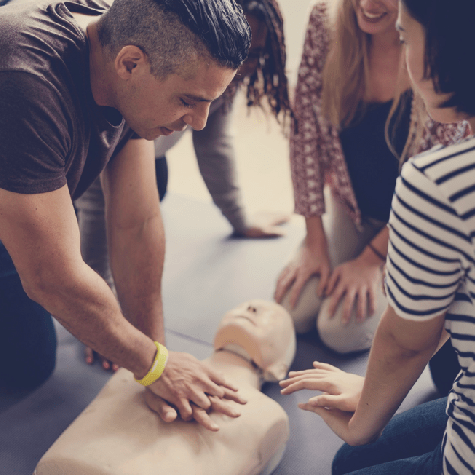 CPR &First Aid Training
Emergencies leave us feeling helpless, but they don't have to. Take two minutes to learn Hands-Only CPR™ now. 70 percent of out-of-hospital cardiac arrests happen in homes. When a person has a cardiac arrest, immediate CPR can double or triple their chance of survival. Prepare to save a life, find a CPR course near you today.

Focus on Quality
When medical professionals apply the most up-to-date evidence-based treatment guidelines, patient outcomes improve. That's the simple truth behind the drive for continuous quality improvement. Our comprehensive suite of programs can help you advance farther and faster in the quest for ever-better care.
Changing Policy
Our legislative and regulatory priorities help to mitigate risk factors and protect survivors in communities across the country. We advocate for federal, state and local policies that help Americans build healthier lives free of cardiovascular disease and stroke.
Cleveland
1375 E. 9th Street, Ste. 600
Cleveland, OH 44114
Phone: (216) 791-7500