Our goal is to provide real solutions to food system problems to increase access and affordability of healthy foods and improve community health. In an effort to better understand the needs of the neighborhoods we serve, the American Heart Association Los Angeles Division commissioned a poll in East LA, where we're collaborating with community groups to address food insecurity. What we found in East LA is that more than half of residents have difficulty getting healthy food, with 62 percent citing cost as a major barrier.
A Tu Salud
To help address the challenges that many people in the community face when it comes to access and affordability of healthy food, our new A Tu Salud Produce Pick Up, in collaboration with Keck Medicine of USC(link opens in new window) and Food Forward(link opens in new window), makes fruits and vegetables available for East LA residents to take home, at no cost. The event is hosted on the last Wednesday of every month.
For schedule, location and time, visit our event page or Facebook(link opens in new window).
Teaching Gardens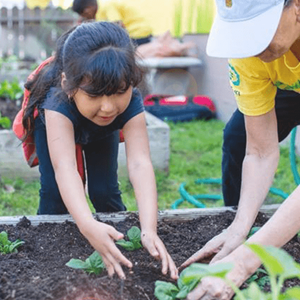 For 10 years, the American Heart Association's Teaching Gardens have been teaching kids about growing food and eating healthy. It serves as a real-life laboratory where kids learn to plant seeds, nurture growing plants, harvest produce and ultimately learn the value of good eating habits. There are more than 400 Teaching Gardens nationwide, including 60 in South and East Los Angeles, where the program has reached more than 50,000 students and parents.
Farmers Markets
Farmers Markets were introduced as an extension of Teaching Gardens. The schools that participate in the program offer free produce from the school garden to its immediate community, inspiring students to be part of the solution to challenges around healthy food access and affordability.
Healthy Corner Stores
We're investing in local small markets to improve the business infrastructure and capacity to offer affordable healthy food options.
---