Our goal is to provide real solutions to food system problems to increase access and affordability of healthy foods and improve community health. In an effort to better understand the needs of the neighborhoods we serve, the American Heart Association Los Angeles Division commissioned a poll in East LA, where we're collaborating with community groups to address food insecurity. What we found in East LA is that more than half of residents have difficulty getting healthy food, with 62 percent citing cost as a major barrier.
A Tu Salud
Imagine not knowing where your next meal is coming from. For about 2 million people in Los Angeles County, this is a day-to-day reality. LA is home to the largest population of food insecure people in the nation, with more children living without access to adequate food than anywhere else in the country. Affordability is a main driver that prevents many in our community from consuming fresh fruits and vegetables.

A Tu Salud! Produce Markets was established with the goal of making healthy food more accessible to all by connecting fresh fruits and vegetables to communities that need it most, at no cost.

The model of rescuing surplus food and connecting it with people in need was conceived by Food Forward, with whom we have been working over the past year to expand the reach of A Tu Salud. To date, we have collaborated with five organizations that have signed up as a distribution outlet, collectively serving more than 500 people monthly. They are the Boys and Girls Club Ramona Gardens, Hazard Park, Clinica Romero, Harbor UCLA Medical Center and Good Shepherd Center.

Lack of access to healthy food contributes to many health issues, including high blood pressure, high cholesterol, diabetes and obesity, which put people at greater risk of heart disease and stroke, LA's leading causes of death. As an organization dedicated to building longer, healthier lives, free of heart disease and stroke, we are committed to helping address health barriers, including food insecurity.
Our goal is to sustain and expand A Tu Salud! Produce Markets to reach more of the 2 million people in LA County living with food insecurity. We are looking for supporters who can help us with transportation, staffing resources, health education and supplies crucial to A Tu Salud! operations. To help, contact Ana-Alicia Carr, Community Impact Director.
Teaching Gardens
For more than 10 years, the American Heart Association's Teaching Gardens have been teaching kids about growing food and eating healthy. It serves as a real-life laboratory where kids learn to plant seeds, nurture growing plants, harvest produce and ultimately learn the value of good eating habits. There are more than 400 Teaching Gardens nationwide, including 60 in South and East Los Angeles, where the program has reached more than 50,000 students and parents.
To expand Teaching Gardens, the American Heart Association collaborated with Kelly Meyer, founder of OneSun, and Gail Becker, CEO of CAULIPOWER, to launch a nationwide grant program to support the Teaching Gardens Network, which provide access to free garden resources and curriculum, helping school gardens become Teaching Gardens®.

According to the American Heart Association's 2019 Statistical Update, most children don't eat enough fruits and vegetables. On any given day, 27 percent of 2- and 3-year-olds do not eat a vegetable and among those who do, fried potatoes are the most common. The problem isn't just among toddlers. Data shows kids eat less and less of these important foods up to age 19.

Lifelong habits are created during childhood and the American Heart Association wants to help children learn and adopt healthy behaviors early. School gardens pair a hands-on experience with an interactive nutrition curriculum to help students make healthy food choices.
Farmers Markets
Farmers Markets were introduced as an extension of Teaching Gardens. The schools that participate in the program offer free produce from the school garden to its immediate community, inspiring students to be part of the solution to challenges around healthy food access and affordability.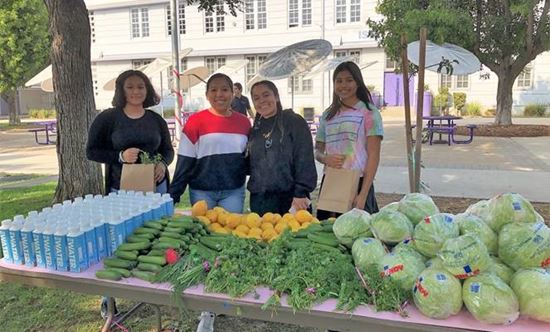 Healthy Corner Stores
We're investing in local small markets to improve the business infrastructure and capacity to offer affordable healthy food options.
---