American Heart Association
Chicago
Help us ensure everyone in Chicago has the opportunity to live longer, healthier lives.
Healthy for Good
Living healthy and free of disease makes a critical difference in quality of life. That's why we're working to raise awareness about the vital effect lifestyle has on health and helping communities form healthy habits.
Chicago's Health Gap
When it comes to heart disease and stroke, your zip code can be as important as your genetic code.
Life expectancy in Chicago's neighborhoods varies by as much as 16 years. Here's a look at why.
Local Events
Join the fight to end heart disease and stroke by attending a Chicago event!
There are no upcoming events in your area at this time.
CPR & First Aid Training
Emergencies leave us feeling helpless, but they don't have to. Take two minutes to learn Hands-Only CPR™ now. 70 percent of out-of-hospital cardiac arrests happen in homes. When a person has a cardiac arrest, immediate CPR can double or triple their chance of survival. Prepare to save a life, find a CPR course near you today.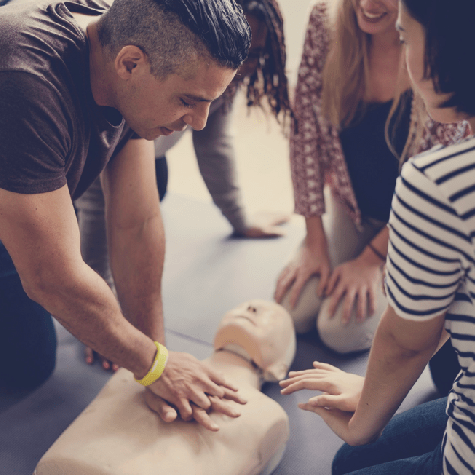 Chicago Go Red Goes STEM
This year Chicago hosted its 5th annual Go Red Goes STEM event. Women are drastically underrepresented in science, technology, engineering and math, and that means there's a wealth of talent out there that we're not harnessing. We created this day, Go Red Goes STEM, as a way solve these problems by fostering new talent and helping to marry hearth health education and STEM career opportunities. This day-long event includes hands-on breakout sessions to expose female high school students to the four areas of STEM, a speed mentoring session with up to 100 local mentors and keynote speakers from various institutions. The 2020 event was emceed by lead ABC7 Chicago meteorologist, Cheryl Scott.

Changing Policy
Our legislative and regulatory priorities help to mitigate risk factors and protect survivors in communities across the country. We advocate for federal, state and local policies that help Americans build healthier lives free of cardiovascular disease and stroke.
Contact Us
300 South Riverside Plaza, Suite 1200
Chicago, Illinois 60606
Phone: 312-346-4675
Fax: 312-346-8236