Join Us for the ASCVD Patient Journey
ASCVD Perspectives Podcast
Atherosclerotic cardiovascular disease, otherwise known as ASCVD, is caused by plaque buildup in arterial walls and refers to conditions that include: Coronary Heart Disease (CHD), such as myocardial infarction, angina, and coronary artery stenosis. Cerebrovascular disease, such as a transient ischemic attack, ischemic stroke, and carotid artery stenosis. Peripheral artery disease, such as claudication. Aortic atherosclerotic disease, such as abdominal aortic aneurysm and descending thoracic aneurysm. Through a collaboration with Novartis, the American Heart Association has created a four-part podcast series called ASCVD Perspectives that portrays a typical patient's journey through their various care settings after a recent cardiac event and being diagnosed with clinical ASCVD. This series serves as a guide for helping to educate patients on shared decision-making practices for their care. It provides examples of questions they can incorporate into their personal experience. It also assists clinicians in understanding different ways they can empower their patients to become advocates and active leaders in their disease management.
Episode 1: The Patient-Provider Relationship in the Office
Our patient Rob, who has been diagnosed with ASCVD, pays a visit to Dr. Salazar to learn more about the patient health care journey he is about to embark upon.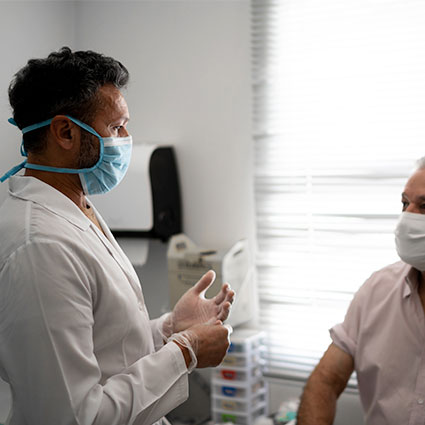 Episode 2:

Managing and Understanding Your LDL-C (Cholesterol)
Carolyn Dickens, a nurse practitioner that works in cardiology, speaks with Ms. Sharma who recently had a heart attack and is seeking help with making healthier choices as she learns to live with the impact of ASCVD.
Learn About Healthier Choices
Episode 3: What It Means to Have ASCVD
Dr. Kevin Hwang meets with a patient, Levi, who was recently discharged from the hospital after going to the E.R. with chest pain. In the E.R., they did some EKGs and blood work and diagnosed him with a heart attack. Also, they did a cardiac catheterization, where they found blockages in his arteries, ultimately putting a stent in one of them. Finally, they did a stress test.
Discover More About Life After The E.R.
Episode 4: Tackling the Problem Through Lifestyle Modifications
Julia Zumpano, a Registered Dietician meets with Kattia to discuss her ASCVD and the effects that her diet and exercise can improve and further prevent future events.
Making Changes To Your Life When You Have ASCVD
Novartis Pharmaceuticals Corporation is a proud sponsor of the American Heart Association's ASCVD Perspectives podcast series