---
Stroke symptoms require emergency treatment even if they quickly disappear, new report says
By American Heart Association News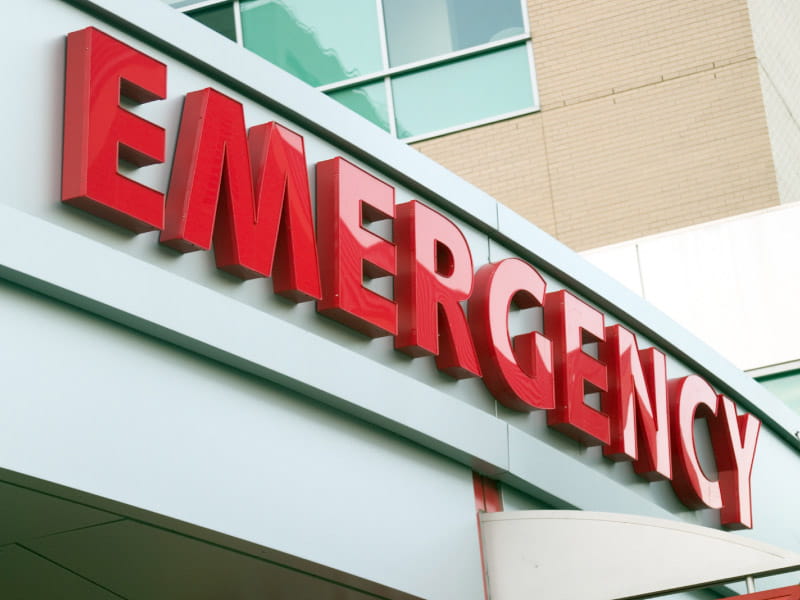 Stroke symptoms that vanish in less than an hour still require emergency medical assessments to prevent a full-blown stroke, according to a new science report from the American Heart Association.
The scientific statement, published Thursday in the AHA journal Stroke, offers guidance for evaluating suspected "warning strokes" – called transient ischemic attacks, or TIAs – especially in rural hospitals where advanced imaging equipment or on-site neurologists might not be available.
"Confidently diagnosing a TIA is difficult since most patients are back to normal function by the time they arrive to the emergency room," Dr. Hardik P. Amin said in a news release. Amin is chair of the report's writing committee and associate professor of neurology and medical stroke director at Yale New Haven Hospital, St. Raphael Campus in Connecticut.
"There also is variability across the country in the workup that TIA patients may receive," Amin said. "This may be due to geographic factors, limited resources at health care centers or varying levels of comfort and experience among medical professionals."
A TIA occurs when blood flow to the brain is temporarily blocked. At least 240,000 people in the U.S. have TIAs each year, though the number could be higher since symptoms can quickly disappear and not everyone gets evaluated. A TIA does not cause permanent damage. However, up to 18% of people who experience a TIA will have a larger stroke within three months – and half of those strokes will occur within two days.
TIA symptoms are the same as stroke symptoms, but they happen suddenly and fade quickly, typically in under an hour. Symptoms may include facial drooping, weakness or numbness on one side of the body, slurred speech or difficulty finding the right words, dizziness, vision loss or trouble walking.
The new AHA statement offers guidance on how to distinguish between a TIA and a "TIA mimic," conditions that produce similar symptoms but are due to other medical conditions, such as low blood sugar, a seizure or migraine. In a TIA mimic, symptoms can spread to other parts of the body or build in intensity rather than dissipate.
Bloodwork should be done in the emergency room to rule out other conditions that can produce TIA symptoms, such as infections, and to check for cardiovascular risk factors such as diabetes and high cholesterol, according to the statement. People with cardiovascular risk factors are at higher risk for TIAs, as are those with obstructive sleep apnea, peripheral artery disease, atrial fibrillation, coronary artery disease and a history of stroke.
After assessing a person's symptoms and medical history, ER staff should do imaging tests of the blood vessels in the head and neck, starting with a non-contrast head CT to rule out intracerebral hemorrhage and TIA mimics, the statement advises. A CT angiography, which looks for signs of narrowing in the arteries leading to the brain, also may be done. Nearly half of people who have TIA symptoms will show signs of narrowing in these arteries.
Brain injury – a sign that a full-blown stroke occurred – can be ruled out using magnetic resonance imaging, or MRI, which should ideally be done within 24 hours of symptoms appearing. About 40% of people who go to an ER with TIA symptoms are diagnosed as having a stroke based on an MRI. But some hospitals may not have access to MRI scanners in their emergency departments and will have to admit the patient or send them to another facility.
After a TIA is diagnosed, the patient should be given a cardiac workup to identify heart-related factors. This should ideally be done in the emergency department but can be done during a follow-up visit with a specialist, preferably within a week of the TIA, according to the statement. The workup should include an electrocardiogram to assess heart rhythms and screen for atrial fibrillation, which is found in 7% of people who have TIAs or strokes.
The patient should also be seen by a neurologist within 48 hours but no later than a week following the TIA. About 43% of people who have blood clot-related strokes had a TIA in the week prior.
"Someone with a TIA who goes to an emergency room with limited resources may not get the same evaluation that they would at a certified stroke center," Amin said. "This statement was written with those emergency room physicians or internists in mind – professionals in resource-limited areas who may not have immediate access to a vascular neurologist and must make challenging evaluation and treatment decisions."
Following a TIA, a patient's future stroke risk should be assessed using a tool called the ABCD2 score, which is based on factors such as age, blood pressure, duration of symptoms and whether the person has diabetes.
The statement also encourages collaboration between ER professionals, neurologists and primary care professionals to make sure the patient receives a comprehensive evaluation and to develop a plan to prevent future strokes.
"Incorporating these steps for people with suspected TIA may help identify which patients would benefit from hospital admission, versus those who might be safely discharged from the emergency room with close follow-up," Amin said. "This guidance empowers physicians at both rural and urban academic settings with information to help reduce the risk of future stroke."
If you have questions or comments about this American Heart Association News story, please email [email protected].
---