---
AHA president: The connection between economic adversity and cardiovascular health
By Jaime Aron, American Heart Association News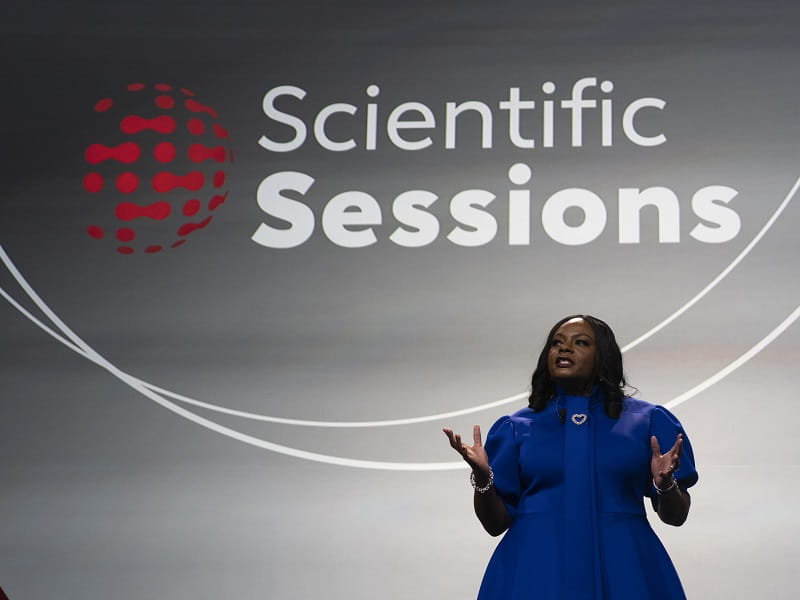 CHICAGO – Economic adversity affects people in far more ways than making ends meet. It can also be detrimental to their health, Dr. Michelle Albert said Sunday during her Presidential Address at the American Heart Association's Scientific Sessions conference.
Sessions is the AHA's flagship science event, and Albert – the first woman of color and Black woman to serve as the president of the organization – focused her speech on the subject that's been one focus of her distinguished career.
"Many jarring statistics illuminate a marked wealth gap by race and ethnicity," she said. "You might be thinking education could help bridge that gap. But it is not that simple. While education does increase wealth, the returns are not the same for everyone. Black persons need a post-graduate degree just to attain similar wealth as white individuals with a high school degree."
Albert is the Walter A. Haas endowed chair of cardiology and a professor of medicine at the University of California, San Francisco. She also serves as the admissions dean for the UCSF medical school and is the founding director of the Center for the Study of Adversity and Cardiovascular Disease, better known as the NURTURE Center.
In her speech, Albert examined how adversity translates into clinical medicine, the biology of adversity and, most of all, how economic adversity underpins it all.
To answer the question of how adversity translates into clinical medicine, she introduced an equation she's developed that conceptualizes the answer.
The formula starts with cardiovascular or other clinical outcomes combined with well-being on the left side of the equation. On the right side, adversity is added to resilience, then divided by wealth, with that added to traditional risk factors.
"In this context," Albert said, "wealth can be finances, social capital or support, or even joy. Wealth is the currency that can help counter the experience of adversity. This formula provides a way to understand these interconnections. Wealth, therefore, is a crucial fulcrum."
Albert also delved into the "discrimination iceberg," which shows the connection between racial and ethnic discrimination and cardiovascular disease. Problems manifest in biomarkers ranging from high blood pressure and more calcium in the heart's arteries to cognitive impairment and shorter life span.
"About one-third of discrimination is readily observable or overt, like hate crimes," she said. "But two-thirds are like the dangerous majority of an iceberg – they are covert, hidden below the surface. They include structural racism and implicit biases."
The biology of adversity is perhaps seen in the transmission of the effects of psychosocial stressors from a pregnant individual to their child through epigenetic mechanisms.
"Adverse maternal experiences such as depression, economic issues and low social status can lead to poor cognitive outcomes as well as cardiovascular disease," Albert said.
So, what can be done to solve these problems? Albert spent most of her speech offering solutions, all bound by the theme, "We need not let people die from the effects of economic adversity."
"One of the main messages I hope you can take from this speech is that this powerful shift is possible," she said. "I believe solutions can be found by increasing resilience and employing novel and creative interventions."
Examples she outlined include:
Baby bonds, a program in which the U.S. government "would establish a trust fund for each American newborn, the amount determined by the family's socioeconomic status," she said. "The money would be accessible at age 18 for wealth-generating reasons, such as education, starting a business or homeownership."
Financial companies teaming with "nonprofit organizations or community-based groups to address social factors, in order to improve chronic disease outcomes," she said. "It is time for those who have been traditionally omitted from the wealth-building process to have significant opportunities from more financial companies."
Health systems implementing concepts from a 2019 report from the National Academy of Medicine titled "Integrating Social Needs Care into the Delivery of Health Care to Improve the Nation's Health" tailored to economic adversity.
Health care institutions can embrace their role as community anchors. She said: "This means investing in the social and economic development of your community. You can also encourage your health care system to provide medical-legal partnerships. Having attorneys at the ready can help patients – especially low-income individuals – address legal stressors such as those related to unhealthy housing, income, immigration and disability."
Clinicians can take steps to directly help patients. This includes having a staff member (a "social navigator") to connect them with programs such as legal services, as well as other tools that can evaluate financial well-being along with other social factors, and incorporation of social determinant of health considerations within cardiovascular risk factor categories when giving recommendations to patients as outlined in the 2019 primary prevention guidelines from the AHA and American College of Cardiology.
Researchers can add "economic and other social measures" into their studies. "Better still," she added, "do this while partnering with community organizations." For instance, she's doing a novel clinical trial in partnership with the YMCA of San Francisco.
Advocacy efforts are vital, too. She said: "Your patients suffering the health effects of economic adversity are rarely heard by those in power. You, however, are a respected professional. So, make your voice heard by speaking out in support of state policy issues – such as the critical need for additional Medicaid expansion – and the federal efforts like the No Surprises Act."
Acting on diversifying your local school system racially, ethnically and socioeconomically.
And, she said, by mentoring and sponsoring "diverse people from across the world."
She summed up her emphasis by quoting the Rev. Dr. Martin Luther King Jr.: "The greatness of a person cannot be seen in the hours of comfort and convenience, but rather in the moments of conflict or adversity."
Find more news from Scientific Sessions.
If you have questions or comments about this American Heart Association News story, please email [email protected].
---