---
Punch up your migas with more vegetables
By the American Heart Association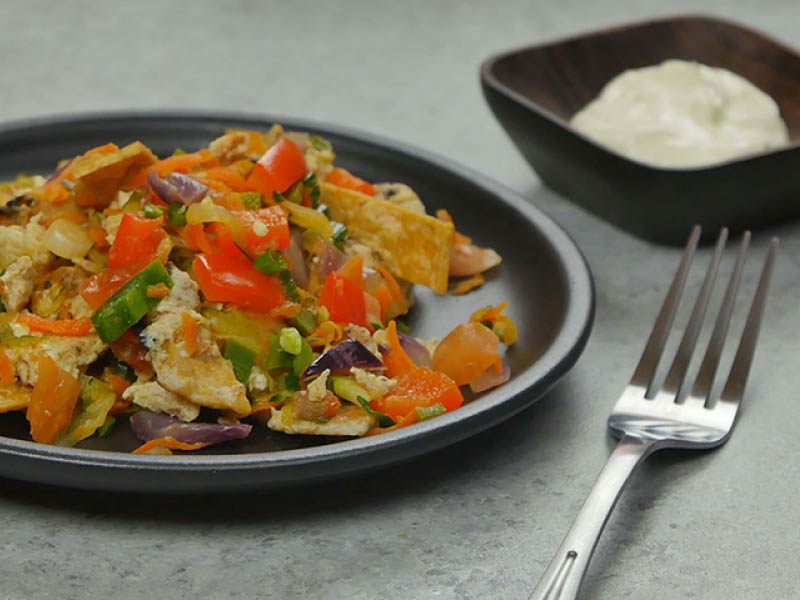 For people on the go, it can be difficult to fit the recommended amounts of vegetables into each day. But this recipe for vegetable migas packs a heavy nutritional punch and can help you get the daily serving of veggies – even using frozen vegetables.
The American Heart Association recommends 2 1/2 cups of vegetables per day, including a variety of colors and types, for people eating a 2,000-calorie diet. Fresh, frozen or canned vegetables are all good choices. When using canned, look for those labeled "reduced sodium" or rinse before using.
"It is important to have vegetables on hand at all times, so when the opportunity arises, they will be readily available to add to dishes like soups, stews, sauces and stir fries," said Alice H. Lichtenstein, the Stanley N. Gershoff Professor of Nutrition Science and Policy at the Friedman School of Nutrition at Tufts University in Massachusetts.
"Bags of frozen vegetables are a great option. They are already washed and pre-cut, and have a long storage life," she said. "The data shows people who report eating diets rich in fruits and vegetables have better health outcomes than those who eat few fruits and vegetables."
This recipe gets in some of the most important nutrition staples, Lichtenstein said. "It's a good meal with a lot of vegetables, protein and a whole grain."
This article was developed by the American Heart Association with financial support from LifeBridge Health.
If you have questions or comments about this story, please email [email protected].
---