---
Cómo protegerse del estrés de la política
Por Michael Merschel, American Heart Association News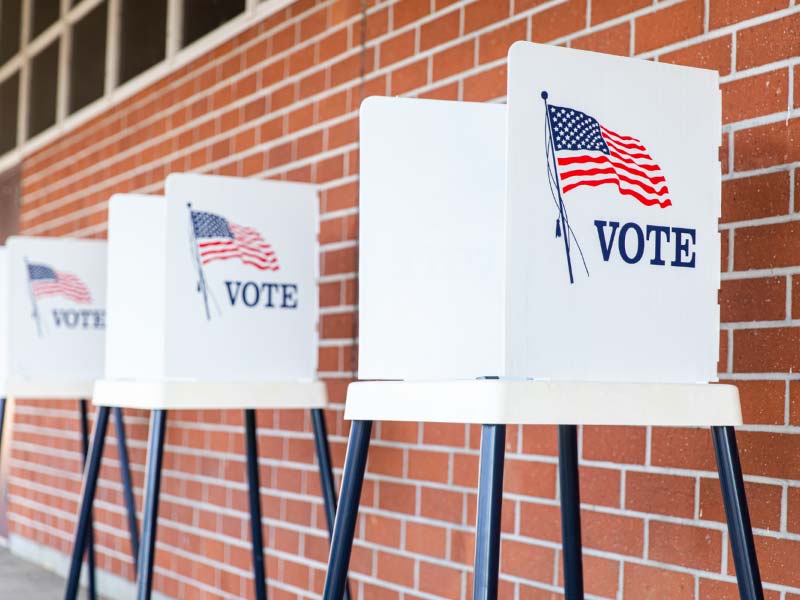 Interrumpimos su último atracón de noticias políticas de último minuto, comerciales de campaña que solo ocasionan miedo y publicaciones enojadas de sus expertos favoritos, para reportar que la política puede ser estresante. Que el estrés puede ser malo para la salud.
Sin embargo, también hay algunas noticias buenas: usted puede tomar pasos para controlarlo.
Si la elección le acelera el pulso y le provoca dolores de estómago, no está solo. De acuerdo con la encuesta sobre el estrés en Estados Unidos, publicada en julio por la Asociación Americana de Psicología (American Psychological Association), un 77% de los demócratas y un 62% de los republicanos dijeron que el clima político es una fuente importante de estrés.
Un estudio publicado el pasado septiembre en el boletín PLoS ONE dio pistas sobre el precio que ese estrés puede tener: aproximadamente una quinta parte de los encuestados, más de 800 personas, informaron que tuvieron mal sueño, fatiga o depresión debido a la política. Más de un 11% dijo que la política había dañado su salud por lo menos un poco.
Esas son muchas personas con molestias por estrés, dijo el autor principal del estudio, Kevin B. Smith, director del puesto Leland J. y Dorothy H. Olson en Ciencias Políticas de la Universidad de Nebraska-Lincoln.
"Estamos hablando de miles de millones de personas que dicen perder el sueño debido a la política. "Yo perdí un amigo debido a la política", dijo Smith.
Melissa DeJonckheere, profesora asistente del departamento de medicina familiar de la Universidad de Michigan en Ann Arbor, vio resultados similares en una encuesta más pequeña relacionada con la elección presidencial de 2016, en la que se entrevistaron jóvenes de entre 14 y 24 años. Un 86% informó tener problemas de ansiedad, miedo o la sensación de que las cosas estaban fuera de su control durante el periodo previo a la elección. Aproximadamente una quinta parte informó problemas físicos, como no poder dormir o quizás tener náuseas.
Fue un problema en cual no tuvieron que ver los partidos, dijo. "Incluso quienes informaron no seguir la política, o que no se interesaban abiertamente en algún candidato, tuvieron reacciones emocionales negativas ante la elección".
En esa investigación, publicada en 2018 en Child and Adolescent Psychiatry and Mental Health (Psiquiatría y salud mental infantil y adolescente), se indicó que padecer estrés durante la juventud se ha vinculado con enfermedades cardiovasculares, depresión, abuso de substancias, problemas de conducta y otras cosas durante la adolescencia, así como problemas durante la adultez.
Smith, quien ha estudiado extensamente la biología de la conducta política, dijo que aún no se ha determinado completamente si el estrés político nos afecta de manera diferente que otros tipos de estrés, pero que sí sospecha que algunos factores de la actualidad podrían estar empeorando las cosas.
"En estos momentos tenemos un ambiente político intensamente polarizado", dijo. Asimismo, gracias a los teléfonos inteligentes y las computadoras, nos inundamos de información constantemente.
"Es algo omnipresente en nuestras vidas", agregó. Contrastó este estrés con el que viene, digamos, de ser un fanático del fútbol. Él lo es, y, cada año, "produzco bastante acidez en el estómago al ver si los Cowboys de Dallas entrarán a las finales. Pero la temporada concluye y ese estrés también se va".
"La temporada de la política nunca se acaba".
La política siempre viene con un grado de estrés, pero los numerosos desafíos que enfrenta el país en 2020 parecen hacer que esta elección produzca más ansiedad que la mayoría. Las personas de todas las ramas políticas tienen opiniones fuertes sobre la pandemia, la economía, las relaciones raciales, la vacante en la Corte Suprema dejada por la muerte de Ruth Bader Ginsburg y otros temas que son importantes para ellos.
La ansiedad no siempre es accidental. Las campañas se alimentan del miedo, dijo el Dr. Robert Waldinger, profesor de psiquiatría de la Facultad de Medicina de Harvard en Boston y director del Estudio de Harvard sobre el desarrollo adulto. Después de todo, la idea es lograr que los electores escojan una de las partes.
Si juntamos eso con las divisiones que se han intensificado acerca de cómo reaccionar ante el coronavirus, señaló, entonces "nuestro cuerpo se encuentra en un estado más crónico de lucha o huida comparado con antes de la pandemia".
Para lidiar con esto, Waldinger, quien también es sacerdote Zen, recomienda regular nuestra exposición ante el torrente constante de noticias políticas alarmantes.
"Una de mis meditaciones es una cita que me gusta mucho y que dice: "tu mente es como el tofu, adquiere el sabor de lo que usas para condimentarlo", dijo. Este doctor se mantiene informado leyendo el periódico por la mañana. También escucha algo de radio, pero evita la televisión completamente. "Hago lo posible para mantenerme alejado de las noticias en mi teléfono".
No importa de qué fuente obtenga las noticias, hay que "ser cuidadoso e intencionado", añadió Waldinger. "Además, no se informe al final el día cuando quiera comenzar a descansar y prepararse para dormir".
DeJonckheere dijo que estudios aún no publicados sugieren que sus jóvenes participantes encontraron alivio al participar más en actividades cívicas.
"Los jóvenes de nuestro estudio hablaron acerca de cómo emprendieron funciones de activismo, se hicieron voluntarios o tomaron cursos para aprender sobre del efecto de la política en sus vidas", dijo. Pensó que eso sería de particular importancia para quienes sean demasiado jóvenes para votar al darles una sensación de control y propósito, las cuales son cosas que pueden reducir el estrés y mejorar la salud mental.
Waldinger dijo que encontrar puntos comunes con nuestros vecinos es una buena idea. "No cambiaré el modo de pensar de mis vecinos que se pongan del lado opuesto de la división. Pero siguen siendo mis vecinos". Conectarse con una causa común, como una caminata para erradicar el hambre en el mundo, podría beneficiar a todos.
Además, no permita que los dramas políticos lo dividan de su familia, añadió. "Yo diría que es necesario darnos cuenta de que las guerras culturales son el enemigo que hay que erradicar".
En realidad, dijo, "este momento va a pasar y no sabemos en qué se convertirá. Lo cierto es que no permanecerá igual".
Si tiene una pregunta o un comentario sobre este artículo, por favor mande un correo electrónico a [email protected].
---