---
Mantenga su sistema inmunológico en la mejor forma con estos consejos
Por American Heart Association News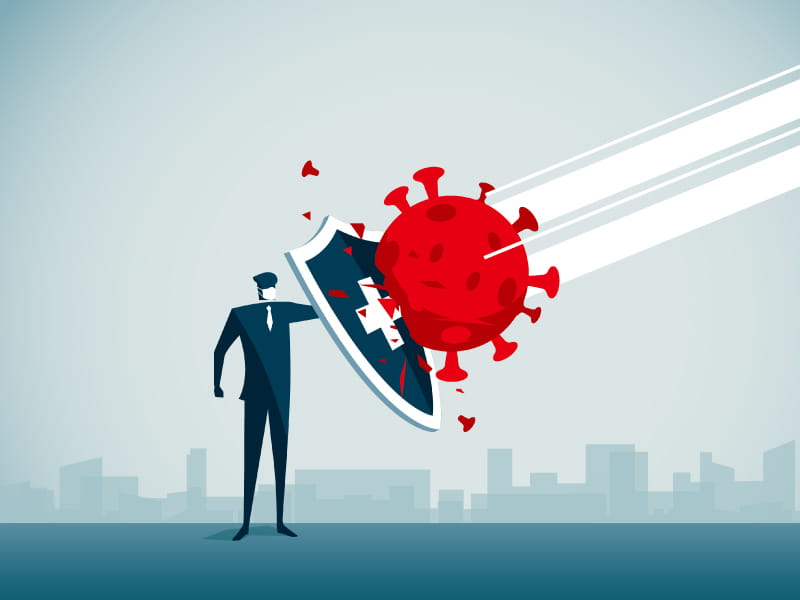 Desde hace años, el Dr. Ahmad Garrett-Price aconseja a sus pacientes acerca de la necesidad de mantener fuerte al sistema inmunitario, haciendo énfasis en el ejercicio, la nutrición y el dormir bien.
Ese consejo es aún más relevante en estos momentos en que sigue expandiéndose la pandemia de COVID-19.
"No tenemos ni vacuna ni tratamientos comprobados", dijo Garrett-Price, médico familiar del sistema médico Baylor Scott & White Health System en Dallas. "Es por eso que nuestro sistema inmunitario es nuestra primera línea de defensa".
Aunque un sistema inmunitario fuerte es útil, él y otros expertos en salud enfatizan que las pautas para combatir la propagación del coronavirus – y evitar obtener COVID-19 en primer lugar – siguen siendo cruciales: el distanciamiento social, lavarse las manos con frecuencia, evitar tocarse la cara sin haberse lavado las manos y resguardarse en casa lo más posible.
"No obstante, se trata de una infección viral mucho más fuerte que muchos otros virus", dijo Marie-Pierre St-Onge, profesora asociada de medicina de la nutrición y directora del Sleep Center of Excellence del Centro Médico Irving de la Universidad Columbia en Nueva York. "Si su sistema inmunitario es fuerte estará mejor equipado para luchar contra estas infecciones y tener una mayor probabilidad de padecer un caso más leve y recuperarse".
Garrett-Price denomina esta dinámica como "medicina centrada en el estilo de vida para mantenerse en una modalidad preventiva". Todo comienza con el ejercicio, el cual, aparte de aportar beneficios cardiovasculares, también ayuda a la buena salud mental y a reducir el estrés – todo lo importante durante este tiempo de COVID-19.
"El ejercicio tiene beneficios antiinflamatorios y fomenta la producción y reparación de las células, incluidas las inmunitarias que ayudan a combatir las enfermedades", dijo.
En un estudio con 1.002 adultos, publicado el 2011 en el boletín británico de medicina deportiva, British Journal of Sports Medicine, las personas que se ejercitaron por lo menos cinco veces por semana disminuyeron casi a la mitad su riesgo de padecer gripas, comparadas con personas que mantuvieron más bien sedentarias. Asimismo, muchos de los que se enfermaron presentaron síntomas menos graves.
"Quizás deba hacer ejercicio de manera más responsable en cuanto al distanciamiento social, tal vez en su casa o garaje, o en su propio jardín", dijo Garrett-Price. "Es realmente una forma excelente de agilizar ese ritmo cardíaco".
Comer bien es igual de importante, dado que el 70% del sistema inmunitario se encuentra en el intestino. "Queremos que la gente entienda el concepto de que los alimentos son medicina", señaló Garrett-Price.
Estos alimentos saludables serán fáciles de reconocer, pero es buena idea repetirlos: vegetales de hojas verdes, cítricos, frutos secos, moras, pescado, cereales integrales, alimentos ricos en vitaminas A, C y E – y no se olvide del ajo.
"Alimentar al cuerpo con buenos alimentos beneficia a todo el sistema inmunitario", agregó.
Eso también sucede si descansa lo suficiente.
St-Onge, quien ha investigado extensamente los vínculos entre el sueño y la salud, dijo que los estudios muestran que "las personas que duermen adecuadamente tienen un sistema inmunitario mucho más fuerte que las personas que duermen mal".
Al respecto, mencionó un estudio de 2015 publicado en el boletín Sleep en el cual 164 voluntarios recibieron gotas nasales con el rinovirus de la gripa común y luego fueron recluidos en un hotel. Los participantes que durmieron menos de cinco horas por noche tuvieron una probabilidad 4.5 veces mayor de desarrollar una gripa, comparados con los que durmieron más de siete horas.
St-Onge dijo que el torbellino de noticias estresantes sobre la pandemia de estos momentos podría dificultar el sueño, por lo que sugiere realizar actividades relajantes antes de acostarse para aliviar el estrés. Incluso, tiene una recomendación en particular:
"Apague la televisión unas dos horas más temprano y no escuche las últimas estadísticas", indicó. "Disfrute a sus seres queridos … Luego acuéstese a dormir con la mente tranquila".
Uno de los obsequios de la crisis actual es que la gente trabaja desde su casa y no tiene que trasladarse al trabajo. "Eso quizás permita que se levanten un poco más tarde", dijo.
Garrett-Price percibe otro posible beneficio de salud que ocurrirá más adelante.
"Siempre hemos sabido que debemos lavarnos las manos para prevenir que se esparzan los gérmenes", señaló. "Ahora realmente sabemos que es algo que puede prevenir una enfermedad potencialmente fatal. Creo que cuando estemos del otro lado de la pandemia, tendremos una sociedad más consciente de la salud".
Nota del editor: Debido a los eventos en rápida evolución que rodean el coronavirus, los hechos y consejos presentados en esta historia pueden haber cambiado desde su publicación. Visite Heart.org para obtener la información más reciente y consulte con los Centros para el Control y la Prevención de Enfermedades y los funcionarios de salud locales para obtener la orientación más reciente.
Si tiene una pregunta o un comentario sobre este artículo, por favor mande un correo electrónico a [email protected].
---