---
Barking up the right tree with a healthy frozen dessert
By American Heart Association News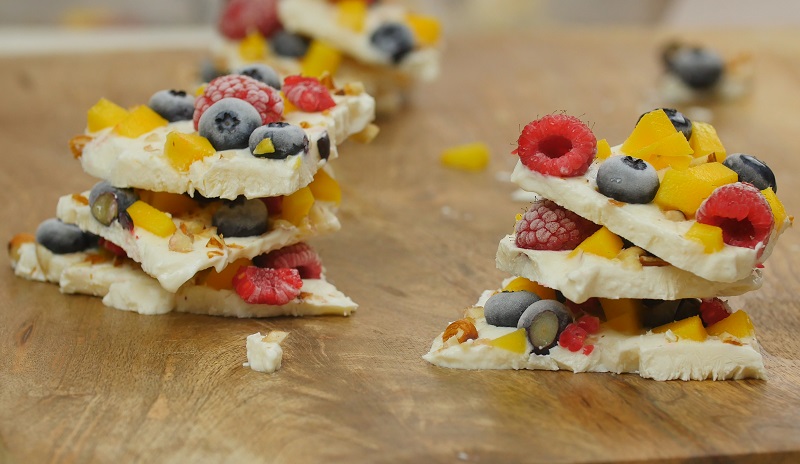 Dessert doesn't have to mean pies, cupcakes or chocolate sundaes. A nutritional treat like frozen yogurt bark adds a colorful new entry to the vocabulary of dessert.
"It's a great way to encourage more fruit consumption with something that's fun, delicious and healthy, rather than something like apple pie," said Penny Kris-Etherton, a registered dietitian and distinguished professor of nutrition at Pennsylvania State University's Department of Nutritional Sciences.
The frozen bark gets its color from mangos, blueberries and either blackberries or raspberries. That combination provides antioxidants, fiber, potassium and vitamins A and C, she said, while the almonds add texture and are "a fabulous source of vitamin E, fiber and good fat."
The recipe's main ingredient, Greek yogurt, is high in protein and promotes fullness. It also is an excellent source of calcium, potassium and vitamin D. To make the dish even healthier, choose non-fat yogurt instead of the low-fat variety and substitute fruit for honey, Kris-Etherton said.
"Honey is an added sugar. You could use a sweet banana instead, as well as some cinnamon, which adds flavor and acts as a sort of substitute sweetener."
Even without the substitutions, the frozen yogurt bark contains just 70 calories per serving.
"It's a nutrient-dense dessert that isn't loaded with calories like so many desserts are," she said.
If you have questions or comments about this story, please email [email protected].
---