---
Doctor's 'little heart attack' turned scary – and inspired big changes
By American Heart Association News
For about a year, Michael Feldman occasionally got a burning feeling in his chest. An antacid tablet usually resolved it, so he figured the cause was indigestion.
On April 6, 2012, the burning sensation came with a crushing feeling, too. Realizing it could be heart-related, the 50-year-old Philadelphia pathologist walked from his hospital office to the emergency department and asked for an electrocardiogram. It showed he was having a heart attack.
"I had a little heart attack," his wife, Jackie, remembers Michael saying on the phone. Then he added, "But don't cancel Passover because I'll probably be home tonight."
As Jackie rushed to join him at the hospital, Michael underwent a catheterization procedure. It revealed significant blockages in his three main coronary arteries. Triple bypass surgery was scheduled for the next morning.
At the hospital, Jackie told Michael she wanted to give away the 5 pounds of brisket he'd cooked for Passover. Michael refused.
"He thought it wasn't a big deal," she said.
Soon, his deteriorating condition became a very big deal.
Overnight, he went into cardiac arrest. After being resuscitated, doctors inserted a balloon pump to assist his heart's pumping ability, allowing his heart to rest while still getting enough blood to the rest of his body. Worried about his mental state, Jackie tested him by asking about the meat.
"You can get rid of the brisket," Michael told her.
The next morning Michael underwent a triple bypass to restore the blood flow to his heart. He spent the next week in the ICU, then in a step-down unit.
Vowing to make heart-healthy changes, Jackie had the American Heart Association's "No-Fad Diet" cookbook shipped overnight. She began reading it in the hospital.
"It became like a Bible for me," she said.
At home, she cleaned everything out of her pantry that wasn't heart-healthy.
"There was nothing left," she said. "Everything had too much sodium."
Now the pantry was stocked with whole grains such as quinoa and farro. Jackie made a chart on the fridge that listed components for each meal.
"If it didn't grow on a tree or in the ground, we didn't eat it," Michael said.
Avoiding fatty foods and watching portion size was another big change.
"Before, we ate whatever we wanted and however much we wanted," he said.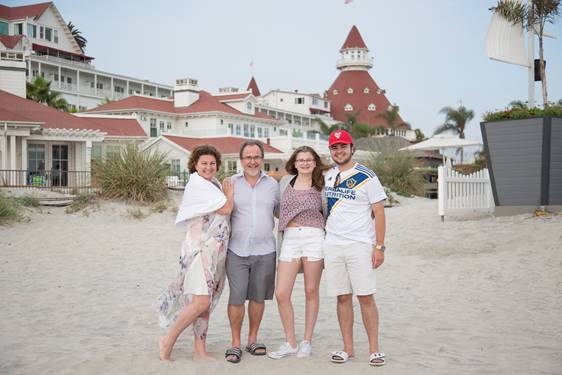 Jackie said the changes impacted the whole family, including the couple's two children, who were 12 and 9 at the time.
"They learned about healthy food and we learned they liked asparagus and broccoli," she said.
Dining out, whether at a restaurant or with friends and family, proved difficult. Still, the family stuck to their plan.
"We'd go out for fish and ask for double the vegetables or bring salad if we were going to someone's house so we knew there was something Michael could have," Jackie said.
Michael and Jackie also started exercising.
After Michael went through a cardiac rehabilitation program, the couple worked their way up to the recommended 150 minutes of moderate physical activity per week. Michael also added resistance training to help rev his metabolism.
He soon noticed how much energy he had. Before his heart attack, he blamed his constant fatigue on getting older.
"Actually, it was my heart telling me something was wrong," he said.
Diet and lifestyle changes helped Michael shed 50 pounds in nine months, though he's regained 20 pounds in recent years as he balances work and family. Jackie lost 40 pounds, but also regained some as work demands increased.
"It's a constant battle," said Michael, the vice chair for clinical services in pathology at the University of Pennsylvania Healthcare System. "I'm a food junkie and stress eater so that's a big challenge."
Looking back, Michael said he didn't take seriously his risk factors for heart disease, including family history. His maternal grandfather died of a heart attack at 52 and two of his paternal uncles required bypass surgery in their 50s.
Michael also had been treated for high blood pressure for two years before his heart attack.
"I wasn't paying attention. I was just too busy with life," he said. "I wasn't taking it seriously and that was a big mistake."
Stories From the Heart chronicles the inspiring journeys of heart disease and stroke survivors, caregivers and advocates.
If you have questions or comments about this story, please email

[email protected]

.
---