---
Devoted doctor and hip-hop legend are taking on stroke nationwide
By Nancy Brown, American Heart Association CEO
Dr. Olajide Williams spent years seeking a way to deliver lifesaving information that wasn't getting through to people in his Harlem community. So when he heard about a program called Hip Hop Stroke, he thought it was perfect.
Just one thing was missing.
Hip-hop.
When he pointed out the flaw, organizers asked him to fix it. Him? Reared in Nigeria, schooled in England, he had no connections to the rap scene. He was still figuring out where to begin when he heard a patient beatboxing in the waiting room.
The beatboxer was Richie Rich, part of the industry since the 1980s. He connected the doctor with Doug E. Fresh, the original "Human Beatbox."
More than a decade later, Hip Hop Stroke(link opens in new window) has influenced a generation of students in New York City. Now broadened to Hip Hop Public Health(link opens in new window), the program is expanding its footprint. It recently launched in Chicago and is getting rolling in the Czech Republic. It'll debut soon in Los Angeles, with Oakland, California, next in line.
The narrative, however, wasn't so seamless. There's a fascinating story behind it, with a fascinating person at the center of it. So as we continue our American Stroke Month spotlight on the fight against the No. 5 killer of Americans and a leading cause of adult disability, it's my pleasure to share this tale.
***
On Christmas Eve 1969, Abisola Williams parked her Volkswagen Beetle in the garage of her home in Lagos, Nigeria, began getting out and shrieked. She was in the final stage of labor.
Her husband, a physician, brought Olajide into the world right then and there, weeks before his due date.
Rushed to a hospital, Olajide spent his first year there, his fragile lungs requiring an oxygen tent. Breathing problems lasted for years, often landing him back in the hospital.
By 9, he was sent to boarding school in England. With his poor health and dark skin, he struggled to fit in with his peers. During one of his frequent visits to the school's clinic, Olajide realized he felt most comfortable surrounded by doctors and nurses.
"This is what I want to spend my life doing," he thought. "I want to care for people."
Olajide attended medical school back in Lagos, or, more accurately, Mushin, one of the poorest neighborhoods in one of the poorest countries.
He saw babies dying of tetanus, a disease practically eradicated in much of the world. He saw other maladies caused by a lack of clean drinking water, mosquito nets and an understanding of the importance of handwashing.
These people didn't need more doctors, he thought. They needed systemic changes to prevent them from getting sick. He felt helpless knowing how many solutions existed but weren't reaching the people where he lived.
"The community level," he told himself. "That is where wars need to be waged."
***
Viewed as too African in England, and too English in Africa, Olajide set out for New York in hopes of fitting in there.
It worked. His lifelong sense of "unbelonging" dissolved as he interned at Harlem Hospital Center alongside colleagues from India, Pakistan, Ghana, Eastern Europe and beyond. He later transferred to Columbia University Irving Medical Center for his neurology residency training.
At Harlem Hospital Center, Olajide noticed half his caseload was made up of stroke patients. That was an alarmingly high percentage. Even more alarming was how many were in their 20s, 30s and 40s.
He began asking them questions. Patterns emerged.
When symptoms such as face drooping, arm weakness and slurred speech hit, folks had no idea these were the warning signs of stroke.
These patients were mostly minorities, especially African Americans, meaning they faced the highest stroke risk in the United States. They didn't know that, either.
They didn't know getting to a hospital within three hours of a stroke's onset made them eligible for a medicine that could dissolve the blood clot causing the stroke. Hospital records showed 2% of stroke patients received this medication at the time due to failure to arrive at the hospital on time.
Olajide recognized the same disconnect he'd seen in Mushin: Lifesaving information wasn't reaching a community that needed it. He vowed to bridge the gap.
First, he needed to learn how. So after finishing his neurology training, he earned a master's degree at Columbia University's Mailman School of Public Health.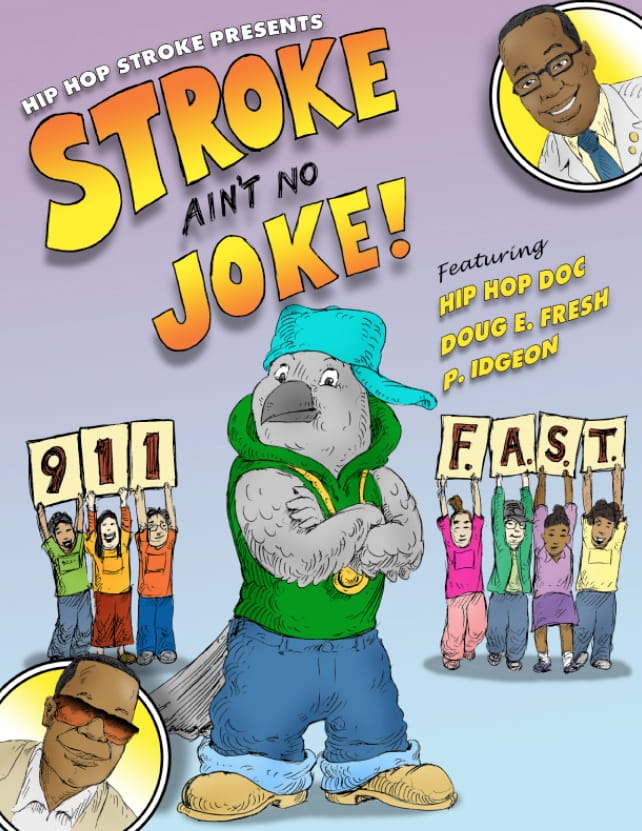 His studies done, Olajide gave a speech on health disparities in Harlem to an audience that included the speaker of the New York City Council. She helped him land his first grant to put his ideas into action.
While gathering local data, he sought national resources. A cold call to the National Stroke Association led to a meeting with that organization's CEO. That led to Olajide putting together a conference on stroke disparities. Other projects with the NSA followed.
Meanwhile, Olajide worked with mentors from Columbia on community projects. These were targeted at public schools under the premise that generational change begins at the pediatric level.
The roads merged when Olajide learned about Hip Hop Stroke, an NSA program aimed at school-aged children.
When Olajide said the program needed to live up to the name, NSA leaders agreed. They also paid for him to research whether hip-hop was a good vehicle to reach kids.
Around the time his study showed a resounding yes, Olajide heard Richie Rich in the waiting room.
"Who taught you to beatbox?" Olajide said.
"Doug E. Fresh," Richie said.
Richie passed along the phone number of Doug's manager. Olajide called and asked if Doug would write rap songs about stroke. When Olajide said he had no budget, the manager laughed and said call back when you do.
He kept calling for months, still with no money to offer. The manager finally scheduled a 30-minute meeting, mainly to get Olajide to stop pestering them.
***
Doug showed up with his son, Chem.
Chem was coughing. A lot. Had been for months, Doug said.
Remembering his own youth riddled by breathing problems, Olajide went into doctor mode. He asked questions, recommended specialists and suggested ways to reduce allergens in their home. Next thing he knew, time was up.
Doug said he'd call back to discuss the original purpose for their meeting. Yeah, right, Olajide figured.
Weeks later, Doug called.
"My son is doing well," he said. "Thank you for that. You didn't even ask me for anything. I want to help you."
Something else had happened the day of their first meeting.
The New York Daily News ran a story about Olajide's stroke work in Harlem. Doug had read it. ("Doc, that you?!" he'd said.) So during their second chat, when Olajide explained what he needed, Doug bought in.
"Immediately, everything became easier," Olajide said.
***
The website for Hip Hop Public Health lists Olajide as founder and president, and Doug as founding artist and honorary board member.
Collaborating artists listed include chart-toppers Ariana Grande, Jordin Sparks and Ashanti; rap legends Darryl DMC McDaniels of Run DMC and Chuck D of Public Enemy; plus Travis Barker of alt-rock's Blink-182, Jewish rapper Matisyahu, R&B singer Raheem DeVaughn and children's singer Brady Rymer.
But the most impressive part of the organization is its work with fourth, fifth and sixth graders.
Just look at the results.
In a study published last year in the journal Stroke, Olajide and his team looked at 3,070 minority students who participated in Hip Hop Stroke. Over three separate one-hour sessions, kids watched cartoons and videos, played video games and read comic books all infused with stroke lessons.
Immediately after, 57% had perfect scores in a stroke knowledge/preparedness test, compared to 1% among kids who didn't go through the program. Three months later, 24% of participants retained "optimal preparedness;" by then, four kids had called 911 for actual stroke symptoms.
The study also looked at 1,144 parents of participants. Before the program, 3% recognized stroke symptoms; immediately after, 20% could.
This was only one wave of Hip Hop Stroke alums. The program dates to 2005, meaning increased knowledge about stroke for thousands of students and their parents.
"Hip Hop Stroke is not designed to be an education session. It's designed to be a life experience," said Olajide, who also is director of acute stroke services at New York-Presbyterian Hospital and chief medical officer of neurology at Columbia University. "The children will carry it with them and their families as they become high-risk individuals. This shifts the entire trajectory of stroke knowledge."
With the program expanding beyond New York City, that trajectory will continue to soar.
A version of this column(link opens in new window) also appeared in Thrive Global.
If you have questions or comments about this story, please email [email protected].
---