---
Avoid daily aspirin unless your doctor prescribes it, new guidelines advise
By American Heart Association News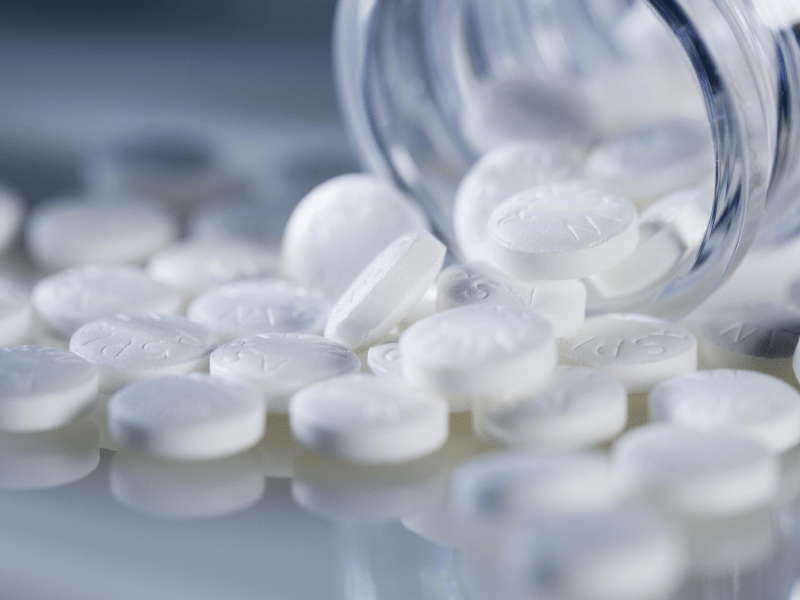 For decades, a daily dose of aspirin was considered an easy way to prevent a heart attack, stroke or other cardiovascular event.
Then came a string of recent studies challenging that assumption. With this latest research in mind, a new set of guidelines to help people stay heart-healthy is advising against daily aspirin use for prevention. It may actually cause more harm than good.
"We're talking about healthy people who don't have known heart disease or stroke, who might have been considering or already taking an aspirin to prevent that heart attack or stroke in the first place," said Dr. Erin Michos, one of the writers of new prevention guidelines developed by the American Heart Association and American College of Cardiology.
The new recommendation doesn't apply to people who already have had a stroke or heart attack, or who have undergone bypass surgery or a procedure to insert a stent in their coronary arteries.
These individuals already have cardiovascular disease and should continue to take low-dose aspirin daily, or as recommended by their health care provider, to prevent another occurrence, said Michos, associate director of preventive cardiology at the Ciccarone Center for the Prevention of Cardiovascular Disease at Johns Hopkins University School of Medicine in Maryland.
According to three significant studies published last year and one major analysis released this year that looked at 10 other studies, the benefit from taking a daily low-dose aspirin was offset by the danger of internal bleeding and other side effects in people considered to be at low or moderate risk for heart disease.
One study in particular found aspirin had no obvious benefit for healthy people older than 70 but found evidence for harm, which is why the new prevention guidelines strongly discourage aspirin as a protective therapy among these older adults.
The U.S. Preventive Services Task Force, an independent panel of national experts in disease prevention, recommends a low-dose aspirin regimen for adults 50 to 59 whose 10-year risk of developing cardiovascular disease is more than 10 percent.
But the group's recommendation is based on an imperfect risk calculator and statistics taken from older studies, Michos said.
"Heart attack rates have gone down in more modern society with lower smoking rates and better treatment of blood pressure, better treatment of cholesterol," she said. "There probably was more of a role for aspirin back in the older trials, even though the bleeding issue has always been seen there."
But today, the benefit for taking aspirin for the majority of otherwise healthy adults just doesn't outweigh the risks enough. Aspirin still may be considered for very select high-risk adults ages 40-70 who are not at increased risk for bleeding, if advised by their doctors.
"For primary prevention, the risk of bleeding and the benefits of reducing heart attack are pretty matched, even to even. So there isn't a lot of gain for taking aspirin," Michos said. Primary prevention is a term for avoiding a first heart attack, stroke or other type of cardiovascular event.
Dr. Daniel Muñoz, another member of the guideline writing committee, said the new advice reflects the philosophy of the first pledge a physician takes.
"It's sort of back to the Hippocratic oath. Our job is first, do no harm. That's what has contributed to an evolution in how we think about aspirin in primary prevention," said Muñoz, an assistant professor of cardiovascular medicine at Vanderbilt University Medical Center in Tennessee.
Muñoz stressed the new recommendation does not apply to people with coronary disease. For others, the decision to use aspirin has become a more customized one over the years.
"It's clear that for certain populations – the elderly and, in particular, patients who have a high (internal) bleeding risk – aspirin may in fact do more harm than good, but there are no absolutes, so these decisions need to be tailored to the individuals."
Michos agreed. She said doctors might consider advising aspirin for individuals who have a strong family history of heart disease, or if tests like coronary calcium scans detect considerable plaque buildup inside their arteries.
But for most people considered to be at low or moderate risk, they can better protect themselves with healthier habits, Michos said.
"Eat a heart-healthy diet, get regular physical activity, control blood pressure and control cholesterol," she said. "If they need the statin, take it. Those are much more important when compared to recommending aspirin."
If you have questions or comments about this story, please email [email protected].
---