---
Little Ruben needed a new heart – and a surgeon willing to take on the complex operation
By Nancy Brown, American Heart Association CEO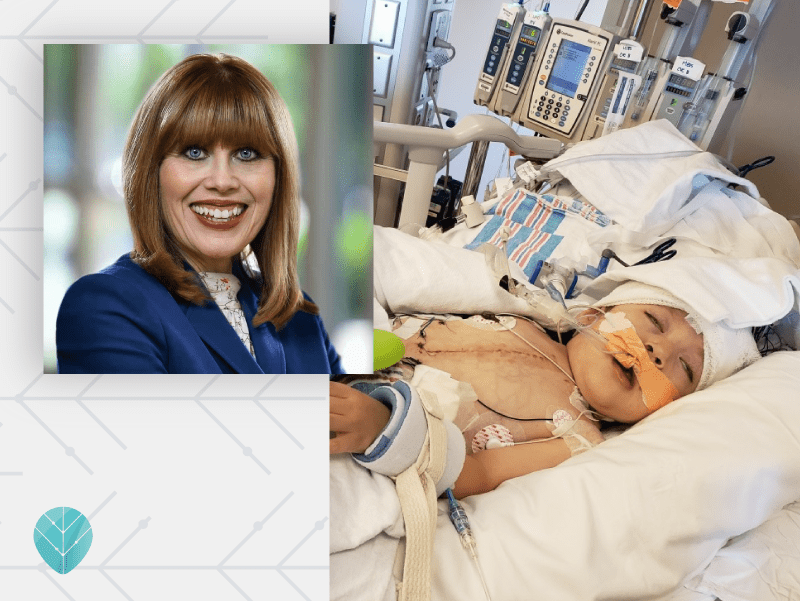 Dr. Cynthia Herrington has a line she uses on her pediatric surgery trainees at Children's Hospital Los Angeles when they are facing their first complicated case: "You don't get to complain about complex anatomy."
It's a reminder that the problem belongs to a young patient.
And that it's up to the doctors to solve it.
As that message sinks in, she adds, "It's what we thrive on here."
Taking on the unusual was part of Herrington's own training at CHLA. A decade later, she returned to both perform such operations and to teach them to the next generation of surgeons.
Still, when her CHLA colleagues considered the extent of problems facing a 2-year-old boy named Ruben, they feared this challenge might be too much.
Ruben was born with his aorta and pulmonary artery pointed the wrong way: right instead of left. Other crucial parts of his heart's plumbing developed in the wrong place – backward, essentially.
Yet other components didn't form properly.
As for the heart itself? He needed a new one.
While CHLA doctors pondered whether to pursue a transplant and all the reconstructive surgery needed to make it work, Ruben's mother, Lily Figueroa, reached out to two other hospitals.
Neither would take the challenge.
So all Lily and her fiancé Carlos Corona could do was wait.
***
A routine ultrasound halfway through Lily's pregnancy failed to capture all her baby's heart. She went for another exam using more high-tech tools. That view showed the previous test had captured all there was to see.
Her baby had hypoplastic left heart syndrome, a defect in which the left side of the heart is underdeveloped. The doctor who explained this to Lily made it sound "like a death sentence."
Lily soon learned it wasn't that dire. A series of three operations can help overcome HLHS – that is, providing her baby survived through delivery.
She saw a high-risk neonatologist every other week. Between routinely hearing her baby's heartbeat and this doctor's optimism, Lily gained some hope.
Alas, those appointments also brought her around other expectant mothers, triggering another feeling: jealousy.
"They didn't have that worry I was carrying with me," she said.
Lily's fears ratcheted up whenever she went a few hours without feeling the baby move. This likely happens to many pregnant women; it's more stressful for those told their baby's heart is broken.
She refused to set up a nursery. She declined offers for a baby shower (although colleagues surprised her with one). Still, she and Carlos chose a name: Ruben Isidro, the first name for the grandfather who raised Carlos, the middle name for Lily's beloved grandpa.
The toughest part was telling her 5-year-old son Aidan that his baby brother may not make it home right away.
***
Ruben arrived pink and crying. Carlos took a video of his son's birth and cut the umbilical cord. Lily got to hold her baby. Then this seemingly routine scene was shattered by the reality of the boy's fight for life.
A team whisked Ruben from the delivery room at Hollywood Presbyterian Medical Center across the street to the cardiothoracic intensive care unit of CHLA.
On his second day, tests showed that Ruben had far more than HLHS.
The extent of his issues could be the syllabus for a medical school course: dextrocardia, heterotaxy, discontinuous pulmonary artery, mitral valve regurgitation and pulmonary atresia.
The next day, as Lily sat beside Ruben – talking to him and praying to the Virgin Mary of Guadalupe – he stopped breathing. Nurses flew into action and revived him. Lily, meanwhile, came away scarred.
"I was always on the edge, waiting for something else to go wrong," she said.
***
Ruben's first operation came during his second week. Doctors implanted a shunt to connect his pulmonary artery to his heart.
His next operation was supposed to be in six to nine months. But his glitchy mitral valve sent him into severe heart failure at three months, forcing another operation.
He became healthy enough to go home, although he struggled to remain healthy. Over the next 18 months, CHLA became a second home. Ruben persevered, though. He reached developmental milestones, including walking.
Then his mitral valve became glitchy again. And this time it was worse.
***
Back during Ruben's first few days, when the extent of his issues was revealed, a doctor warned Lily not to expect the boy to live long. Or, as the doctor put it, don't expect him to ever attend school.
Of all her low points, that had been the worst – until now.
For the sake of an outside evaluation, she spoke to doctors at a hospital in Boston. They said Ruben had too many complications to operate on his mitral valve. Doctors at another facility in Los Angeles said they didn't consider Ruben a good candidate for the transplant list.
So the next steps, if any, were up to CHLA.
***
Ruben's team of CHLA doctors recommended a transplant. That required another evaluation by the transplant team.
When Ruben's case was pitched, the presenter's final comment was, "He's adorable."
"I know he is!" said Herrington, the surgical director of the heart transplant program.
She did? How?
She performed his first operation.
And, she told her colleagues, "I got this."
***
During her 11 years at CHLA, Herrington had done the surgery to rotate the direction of the heart and the one to remodel the plumbing.
But she'd never done both on the same heart transplant patient.
She had, however, done both challenging procedures on a single patient during her tenure at the University of Minnesota, albeit that person was older and thus had a larger chest cavity – more room for her to work.
While experience provided some of the confidence behind her willingness to take this on, she also liked that his liver, kidneys, lungs and brain were healthy.
***
Ruben went on the heart transplant list in March 2018.
On a Sunday afternoon in August, Lily and her sisters were preparing for a family barbecue when her phone rang with news of a possible match. She, Carlos and Ruben got to the hospital that night.
Herrington began as she would with any transplant. Once the donor heart was on the way, she connected Ruben to a heart-lung bypass machine to keep his body functioning while she removed his diseased heart.
Next came the deviation from a normal transplant: remodeling the interior of his chest.
Drastically oversimplifying, Herrington turned forward the parts that were facing backward and made other adjustments. She had to be extremely delicate to ensure that Ruben's newly arranged parts would line up with his new heart. This included dealing with the aftermath of the damage caused by the diseased heart. Knowing this would be an issue, she'd requested additional material from the donor's body.
The bottom of Ruben's chest cavity was the trickiest spot. It required a series of patches Herrington quilted together. Once that was all in place, she thought, "We're sailing now!"
The final step was connecting Ruben's thick, scarred aorta with his donor's aorta. Then came the moment of truth, releasing a clamp to restore blood flow.
Reaching for it, Herrington looked up at the anesthesiologist and three other doctors who'd been watching in silence. She released the clamp.
Ruben's heart filled with blood and ejected it to the rest of his body, just like it should.
Even better, there was hardly any bleeding.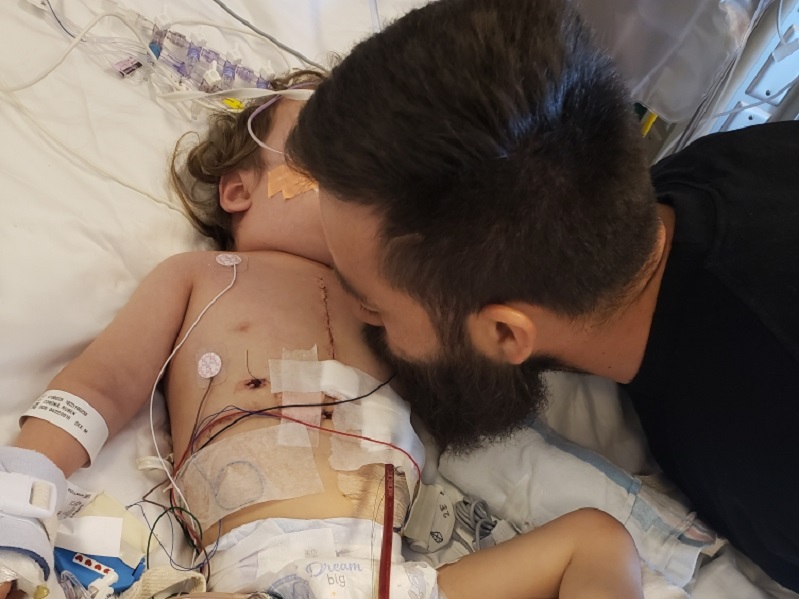 ***
Ruben was 28 months old and this was the first time he was anatomically correct.
Challenges continued. His kidneys required some dialysis. He underwent a follow-up operation to get his diaphragm working. A ventilator assisted his lungs for 17 days.
Over his first month with his new heart, Ruben rarely laughed, smiled or talked. He didn't make eye contact.
Doctors wanted to keep him in the hospital for more therapy. Lily thought what Ruben needed most was the comfort of home and the companionship of his big brother.
Sure enough, the moment Ruben saw Aidan, Lily sensed that "something inside him clicked." She tested this spark by putting him into a walker.
Ruben hadn't needed this since he was infant. But he hadn't been walking in the hospital, so she thought he might need the help. With Aidan nearby, Ruben's legs immediately pumped. He took off.
"Ruben was Ruben again," she said.
Six months later, Ruben is showing no signs of rejection. While he's caught some viruses, he's been strong enough to fight them off.
The stronger he gets, the more curious the family is about Ruben's donor. Lily would love to meet them, thank them and offer condolences for their loss.
As encouraging as everything seems, Lily knows rejection is still possible. Ruben also may eventually need another heart. She refuses to let in any negative thoughts, instead relishing the quiet times when he's "a perfect little angel." Lily looks at him and thinks, "Gosh, we're so blessed to have him here."
***
For Herrington, Ruben was among the top 5 percent of her most challenging cases. And most rewarding.
"I get fired up over transplant in general," she said. "I understand the risk. But I also understand that when you put the healthy heart in, they get to be healthy children again. They get to run and fall and play. They can go to school, drive a car, give you gray hair. The bottom line is, you're going to get to see your baby grow up."
Herrington also gets fired up about turning the unusual into the usual. Her pride in her hospital and in her profession is what led to this story being told.
"I want people to understand what's possible," she said. "I don't want a parent to think their children's anatomy is so unusual that nothing can be done. I want that myth to go away. … 'I got this' is not a slogan on a T-shirt. We really mean it."
A version of this column also appeared on Thrive Global.
If you have questions or comments about this story, please email [email protected].
---