---
Filling your plate with a cornucopia of food groups makes for a healthy diet
By American Heart Association News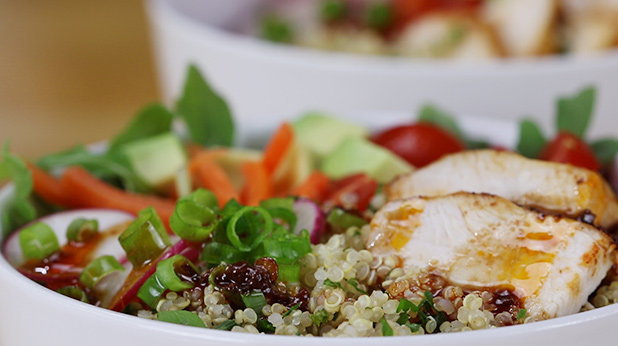 When it comes to food groups, the more the merrier. The American Heart Association recommends eating a variety of healthy foods, like those featured in the Chipotle Chicken Bowls with Cilantro-Lime Quinoa recipe.
"This dish is rich in whole grains, healthful fats, lean protein and vegetables, while being low in some of the foods and nutrients we want to consume in moderation, like sugar and sodium," said Maya Vadiveloo, a dietitian and assistant professor in the Department of Nutrition and Food Sciences at the University of Rhode Island. "Overall diet quality is important for health – not just one particular food."
The two main ingredients here are skinless chicken – a healthy meat choice – and quinoa, a nutrient-rich seed that often is cooked like a grain. But the rainbow jewel of the recipe might be its wide array of vegetables, including spinach, carrot, onion, radish and tomato, a fruit nutritionists often consider a vegetable.
"It's great to have a variety of vegetables – particularly deeply colored vegetables that provide different micronutrients and phytochemicals," said Vadiveloo, a member of the AHA's nutrition committee.
Filling your plate with a cornucopia of veggies carries an added bonus: It allows you to eat more.
"Vegetables are also low in energy density, which can allow us to eat a larger volume of food for fewer total calories and still feel satiated," Vadiveloo said.
If you have questions or comments about this story, please email [email protected].
---