---
Cardiovascular diseases affect nearly half of American adults, statistics show
By American Heart Association News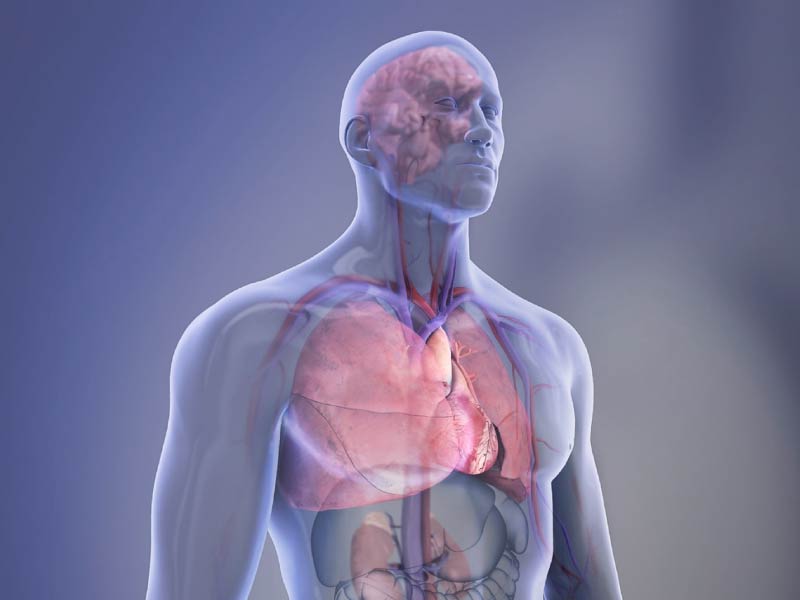 Nearly half of all U.S. adults have some type of cardiovascular disease, a percentage that reflects recently updated guidelines for treating high blood pressure, according to a new report. High blood pressure – also known as hypertension – can lead to heart attack, heart failure and stroke.
"We're becoming more and more aware of the importance of high blood pressure. Levels we used to think were normal we now associate with worse outcomes, and treating them makes a big difference," said Dr. Emelia J. Benjamin, a professor of cardiology at Boston University and chair of the group that wrote the American Heart Association's "Heart Disease and Stroke Statistics-2019 Update".
The report, published Thursday in the AHA journal Circulation, has been released annually since 1958 and is based on data from the National Institutes of Health and other government sources. This year's report said 121.5 million adults in the U.S. – 48 percent based on 2016 figures – have cardiovascular disease. Heart disease was the No. 1 cause of death in the U.S. and stroke was No. 5, the same ranking as in the previous year.
The rise in cardiovascular disease is driven, in part, by changes in the way high blood pressure is defined. In November 2017, the AHA and American College of Cardiology updated the definition of high blood pressure as a reading of 130/80 millimeters of mercury, compared to the previous definition of 140/90.
"We've made some real progress, but I think it's important that we don't do a victory lap. We still have to make sure all Americans have access to quality care and we have to continue to focus on Life's Simple 7," Benjamin said, referring to AHA's seven goals of eating a healthy diet, exercising regularly, avoiding excess weight, not smoking, and keeping blood pressure, cholesterol and blood sugar within a healthy range.
The update said tobacco use remains a leading cause of preventable death, accounting for 7.1 million deaths worldwide in 2016. While the report notes a "consistent decline" in smoking in recent years, it said there was a sharp increase in adolescents using e-cigarettes, which are now the most-used tobacco product in that demographic.
"One of my great fears is that we're addicting a whole new generation to nicotine with e-cigarettes," Benjamin said. Past studies have shown nicotine can increase blood pressure and heart rate and cause narrowing of the arteries.
More Americans are becoming physically active, although the obesity epidemic is nowhere close to vanishing. According to the update, the prevalence of obesity was 39.6 percent of U.S. adults and 18.5 percent of youth, and severe obesity affected 7.7 percent of adults and 5.6 percent of youth. Obesity was associated with a shorter lifespan and a greater proportion of life lived with cardiovascular disease.
"The overall prevalence of severe obesity in youth didn't increase, but it's still very concerning," Benjamin said. "It's a deeply disturbing condition and we have to ask, 'What can we do about this?'"
Dr. Gregg C. Fonarow, a professor of cardiovascular medicine and science at the University of California, Los Angeles who was not involved in writing the report, said the update should serve as a wake-up call for more Americans to be tested for cardiovascular diseases – especially high blood pressure. High blood pressure is sometimes called the "silent killer" because it often lacks obvious symptoms.
"Many are not aware their blood pressure is elevated," said Fonarow. "High blood pressure is a major modifiable risk factor for heart attacks, heart failure, stroke, kidney failure and premature cardiovascular death. Achieving and maintaining a healthy blood pressure level can markedly lower the risk of these cardiovascular events for men and women, young and old, and all race-ethnic backgrounds."
Fonarow urged people with high blood pressure to treat it with lifestyle changes and, if needed, with blood pressure-lowering medication.
"This American Heart Association statistical update provides highly actionable data. The key question is whether clinicians and patients will actually act on it," he said. "The nation's future heart and brain health relies on that answer."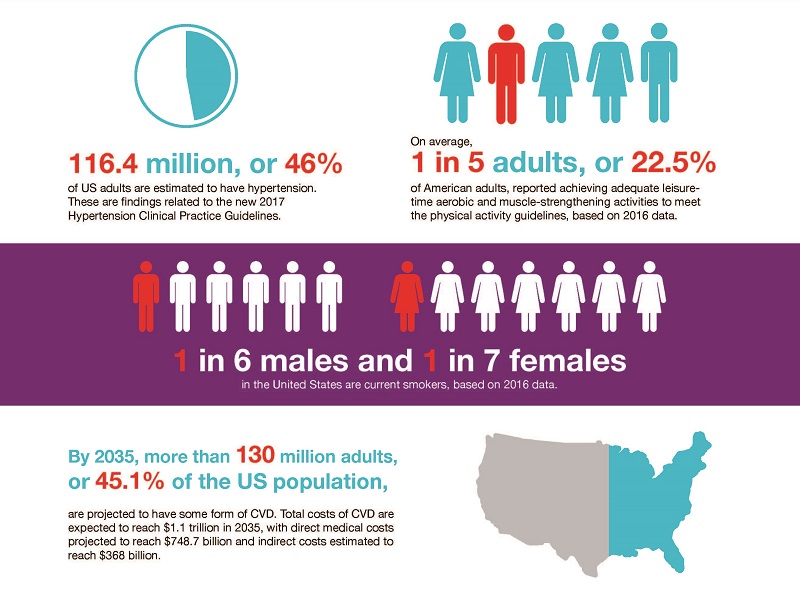 View text version of infographic.
If you have questions or comments about this story, please email [email protected].
---