---
Caring for your heart is far from 'Ugly'
By Nancy Brown, American Heart Association CEO
The next time you listen to a soft, soothing song, put your hand over your heart. Count how many times it beats over the next minute.
Then put on a loud, intense song. Once you really get into it, again count your heart beats.
Surely you noticed quite a difference. Now you understand why blossoming country singer Stephanie Quayle describes herself as being "in the heart business."
There's a double meaning there, of course – the slowing or speeding of a heartbeat based on the rhythm and the symbolic plucking of heart strings that comes from the lyrics and the artist's performance.
Tapping into all those sensations is Stephanie's aim on every song. It's especially evident in her new video, "Ugly," the basis of her #FarFromUgly campaign.
The song's protagonist is a woman who struggles – in childhood, in her teens, in her marriage, in parenting. Why? Because she's trying to fit an idealized version of who she should be rather than embracing her true self. Conforming is what's ugly. Being who you are is far from ugly, as the hashtag emphasizes.
Stephanie hopes everyone who hears the song appreciates the importance of recognizing beauty inside and out. She defines that as building your life around the things that matter most. The song's lyrics and the video's images portray that message. But there's another layer to her presentation, too.
The women in the video have all overcome struggles. The group includes Erin Matchett, who was born with a heart defect and has overcome multiple operations, including open-heart surgery.
Stephanie has taken her message another step by connecting the video to Go Red for Women, the American Heart Association's movement to end heart disease and stroke in women.
Once connected, Stephanie decided to learn more about the mission. What she discovered fascinated and frightened her.
"Not only did I not know that heart disease was the number one killer of women, I had NO IDEA," Stephanie said. "When I heard that statistic and then learned that heart disease takes more lives each year than all cancers combined, I was floored. It became my mission to make sure everyone knows that."
She told her mom and mother-in-law. She made sure her stepdaughter knew it. And now she shares it with her fans, the "flock of Stephanie," as she likes to call them.
Her banter between songs now includes encouragement for heart-healthy living. She considers it part of her job. After all, she's "in the heart business."
"How many mothers and daughters come to my concerts? To be able to share a message that could save their lives? That's one of the gifts of being an entertainer," Stephanie said. "I want to impact a lot of lives in a positive way. I want the sharing of this information to become a positive epidemic."
Stephanie and her family were lucky – they started learning about heart disease by choice. Because of the prevalence of heart problems, most people begin their education following a loved one's cardiac event or the diagnosis of a condition.
The odds, however, caught up to Stephanie.
Soon after connecting with the AHA, two people she loves – an older woman and a younger man – experienced heart issues.
"The timing is really strange but strange in a beautiful way," she said. "When it's personal, your narrative has much more impact."
Just as "Ugly" urges people to turn a negative into a positive, Stephanie is doing likewise with the diagnoses of her loved ones. It's become her call to action for heart health.
She's spent time on the AHA website to better understand how those problems developed and what can be done to treat and beat them. She's also learning how she and the rest of her family can improve their heart health. The knowledge is empowering.
"I'm no longer terrified by the information I'm learning," she said.
Stephanie burst onto the country music scene in 2016 with the song "Drinking with Dolly," a tribute to her hero, Dolly Parton; Dolly appreciated it so much she sent Stephanie a note that now sits prominently on her piano. In 2017, Stephanie's big song and video was "Winnebago," which spawned a nationwide tour in which she lived out the lyrics.
In April, she made her Grand Ole Opry debut. A few weeks ago, she was named to the 2019 CMT Next Women of Country class, giving her another platform to spread "Ugly" and the #FarFromUgly campaign.
Stephanie knows she's lucky to not have heart disease in her family history. The flip side is, that means her risks will come from lifestyle choices. The biggies are following a heart-healthy diet, exercising and not smoking. She already was following those paths and is now even more committed.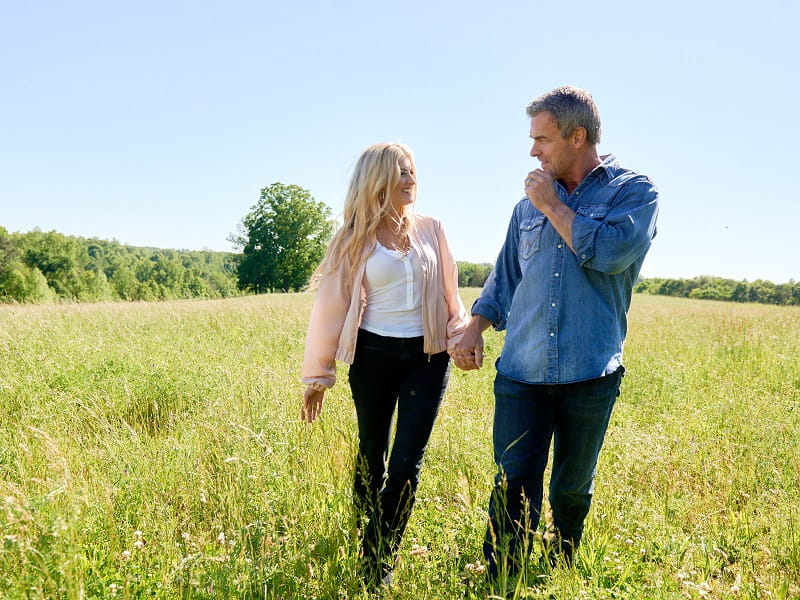 "My husband and I believe food is our medicine," she said. "From our grass-fed beef to our organic garden, food is a huge part of our lives. As I'm reading more information, there are more things I'm implementing in my own life to really protect my heart.
"It's all about having a long, beautiful life and sustaining it so I can do what I want to do – which is sing and share and entertain."
That's a goal that is #FarFromUgly.
A version of this also appeared on Thrive Global.
If you have questions or comments about this story, please email [email protected].
---