---
Holiday eating can stay under control with simple strategies
By American Heart Association News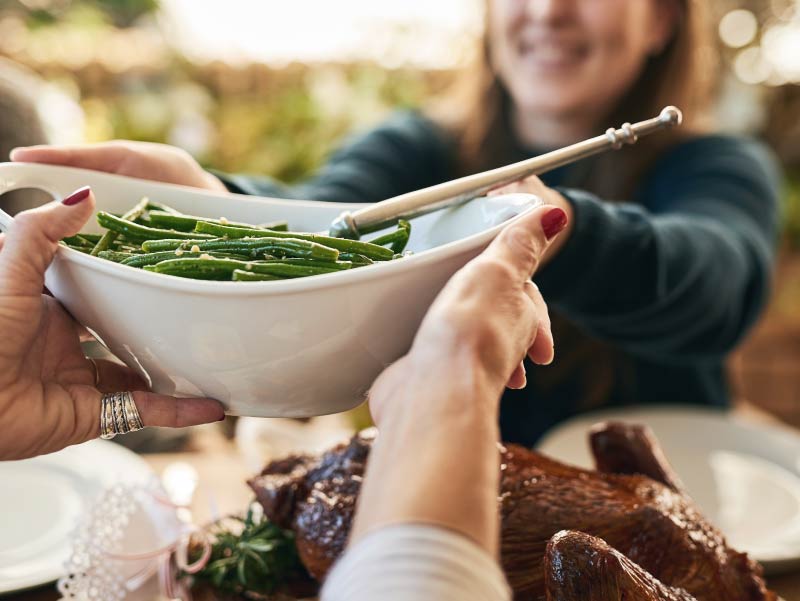 Holiday foods and healthy eating don't always go hand in hand. But even amid the festivities, it's possible to stick to a nutritious path with a few simple strategies.
"You want to try to eat as healthfully as you can during the season. It's just not a time to derail the train from the train track," said Penny Kris-Etherton, a distinguished professor of nutrition at Penn State University.
At food-filled Thanksgiving gatherings, start the holidays the right way by finding new ways to prepare old family favorites. Eating naturally healthy foods during the holidays – and throughout the year – can help lower the risk of heart attack and stroke associated with fatty, salty and sugary dishes.
Certain traditional Thanksgiving foods, such as roasted turkey breast, are lean and low in calories. Sweet potatoes are nutrient dense, and, depending on how they are prepared, can be a healthy part of a holiday meal.
With almost any food preparation, you can cut fat, sugar and salt by about a third without anyone noticing, said Kris-Etherton, a past chair of the American Heart Association's nutrition committee and current chair of its Council on Lifestyle and Cardiometabolic Health.
Use oil or margarine instead of butter. If a dish doesn't seem flavorful enough with less salt, find a substitute spice. But don't add so much that it drastically alters the taste.
Standard holiday recipes can be reworked with a few simple steps, Kris-Etherton said.
"Try something new," she said. "Make it real exciting, different, tasty and good."
Prepare green beans with olive oil, herbs and a few roasted almonds. Skip the cream of mushroom soup mixture and onion ring topping.
If the favorite family stuffing is made with cornbread and sausage, consider reducing the amount of sausage or simply substituting mushrooms or nuts for the meat.
Serve mashed potatoes if that's your family's tradition. But for a healthy and different side, offer mashed turnips or mashed cauliflower, as well.
Another potential food pitfall are the platters of snacks and appetizers that seem to pop up everywhere during the holiday season.
Choose raw vegetables rather than fried foods and select salsa for dipping rather than a sour cream-based mixture.
"You don't have to totally avoid the chips and the savory snacks, but choose something lower in calories," said Kris-Etherton, who suggests opting for baked or air-prepared chips or gluten-free crackers. Popcorn is a crunchy alternative but watch the salt.
Other tactics she suggests for limiting food intake at this season's celebrations:
Use a small plate so you don't overload.
Eat some fruit or vegetables before a party to avoid arriving hungry.
Drink water, coffee, tea or other non-calorie beverages to keep you full.
Alcohol consumption is all right in moderation, but choose drinks wisely, Kris-Etherton said. A glass of wine contains about 100 calories, while a cup of eggnog is three times that amount at 343 calories, and that's without any added alcohol.
Mindful eating, eating slowly and enjoying each bite, is one way to avoid overindulging. Forgoing seconds and practicing portion control during meals, including dessert and toppings, also help.
"It's a time when we do want to eat some pumpkin pie, but eat a small piece of it," said Kris-Etherton, adding, "Do you really need the whipped cream?"
If the answer is "yes," take just a dollop.
Amidst all the holiday cheer, it also might be time to refocus, Kris-Etherton said. Carve out time to exercise when you are off work or school. Physical activity can help balance extra eating by burning calories and take the mind off food.
And even with an array of wonderful food, what matters most this season is spending time with family and friends.
"It kind of helps put everything into perspective," said Kris-Etherton. "We're gathered together to be together. That should be the priority."
If you have questions or comments about this story, please email [email protected].
---