---
What is a medical guideline, and how is it created?
By American Heart Association News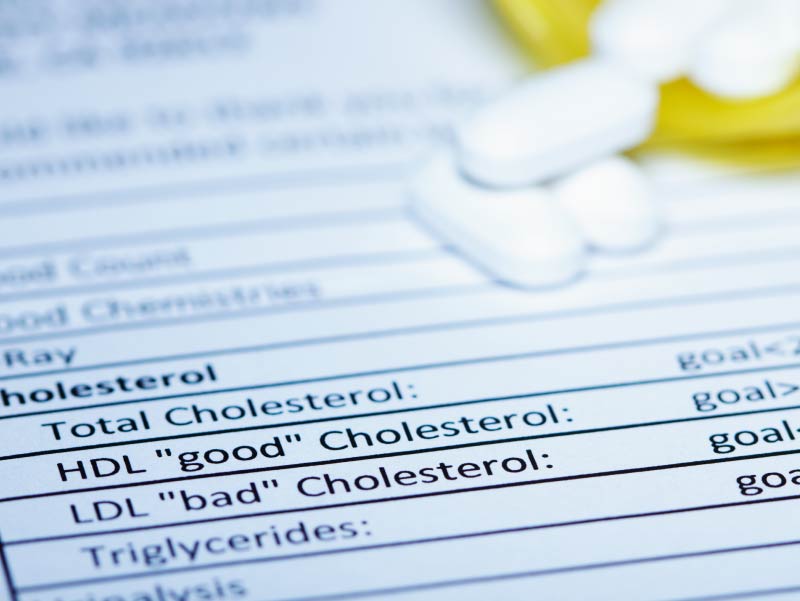 Health care providers regularly consult documents called guidelines when determining the best way to treat a patient.
But what exactly are guidelines? Why are they so important? And how are they made?
Guidelines help doctors understand the best ways to diagnose, treat and even prevent diseases and conditions. Guideline recommendations are based on the strongest available scientific evidence.
The creation of a guideline is a rigorous process because careful scientific study is at the heart of every guideline. When the American Heart Association develops guidelines, alone or in conjunction with other organizations, it all starts with an oversight committee made up of volunteer experts. This group identifies the topic and the major questions to be addressed, and appoints the writing committee.
The writing committee is made up of as many as two dozen or more scientific and medical experts. They're unpaid volunteers from multiple backgrounds to ensure a broad range of viewpoints.
Guidelines are driven by the need to improve patients' lives, said Dr. Robert Bonow, a former AHA president who for a decade chaired the committee that wrote guidelines for treating heart valve disease. He is still on that writing committee.
"When we have good, evidence-based treatment or management strategies, patients do better," said Bonow, the Max and Lilly Goldberg Distinguished Professor of Cardiology at Northwestern University's Feinberg School of Medicine in Chicago. "Being involved in guidelines, you're touching thousands and thousands of patients."
It's important to make sure writing committees are not influenced by any forces that could lead to bias in a guideline recommendation. There are rules governing this, with no chair allowed to have relationships with relevant pharmaceutical, device or other related companies. And for guidelines in the prevention area, including hypertension, cholesterol, obesity and lifestyle, no writing committee member may have such relationships.
However, for guidelines in other areas, it may be beneficial to very transparently include on the writing committee a minority of people who have relevant relationships with device manufacturers or drug companies, Bonow said.
"We don't want to exclude the people who may know the most from providing their expertise," Bonow said. "You have to choose people carefully to ensure they're objective."
Once appointed, the writing committee starts gathering published research and analyzing it carefully. The experts take care to include the most important and scientifically rigorous research – and to exclude research that doesn't meet that standard.
After discussion and debate, the committee members agree on what to recommend and how to prioritize recommendations.
The recommendations are broken down by "class" and "level." Class refers to how likely a recommendation is to help a patient while keeping risks in mind. Level of evidence rates the type, amount and consistency of research, on a scale from A to C.
So, for example, the strongest recommendation is Class IA, meaning it's the most helpful advice based on the strongest kind of research.
Once the committee drafts and votes on recommendations, the peer-review process begins. Numerous experts review, check, object, comment or question the recommendations.
"It is not unusual to respond to several hundred or a thousand comments," said Dr. Alice Jacobs, another former AHA president who has served on writing committees and for three years chaired the committee that oversees joint guidelines created by the AHA and the American College of Cardiology.
"When published, the document has been vetted through much of the academic and clinical community with expertise in the topic," said Jacobs, a professor of medicine at Boston University School of Medicine and director of the cardiac catheterization laboratory and interventional cardiology at Boston Medical Center.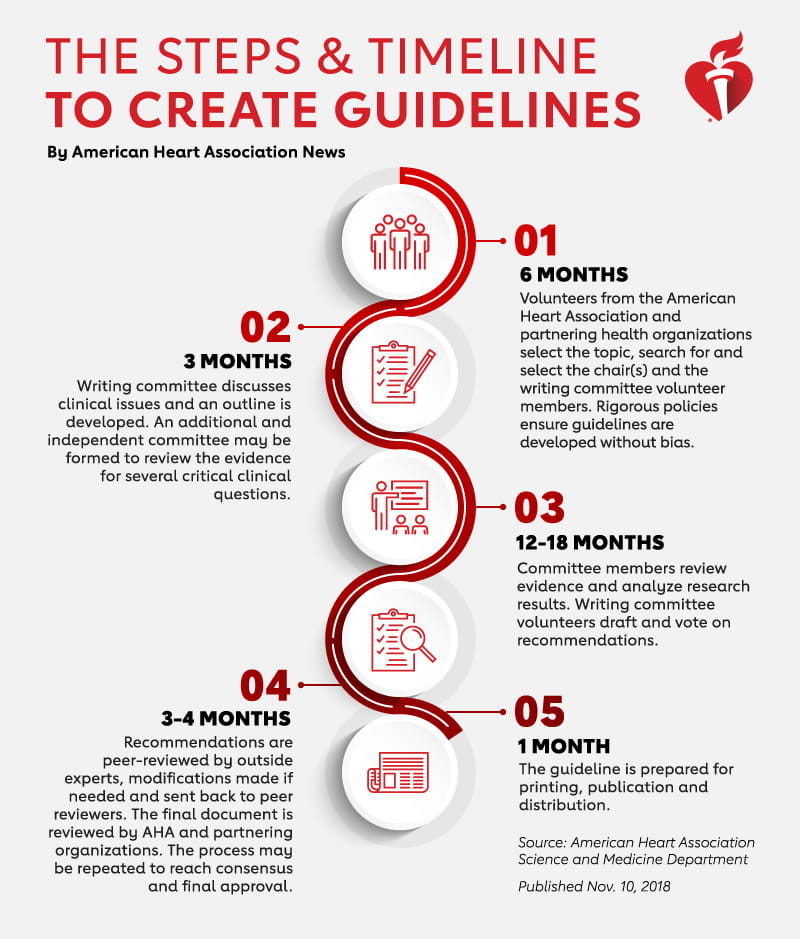 View text version of infographic.
The AHA has published medical information and guidelines since its 1926 publication, "A Nomenclature for Cardiac Diagnosis," which helped doctors diagnose heart disease. Since then, the organization has created guidelines covering a wide variety of topics related to heart disease and stroke.
The AHA has created numerous guidelines with the American College of Cardiology. The two first worked together on 1984 guidelines about pacemakers – at the request of the federal government. Since then, the two organizations have created guidelines addressing 20 cardiovascular disease topics.
In 2013, the federal government's National Heart, Blood, and Lung Institute asked the AHA and ACC to officially lead the process for important guidelines focused on prevention, including cholesterol.
One challenge of creating guidelines is that treatments are based on averages: what will help the most patients with the fewest side effects. Thus, health care providers need risk assessment tools and clinical judgment as to how a recommendation applies to each patient.
"We want to provide the best advice we can for improving the health of patients in this country and abroad," Bonow said.
Find more news from Scientific Sessions.
If you have questions or comments about this story, please email [email protected].
---