---
What happens when lifelong giver becomes recipient? She gives even more.
By Nancy Brown, American Heart Association CEO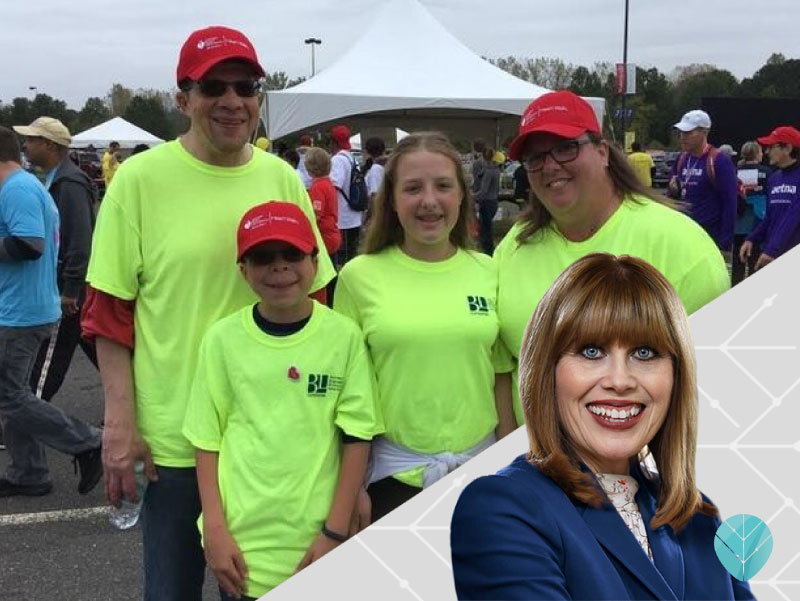 As a teenager, Leigh Pechillo wheeled patients to their cars as they checked out of New Britain General Hospital. Two Sundays per year, she went to church at 4 a.m. to make donuts that her youth group sold after Mass.
Her senior year of high school, she was one of the liaisons for a fundraiser starring Up With People, the traveling musical troupe devoted to making the world a better place. She was so smitten with the group's mission that she vowed to earn a role. Right after college, she did.
While she enjoyed the performances, Leigh best remembers the outreach events – playing games with orphaned kids in Mexico, talking global politics with Croatian refugees in Sweden, scooping mud from homes ruined by overflow from the Mississippi River. In Fort Smith, Arkansas, she sang to a severely autistic teen named Brandon who rarely connected with strangers; as she left, he hugged her and whispered, "I love you."
So in 2007, when her infant son and her father underwent open-heart surgeries a few months apart, Leigh did what she's always done. She helped them. Then she began helping everyone battling heart disease.
There's something special about people like Leigh. Folks who are instinctively drawn to a life of service give and give and give some more without ever seeking anything in return.
That's why it is always so stunning when they end up needing help.
***
Leigh and her husband, Tom, already had a healthy 2-year-old daughter named Allie when they learned another baby was on the way. The day of the fetal ultrasound, the unborn boy was fidgety, preventing his entire heart from being examined.
"There's an 85 percent chance his heart is fine," the doctor said.
Leigh and Tom didn't think anything of it until the day after Robby was born in 2006.
A routine exam detected a heart murmur, prompting an exam by a pediatric cardiologist. He discovered Robby was born with two problems: a hole in his heart called an atrial septal defect and pulmonary valve stenosis, a defect that reduces the amount of blood flowing from the heart to the lungs. A wait-and-see approach was fine for both issues.
About six months later, Leigh and Tom were done waiting. Robby wasn't sitting up like Allie had, didn't bounce around in their laps as much as she had, and he rarely smiled or laughed. Indeed, tests showed the valve problem had worsened.
A minimally invasive procedure didn't work. So doctors performed open-heart surgery to completely remove Robby's defective valve.
"Within a few weeks, we saw a huge difference," Leigh said. "He was a great baby."
The joy of Robby's improvement was countered by the demise of Leigh's dad.
Bob Newton caught rheumatic fever as a child and it damaged his heart. He damaged it more by smoking for 50 years, eating unhealthy food and rarely exercising. In August 2007, he underwent quadruple bypass surgery.
"The doctor said he did all he could in terms of Dad's plumbing," she said. "We had to hope for the best for any other issues."
They got the worst. A series of mini-strokes, heart attacks, vascular dementia and congestive heart failure led to his death in 2011.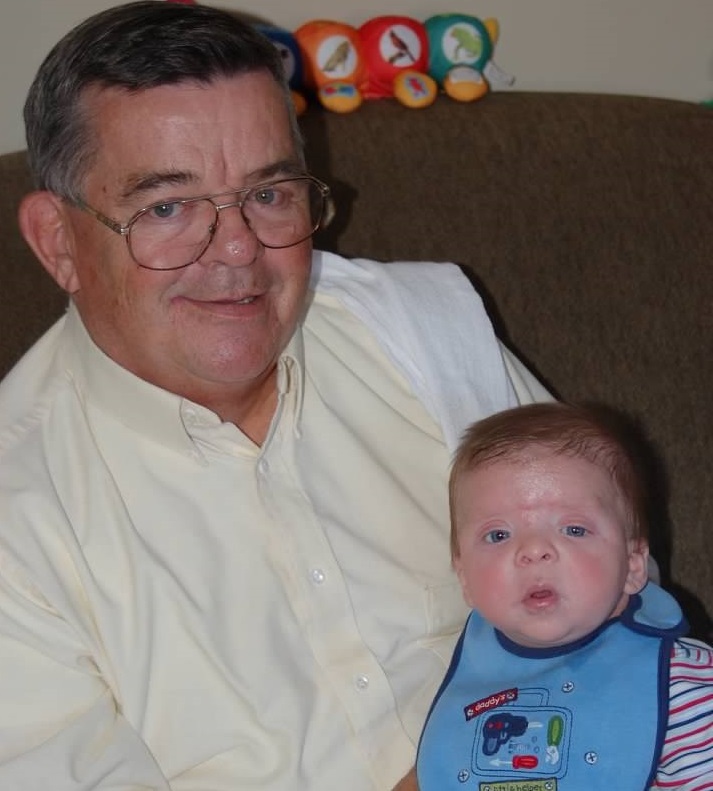 ***
In October 2007 – with Robby and her dad still recovering from surgery – Leigh and family participated in their first Heart Walk, the premier fundraiser for my organization, the American Heart Association.
In February 2009, Leigh took 5-year-old Allie to one of our Go Red for Women luncheons. In addition to enjoying a mother-daughter outing, Leigh was teaching Allie about giving back and the importance of caring for her heart.
The next year, with Allie in kindergarten and Robby soon to enroll in preschool, Leigh launched an AHA fundraiser at their elementary school. She remained in charge for nine years … even in 2014, when the giver in this tale became the recipient.
***
On Mother's Day, Leigh was awakened by Allie and Robby serenading her with a song they'd composed. She then went to the kitchen where she was served eggs Benedict and corned beef hash prepared by Tom and the kids.
Nothing in the meal should've caused heartburn. Yet that's what she felt. She also had trouble breathing while bringing a basket of laundry up the stairs the night before.
When Tom caught her rubbing a fist on her chest, he insisted that she call a doctor. She was told to take an antacid; if problems persisted, she should visit the ER.
All their antacids were long since expired, so she didn't take any. About a half hour later, Tom again saw her rubbing her chest.
"Let's go to the ER and get you checked out," he said. "Let's make sure it's nothing and we can still make our dinner reservation."
Leigh went to the bathroom to get ready. Behind a closed door, her heart stopped.
She collapsed between the vanity and the toilet. Allie heard the thud and screamed, "MOMMY!" Tom ran in and called 911. He handed the phone to Allie and started CPR, something he'd learned at work.
Within minutes, paramedics took over CPR. They used an AED to restart her heart. Tests showed her cardiac arrest was triggered by a heart attack, the kind so severe it's known as "the widow maker." This was beyond the scope of her local hospital, so a medical helicopter took her to Hartford.
Doctors found 70 percent blockage in the artery that supplies blood to the front of the left side of her heart. They considered propping it open with a stent, but the location made it tricky. A bypass was the better option. Yet she was too fragile. So they waited, putting her into an induced coma and used protocols for therapeutic hypothermia to help her recovery.
The next evening, Leigh went into cardiac arrest again. It happened three times that night, requiring 13 shocks from the AED, all while still comatose. Doctors could no longer wait for the bypass. She needed the stent right away.
"And it worked," she said.
The following Mother's Day, Leigh sent a bottle of Colby Red Wine to her cardiologist's wife to make up for having ruined that special day the previous year. The year after that, Leigh shared her story in hopes of alerting more women that heart disease is their No. 1 killer.
***
This is where all roads are supposed to meet, where Leigh's previous AHA involvement gets boosted by her personal connection – sending her fundraising totals beyond $100,000, landing her among the advocates who persuaded Connecticut lawmakers to require CPR training in high schools, earning her the inaugural local Woman of Distinction Award and landing her a spot on the local board of directors.
Yes, all that happened, but only after another twist.
During her recovery, Tom asked her cardiologist to check his heart for no reason other than it seemed like a good idea.
Tests showed he was born with an aortic aneurysm, a thinning of the lining of the blood vessel carrying blood from his heart to his body. Over his 46 years, he'd developed a bulge that was essentially a time bomb; had it ruptured, he'd have only a few hours to get it repaired.
So about eight months after Leigh's near-fatal event, Tom underwent open-heart surgery.
In case you're wondering, Allie's heart has been thoroughly tested. She received a clean bill of health.
***
Back in her Up With People days, Leigh often sang "What's Happening To You," a song featuring these lines: "Wherever you may live, whoever you might be/ What's happening to you, is happening to me."
Leigh pointed out those lyrics to sum up what drives her. She also sees harmony between everything she's given the AHA and all that her family has received from the organization's efforts to improve and extend lives.
The cycle continues, too.
Robby is 12 and doing well, but his heart now needs to have a valve placed where his original valve had been removed. While they hoped this wouldn't happen for a few more years, there is a good possibility this can be done without Robby enduring another open-heart surgery.
"It's amazing to think the money we raised 10 years ago has funded the research that now allows for surgery of this nature to be done through a catheter," Leigh said. "We were always fundraising as a way to say thank you to people who came before, and now we've raised money to help benefit him now."
We recently launched a program for schools called Kids Heart Challenge and Leigh is helping bring that to her community. She also shares heart-healthy messages via Instagram and Twitter. Next year, she plans to celebrate the five-year anniversary of her heart attack by holding community-wide training of Hands-Only CPR.
"The more I am a part of things, the more I see that there's still a lot of work to be done," she said. "I've also learned that through volunteer work, even the smallest thing you do can have an impact on somebody."
A version of this column also appeared on Thrive Global.
If you have questions or comments about this story, please email [email protected].
---