---
Grandparents, grandchildren can connect with health in mind
By American Heart Association News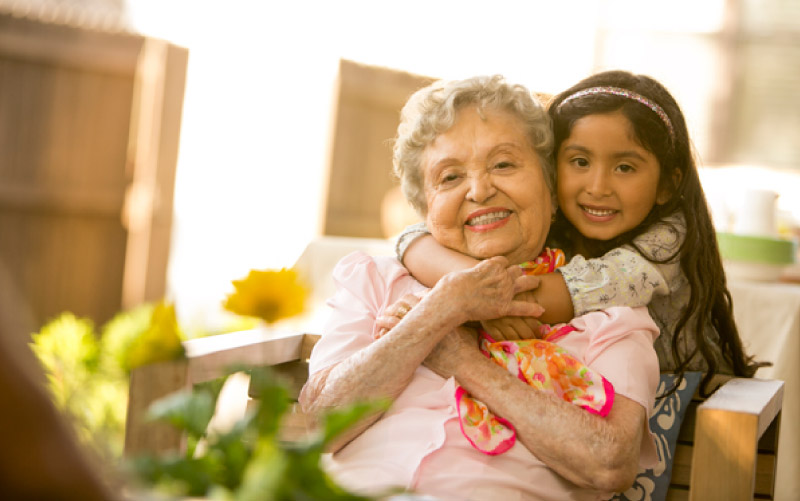 How much time grandparents and grandchildren spend with one another runs the gamut from infrequent visits to the role of primary caregiver.
Regardless of the amount of time together, there are opportunities to foster a special bond between the generations.
Grandparents can improve their chances of being around for their grandchildren for years to come by paying attention to their own health.
Grandparents must tend to their own health while also engaging grandchildren in activities that involve exercise and healthy eating, said Susan Kelley, director of Project Healthy Grandparents at Georgia State University.
"Grandparents, whether raising grandchildren or not, serve as key role models for their grandchildren," she said.
A good time for these reminders is Grandparents Day(link opens in new window), an annual observance in the United States taking place this year on Sept. 9.
Prepare for a long life ahead
Life expectancy has increased, and the grandparent age group is growing. Nearly 50 million people in the U.S. today are 65 and older, and that's expected to reach 86 million by 2050, according to the U.S. Census Bureau.
"It's a fact. It's going to happen," said Dr. Bill Lloyd, health director for Transamerica. "This is a very large, very new chapter in life, lasting maybe 25 or 30 years."
To prepare for that chapter, grandparents must realize that "health and wealth are inextricably linked," Lloyd said. Good physical health is necessary to enjoy your financial assets, he said, and being in good fiscal health allows you to participate in your favorite activities.
Consider opening a health savings account if it's right for your situation, and look into other savings or investment products in your 50s and 60s to help ease stress and worry.
Model healthy behavior for grandchildren by staying physically active, not smoking and eating a balanced diet. Think of everyday outings that might teach youngsters about health and savings.
At the grocery store, use coupons and explain how to make healthy choices. At the bank, discuss savings, open an account with a grandchild, or perhaps give a young grandchild a piggy bank and a roll of quarters. Help teenage grandchildren set and achieve a financial goal, whether it's buying a car or taking a special trip.
"We're taught that parents are our first teachers. So that means grandparents are our super teachers," said Lloyd, who is in his 60s and a grandparent himself.
Plan a variety of activities with grandchildren
Time with grandchildren can take many forms, and doing something physical sets a good example, Kelley said. Depending on a child's age and the physical abilities of the grandparent, head outdoors to walk, run, hike, swim or bike.
Public parks are a nice setting for enjoying nature and fresh air and for many types of physical activities, including exercise classes, Kelley noted.

Reading together can be relaxing and a learning activity that can even be done over the phone or via video chat if a grandparent and grandchild are in different cities.
Consider volunteering together. Pick up litter in a public place, help care for pets at an animal shelter or distribute food to those in need, including homebound seniors. The organization Generations United provides a Take Action Guide with ideas for activities for Grandparents Day or any day.
Lloyd recently took his visiting grandson with him to donate toilet paper to his church's efforts to help the homeless, demonstrating the importance of volunteerism.
Encourage healthy eating
Grandparents also can set good examples when it comes to nutrition.
"Teaching children to grow healthy foods is another great way for grandchildren to interact with grandparents," said Kelley, chief academic officer and associate dean for nursing at Georgia State's Byrdine F. Lewis College of Nursing and Health Professions.
While gardening usually involves access to outdoor space, herbs and some small vegetables can be grown in patio pots or indoors. Taking cooking classes together to learn about healthy eating choices is another fun option, Kelley added.
Eating home-cooked meals establishes a foundation for selecting healthy foods and cutting down on snacking – and it saves money compared with eating out. Getting youngsters involved in planning and cooking meals can also encourage healthier eating habits and carve out quality family time.
If there's a farmers market nearby, take grandchildren there to select fresh produce.
Grandparents can share favorite family recipes, and, if necessary, modify them to be heart-healthy.
Health reminders for grandparents
Regular physical exams aren't just for little ones. They're important for grandparents, too. They can be particularly important if you're a "custodial grandparent" serving as a child's primary caregiver.
About 10 percent of children live with a grandparent, and some 2.7 million grandparents had primary responsibility for grandchildren under age 18, according to the 2010 U.S. Census.
Raising grandchildren has been associated with a detrimental impact on both a grandparent's physical and mental health, according to studies involving African-Americans.
Because custodial grandparents tend to prioritize their grandchildren's needs over their own, a grandparent may fall behind on medical checkups or other health care screenings or neglect to exercise regularly or eat healthy foods.
Additionally, raising grandchildren may be associated with stressful life circumstances such as family substance abuse, neglect, mental health issues, incarceration or the death of one or both parents.
Heart health is of concern for grandparents because it's closely connected to overall health. Grandparents should follow a heart-healthy diet and get regular checkups to monitor their blood pressure, weight, cholesterol and blood glucose, Kelley said.
Grandparents spending time with grandchildren should check their vaccinations(link opens in new window) to ensure they don't pass on diseases to the kids. For example, protect yourself and your family against tetanus, diphtheria and whooping cough with the Tdap vaccine.
Even if you were vaccinated when you were younger, your protection against whooping cough can wear off, and the illness can be particularly dangerous for infants younger than 6 months.
Other important vaccines for older adults are shingles, MMR, flu and pneumonia.
Remember, spending time with grandchildren can also benefit a grandparent's health because of increased physical activity and social interaction. It also can be emotionally fulfilling, especially if it's a not a full-time parenting role, Kelley said.
If you have questions or comments about this story, please email [email protected].
---