---
Summer days: Make sure the living is easy — and active
By American Heart Association News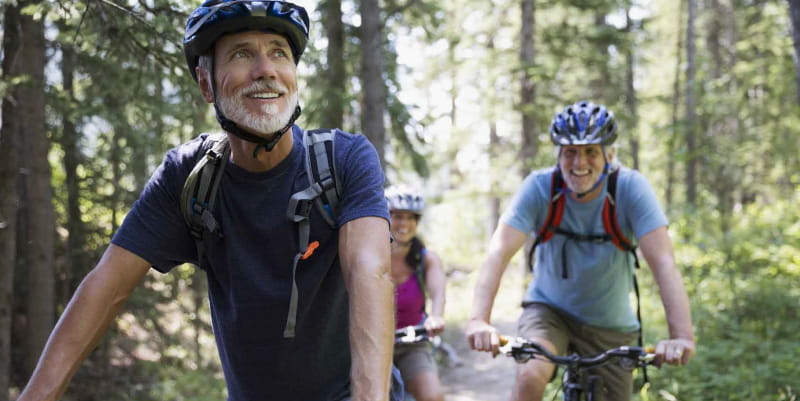 It's the peak of summer, when swimming, hiking, biking and other outdoor activities beckon — just the kind of active leisure time(link opens in new window) that can make a big difference in your overall health.
"Clearly this is a great time of year for those who have not been as physically active to make that change," said Russell Pate, a professor of exercise science at the University of South Carolina Arnold School of Public Health. "We're more active when we're outside than when we're inside."
If you've spent summer in the hammock so far and need motivation or strategies to get moving, here are some things to keep in mind.
Health benefits abound
Regular physical activity can help you sleep, feel and function better. And it reduces the risk of some diseases and health conditions.
According to the 2018 Physical Activity Guidelines Advisory Committee Scientific Report, regular moderate to vigorous activity can help keep your weight in healthy ranges and reduce the risk of Type 2 diabetes. It can also reduce the risk of breast, colon, kidney, bladder, esophagus, stomach, endometrium and lung cancers.
Getting physically active is one of the best things you can do to reduce the risk of heart disease. Exercise can lower blood pressure and improve levels of good cholesterol. It helps to keep your arteries healthy, lessening your chance of a heart attack or stroke.
Approximately one in every six health care dollars is spent on cardiovascular disease, most of which is preventable. Heart disease and stroke are among the most widespread and most costly health problems. Heart disease and stroke cost the nation $316.6 billion in health care expenses and lost productivity in 2011, the most-recent figure available from the federal government.
There is also an emotional aspect to exercise. Being physically active can combat stress, decrease the likelihood of depression, and help keep your brain healthy as you age. Serious mental illness costs the nation $193.2 billion per year in lost earnings, according to the National Alliance on Mental Illness. Depression, bipolar disorder and other mood disorders are the third most common cause of hospitalization in the United States for both youths and adults ages 18-44.
It's recommended that adults engage in at least 2 1/2 hours of moderate physical activity per week. The American Heart Association suggests aiming for 30 minutes of exercise each day, five days a week.
Friends and family play a role
Getting active can make summer more social.
"Find a friend," Pate said, explaining that partnering can keep you motivated to exercise or participate in something physically challenging. "It's a very powerful incentive."
If you have children, get them involved in exercise fun with the family or through play groups and recreation programs. Children should get at least 60 minutes of physical activity each day.
It's easy to let youngsters entertain themselves indoors with sedentary screen time. Instead, encourage them to use their free time to become active outside. It can jumpstart healthy habits that last a lifetime.
"In the current culture, we just cannot assume kids are going to get the kind of physical activity they need on their own," Pate noted. "We can't just be passive about this."
Take it slow and make it enjoyable
"Most people can safely participate in a moderate exercise program or leisure time physical activity without a doctor's exam, although if you have health concerns it's best to check with your physician," Pate said.
Consider starting gradually with smaller sessions of 15 to 20 minutes if you've been inactive the past few months. Prepare for the heat by wearing light clothing and staying hydrated.
Choose an activity that you like and feel competent with. "If you've never played tennis, for example, it may not be the best activity for starting out," Pate said. "Build up to more complex or strenuous sports or games and to longer sessions."
Remember to select activities in convenient locations to avoid traffic or traveling a long distance just to get started.
Keeping it simple keeps it affordable. Walking in a neighborhood park or swimming at a community pool will keep you active without overspending.
Set goals and reward yourself
Think about what you'd like to achieve. How about a 20-minute walk, three days a week during a lunch break or in the evening? If you meet that goal, treat yourself to something else that's enjoyable, such as going to a movie.
These strategies will set you up for success.
"They're tried and true and they work, and they don't cost very much," Pate said.
Don't let all-or-nothing thinking rob you of doing what you can every day.
"If you backslide, don't worry about it," he added. "Don't beat yourself up about it. Modify the goal and move on."
Even a little more physical activity is better than none. If you're doing more than you were before, you're on the right path.
If you have questions or comments about this story, please email [email protected].
---