---
Heart failure expert sees great changes ahead for landscape of heart health
By American Heart Association News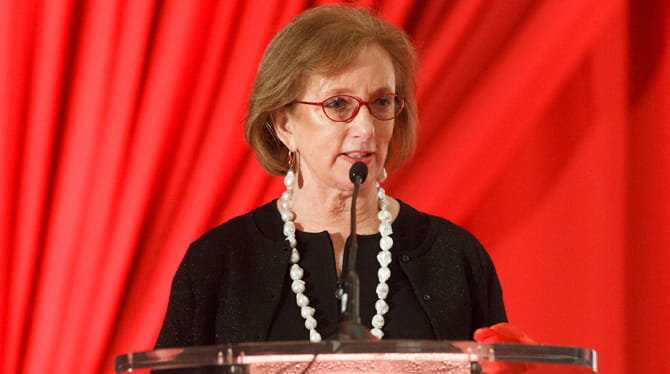 By the time Mariell Jessup left home to attend the University of Pennsylvania, she already knew she wanted to be one of two things after graduation: an actress or a physical therapist.
But while studying physical therapy, she gradually noticed almost all of her classmates were pre-med.
"One day it hit me … I should be a doctor, too," she said. "It really was an epiphany."
That small flash of insight turned out to be a major windfall for the world of cardiology.
One of the country's leading experts on heart failure diagnosis and management, Dr. Jessup has worked tirelessly to advance the field of cardiovascular medicine. She was honored in June with the Gold Heart Award, the American Heart Association's highest volunteer honor.
Before becoming president of the AHA in 2013 (a one-year volunteer term), Jessup was a longtime volunteer. She chaired the panel that wrote the 2009 American College of Cardiology/AHA guidelines update on managing heart failure, served as the chair of the Committee for Scientific Sessions Program and served as a member of the AHA's national Board of Directors.
Jessup first clicked with cardiology during her residency at Hahnemann University Hospital in Philadelphia.
"There was something about it I really liked," she said. "You have to be organized and practical to be a cardiologist … it all made sense to me."
During her faculty positions at Hahnemann Medical College, Temple University and the University of Pennsylvania, Jessup published numerous articles, editorials and reviews on heart failure and heart transplant. She was an investigator in many landmark clinical trials, and she led a key study on using the gene for SERCA2A to treat ischemic cardiomyopathy, a type of heart disease strongly associated with heart attacks.
"But I think being the president of the American Heart Association has been my biggest accomplishment," she said. "As president and an officer, I met a lot of smart, interesting people who opened up new worlds to me by asking good questions and coming at issues from a very different way than I was accustomed. My life had been relatively focused within the cardiac world before that, and these people pushed my boundaries."
She said her experiences at the AHA helped propel her into her latest job as chief scientific officer of the Foundation Leducq, an international grant-making institution that funds cardiovascular and neurovascular research. She also works as an adviser to Luducq's sister organization, Broadview Ventures, a philanthropic fund that seeds early biotech companies.
"I've learned so much about what it takes to bring discoveries from the lab and move them to the human arena," she said. "There are a million hurdles."
One ongoing challenge, she said, is that pharmaceutical firms and traditional venture funds tend to cut off research money if they don't see fast, concrete results.
Still, Jessup sees a positive change for the landscape of heart health.
"I watch the new companies that come to us for funding, I see the gamut of things they're doing and I have great hope for the future," she said. "I also think there's a much greater interest today in health, exercise and eating healthy. The message has gotten out, especially among millennials."
Jessup said one area that still needs improvement is the number of women who go into cardiology.
"About 20 percent of cardiologists are women. That number's been stuck there for the last couple of decades, and it's not clear why," said Jessup. "Women are so prominent in other fields of medicine that people don't realize that cardiology has lagged behind."
That could be changing with help from the AHA. The association recently launched "STEM Goes Red" — an offshoot of its Go Red For Women program — to empower high school and middle school girls to improve the health of all Americans through careers in science, technology, engineering and math.
"We have to start talking to girls early about this, by the time they're in middle school," said Jessup, who became involved in the STEM initiative in Boston, where she lives.
"Unless schools really champion science, technology, engineering and math early on, girls start to think it's not cool. Girls have to hear about all the different ways that STEM careers can be exciting and fun. They have to see other women as role models so they, too, can say 'Oh, I can do that!'"
If you have questions or comments about this story, please email [email protected].

---