---
Investing in community-based entrepreneurs to overcome health disparities
By American Heart Association News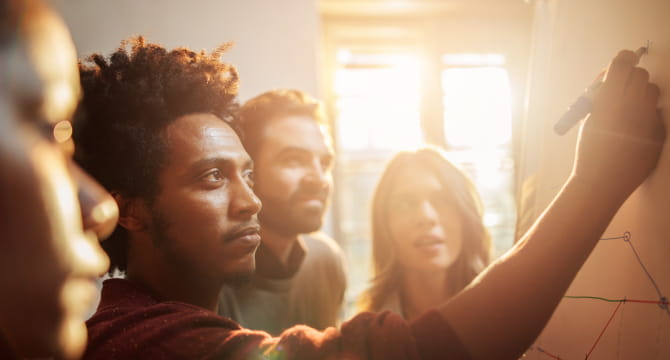 Community environments play an important role in health outcomes. People living just 5 miles apart can in some cases have a difference in life expectancy(link opens in new window) of more than 20 years due to factors such as economic stability, education, societal influences and health care.
"If we don't address the economics of the situations that people live in, we're not going to be able to effectively address health," said Dr. Keith Churchwell, senior vice president and executive director at the Heart and Vascular Center and Transplantation Center at Yale-New Haven Health in Connecticut and chair of the American Heart Association's Health Equity and Social Determinants of Health Task Force.
"There's a direct correlation between zip code and health, so one way we can improve the overall health of a community is investing in entrepreneurs and innovators in those communities to create initiatives that promote healthy behaviors and increase access to good health," he said.
Through its 2018 EmPOWERED to Serve Urban Health Accelerator, the AHA will offer grants of up to $30,000 for community-based ideas that change behaviors, expand access and improve long-term health by overcoming challenges in urban communities.
The Accelerator, which is accepting applications through June 30, provides training for selected applicants in the areas of brand development, marketing, strategy, customer segmentation and business models.
"Think of this as an intense, eight-week MBA-type experience for social enterprises," said Christa Chambers-Price, spokeswoman for the program and founder of the Ann Arbor, Michigan-based business storytelling incubator Entre-SLAM. "This is an action-oriented experience that pushes entrepreneurs to achieve the impossible."
The initiative provides accountability to track progress and impact, Chambers-Price said.
"We want to give entrepreneurs the ability to say, 'We have these limited resources, but we can maximize every one of them to solve big problems,'" she said.
Winners from last year's initiative are already having an impact in their communities.
Gospel Run(link opens in new window), an organization that taps into urban church communities to promote fitness, will launch a Gospel Run in the nation's capital next spring thanks to a $30,000 grant awarded from last year's Accelerator. The event is Gospel Run's first outside its base in Chicago, where its 5th annual 5K is expected to attract 2,000 participants on June 2.
Founder Nyasha Nyamapfene said the Washington, D.C., event will serve as a model for further expansion across the country.
"This allows us to build a community of health and faith that extends nationally," she said.
Gospel Run teams are typically formed among church members who train throughout the year to build a culture of exercise and other healthy behaviors.
"This is not a once-a-year event," Nyamapfene said. "The work continues throughout the year as we change behaviors."
Receiving a $20,000 grant last year was MEANS Database(link opens in new window), a nonprofit technology company that connects soup kitchens and homeless shelters with fresh food that would otherwise go to waste. The grant allowed the tech nonprofit to partner with Food Connect in Philadelphia to close the transportation gap that often prevents such organizations from accepting available food donations.
"Most of our food is going to agencies less than 2 miles away in the same low-income communities, but the agencies have no way to transport it," said MEANS Database founder Maria Rose Belding.
This summer, MEANS Database and Food Connect will coordinate with Philadelphia Parks & Recreation to deploy meals from the Summer Food Service program to local agencies.
Belding said the Accelerator offered an important opportunity for underrepresented entrepreneurs to get an idea off the ground.
"No one knows a community better than a community knows itself," she said. "Competitions like this put the advocacy philosophy of 'nothing for us without us' into practice."
Cecil Wilson of Matteson, Illinois, used the $10,000 grant he received last year to expand the reach of his company Goffers, which employs local residents to act as personal runners for customers who lack transportation or the physical ability to pick up medications, go to the grocery store or run other errands.
Goffers serves the Southland area of Chicago and, starting in April, northwest Indiana, where there are few nearby options for fresh foods.
"We're not just delivering things people need," Wilson said, "we're connecting neighbors to neighbors."
If you have questions or comments about this story, please email [email protected].
---