---
Tedy's Team: Boston Marathon survivors run for stroke survivors
By American Heart Association News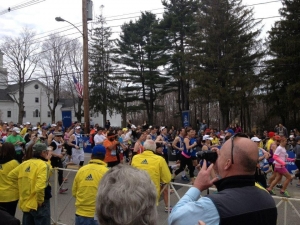 Dan Foley wondered who could be calling his cell phone since his family and friends knew he'd be at about Mile 25 of the Boston Marathon.
"I ignored it the first time," Foley said. "But when it went off again, I took it out of my armband."
It was his wife, Katie, yelling not to come to the finish line, as his 3-year-old daughter Paige cried in the background.
His family called right after seeing a bomb explode across the street from them near the finish line of the April 15 race.
Also close to Mile 25, Jackie Curley wasn't having her best race.
"I started out strong, but at the halfway point, I fell apart," Jackie said. "My legs were heavy, I was getting blisters, and I was overheated.
"If I had had the race I should have, I would have been right there when the bomb went off. I have never been so glad to have a bad race."
Foley and Curley ran the race with Tedy's Team, named for former New England Patriots player Tedy Bruschi, who suffered a stroke in 2005. The team raises funds to help the American Stroke Association fight stroke.
Foley and his wife, Kate, started running on the team in honor of her great-aunt who died of a stroke. Dan's father had also suffered a stroke, underscoring for the Foleys the importance of funding American Stroke Association research.
Last year, Dan's uncle – who had long supported Tedy's Team and whose daughter ran on it – didn't recognize the warning signs of his own stroke.
"I've been on this team since 2010, but almost failed at the ultimate goal of raising awareness," Foley said. "Between my uncle's stroke and the events of this year's marathon, I really want to focus on how I live my life and how I set examples for my daughter. I can't imagine Tedy's Team not being part of my life and of my family's life. This gives me the opportunity to go out there and make someone's life better."
Jackie Curley joined Tedy's team six years ago, after her mother had a stroke.
"I was only a casual runner, but my brother had gotten Tedy's book in 2007, and it inspired all of us," Curley said. "After my first Tedy's Team Marathon, Tedy came up to my mother and me, and I was amazed that he knew my name. He spent a lot of time encouraging my mother. Being part of Tedy's Team has taken something that was so emotional for me and my family to overcome, and put a positive spin on it. All of us on the team have a unique bond. We understand if someone's family member has a relapse."
This past April, Tedy's Team began Marathon Monday as they do every year, gathering at a stroke volunteer's home near the starting line in the town of Hopkinton.
"Tedy gathered us all in a circle and prayed that God watch over his runners that day," said Foley.
They ran as they do every year until they neared the end of the 26.2 miles. At 2:49 p.m., two pressure cooker bombs exploded, killing three people and injuring 264. Two brothers were named as suspects. One was killed in the ensuing manhunt and the second currently awaits trial.
Foley was one of the few runners with a cell phone to get the news of the bombings. Near Curley a runner's cell phone kept going off. She also saw all the helicopters, ambulances and police on their phones. She and fellow Tedy's Team member Page Minihan were concerned.
"We were worried, but thought if there was a problem, they would stop us," Curley said.
Foley threaded his way through the runners to tell them to quit running. Eventually, he only wanted to get to his wife and daughter, and worked his way through side streets to reach them.
"As soon as we saw each other, we burst into tears," Foley said.
Curley stuck with other Tedy's Team members who had found one another. She also found her parents, who had accidentally taken the wrong line of Boston's T and ended up on Commonwealth Avenue.
"My mother doesn't have any peripheral vision and she spotted me out of the corner of her eye," Curley said.
As the runners made their ways through the streets, Tedy Bruschi and Zack Blackburn, senior athletics director for the American Heart Association/American Stroke Association, leaned out the window of the hotel at the finish line at Boylston Street that served as headquarters for returning runners and their families.
They heard the first bomb explode, thinking it was a confetti gun. The second bomb erupted in a fireball and explosion about 75 yards away, directly in their line of sight.
Shortly thereafter, all the team members who had finished the race, their supporters, and the volunteers were evacuated from the hotel. They all started walking, landing at a restaurant in Boston's Southie neighborhood. It was a week later before everyone on Tedy's Team gathered. Blackburn returned the bags and backpacks that runners had entrusted to him as they ran. Curley turned on her cell phone and found she had more than 100 text messages.
Foley had been able to pick up the uncollected medals for the team, which Bruschi gave out at that meeting.
"The runners of Tedy's Team have always served as my heroes," Bruschi said. "They epitomize everything that is good with the human spirit and the passion, energy and enthusiasm they each show in the fight against stroke is something that should be celebrated every day. They may not have all crossed the 'finish line' on marathon day this year, but they are all 'finishers' to me. They are all champions and I was honored to be able to put those medals across their necks. They earned every bit of it."
The events of the Boston Marathon haven't ended Dan and Jackie's marathon experiences. All of Tedy's Team has signed up for next year's Boston Marathon, and they were honored with the "Heart of the Mission" award in the Boston office of the American Heart Association/American Stroke Association in late September. But many of them didn't have to wait till April 2014 to run together again.
"One of our mottos is 'Leave no man behind,'" Curley said. "We chose a day when the majority of us who wanted to finish the marathon could, and we headed back to Boston College, the furthest point any of us had been, and we ran to the finish line."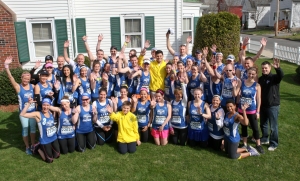 Although they expected to run on the sidewalk, when they turned down Boylston Street toward the finish line, a police officer stopped traffic. The 20 members of Tedy's Team clasped hands and finished their race to the applause of gathered family, friends – and Bostonians just going about their business.
Two weeks later, Curley and Foley followed through on their plan to run with Tedy's Team at the Big Sur Marathon.
"Dan and I wore our Boston Strong T-shirts, and started and finished together," Curley said. "We didn't care about the time, we just enjoyed it."
They also wore the bibs from the Boston Marathon on the back of their shirts.
"As we got toward the end, we took those bibs off and held them in front of us," Curley said. "They crossed the finish line first."
For more: Video: Running for stroke awareness(link opens in new window)
Photos courtesy of McCardinal Photo
---