---
Survivor copes with aftermath of massive heart attack
By American Heart Association News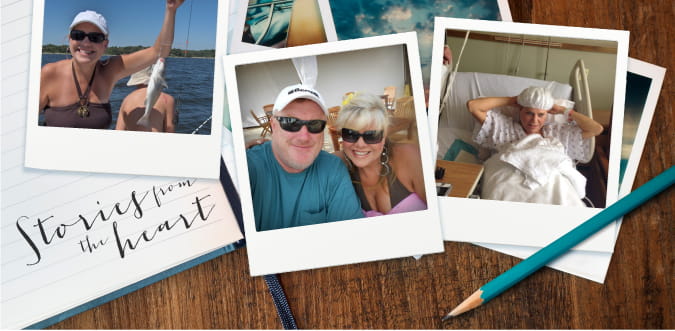 Gabby McManus awoke in the middle of the night with severe heartburn and feeling like there was a huge weight on her shoulders.
It was much worse than symptoms she'd experienced the previous few weeks – occasional shortness of breath and mild heartburn, for which she took an aspirin or two.
This time, McManus took four aspirin. Her husband, Bill, who was out of town, urged her by phone to call an ambulance. Instead, she took a shower, got dressed and decided to have her college-age son, Brett Harman, drive her to the nearest hospital, about 30 minutes away.
"Everything just felt heavy. I felt a little disoriented," McManus said. As they drove through rural southern Maryland, a sense of urgency set in. "I said, 'Hurry!' "
At the emergency room, McManus felt more disoriented as she made her way inside. "As I was walking through the door, I said, 'I'm not going to make it,' " she recalled.
McManus collapsed, and medical workers had to shock her heart. "I just remember waking up screaming that I wanted my mom," she said. Doctors and nurses explained to McManus that she'd had a massive heart attack.
Over the next several hours, she went into cardiac arrest 14 times.
"I didn't know what was going on, but I knew I was dying," she said.
The medical helicopter wasn't flying because of fog, so doctors gave McManus a clot-busting drug and transported her by ambulance to a Washington, D.C., hospital an hour's drive away.
Whisked into surgery at the Washington hospital, McManus woke up in the intensive care unit. A stent had been placed in the main artery down the front of her heart, which had been 98 percent blocked.
McManus, 46 at the time, looks back on that day in August 2013 and is forever thankful the cardiac arrests happened once she'd arrived at the hospital.
"If not, I would be dead," she said.
Heart attack survivor Gabby McManus with her husband, Bill.
Outpatient physical therapy helped McManus regain some of her strength and introduced her to other heart patients.
"Everybody's story is different," she said. A frightening realization was that some fellow patients had suffered subsequent heart attacks.
McManus had no obvious risk factors before her heart attack. Her blood pressure and cholesterol were normal, and she was active and a healthy weight. She had annual physicals. However, it was later determined she suffered from coronary artery disease and that there was a family history of the condition.
Today she remains on several medications and sees a cardiologist every four months. The stent continues to do its job. McManus doesn't have quite as much stamina as she once did and has trouble sleeping.
But the most difficult lingering effect of her heart attack has been coping with depression and anxiety.
"People don't understand the mental state of having a heart attack," she explained. She would like medical experts to focus more heavily on the psychological aftermath.
McManus went through what she called "a roller coaster of emotion."
Three major panic attacks sent her to the hospital for fear that she was experiencing another heart attack. She's also had minor panic attacks at home. She takes medication and sees a professional for help with the anxiety.
Today she asks lots of questions about her medical condition and hopes others will do the same, especially since a heart attack doesn't necessarily come with a warning sign.
"You have a whole different perspective on life," she said. "You need to take charge of your health."
Do you know a "Stories From the Heart" we should tell? Send an email to [email protected](link opens in new window) that's as brief or as detailed as you'd like.
Photos courtesy of Gabby McManus
---