---
Study shows cholesterol drugs reduced cardiovascular risks
By American Heart Association News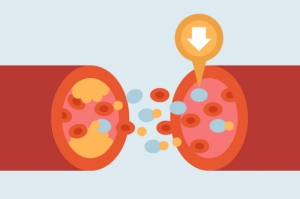 Adding a drug called ezetimibe to statin therapy significantly reduced the risk of heart attack and stroke in high-risk patients with established heart disease, according to a long-awaited, large, randomized and controlled trial presented at the American Heart Association's Scientific Sessions 2014.
The IMProved Reduction of Outcomes: Vytorin Efficacy International Trial (IMPROVE-IT) results support guidelines presented at last year's Scientific Sessions by the American Heart Association and American College of Cardiology.
"We took those patients from a clinically appropriate target LDL-C to even lower. We now have solid evidence that lower is good, and even lower can be even better," said Christopher P. Cannon, M.D., lead author and a professor of medicine at Harvard Medical School and physician at Brigham and Women's Hospital.
The IMPROVE-IT research compared two approaches: simvastatin and a placebo or simvastatin with ezetimibe.
Both drugs lower low-density lipoprotein cholesterol, but in different ways: Simvastatin blocks cholesterol produced by the liver while ezetimibe interferes with cholesterol absorbed in the body through diet. Low-density lipoprotein cholesterol is a dangerous form that leads to clogged arteries and increases the risk for heart attacks and stroke.
Researchers found that compared with simvastatin with placebo, simvastatin taken with 10 mg a day of ezetimibe reduced stroke by 20 percent, heart attacks by 10 percent, and led to a 6 percent lower combined endpoint that also included multiple types of cardiac events including cardiovascular death, rehospitalization due to unstable angina, and procedures to restore blood flow to the heart.
The study was conducted at 1,159 centers in 39 countries involving 18,144 patients age 50 or older who had established heart disease.
Patients were followed for nine years, with a median follow-up of approximately six years.
The simvastatin plus placebo group had an LDL average of 69 mg/dL, and patients receiving statin with ezetimibe reached an average of 54 mg/dL.
"This really supports everything the AHA has been saying for decades, that LDL therapy for patients with established heart disease is critically important," said Lori Mosca, MD, MPH, PhD, an AHA volunteer, director of preventive cardiology at New York-Presbyterian Hospital and professor of medicine at Columbia University Medical Center in New York. "This is new information that shows the importance of lowering cholesterol aggressively in high-risk patients and presents a new option for treating these patients."
This latest study, Mosca cautioned, focused solely on secondary prevention — meaning efforts to reduce the risks of heart attack and stroke among patients with established cardiovascular disease. This study did not address primary prevention, which is the effort to maintain normal cholesterol levels among healthy individuals.
In November 2013, the American Heart Association and American College of Cardiology released updated guidelines on the Treatment of Blood Cholesterol to Reduce Atherosclerotic Risk in Adults.
Neil Stone, MD, an AHA volunteer, chair of the panel that authored the guidelines and professor of medicine, cardiology, at Northwestern University Feinberg School of Medicine, noted that adding ezetimibe to a moderate-intensity statin compared to the statin alone lowered LDL cholesterol further and produced a benefit in reducing heart attacks and strokes. Stone said this study adds to physicians' understanding of the importance of effectively treating high-risk patients with prior heart attack and stroke to prevent future events.
"We're always happy to get a randomized, controlled trial because these are the trials that have the least amount of bias," said Stone. "The results are consistent with what the AHA guidelines said about using medications with proven benefit to lower LDL-cholesterol in high risk. This study offers more ammunition for our efforts to help these patients."
---