---
St. Louis restaurant honors sons lost to congenital heart disease
By American Heart Association News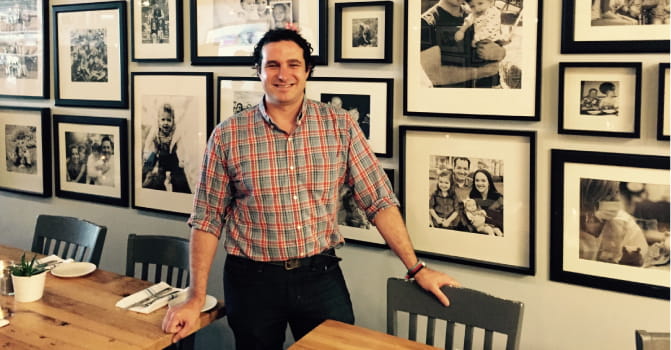 A shared loss cemented a friendship and began a business partnership for Mark Hinkle and Greg Ortyl, the owners of St. Louis-area Olive + Oak. The restaurant pays tribute to their late sons, Oliver and Oakes, and raises awareness and funds for congenital heart defects.
Hinkle and his wife Jennifer lost Oliver in 2013. They founded the Ollie Hinkle Heart Foundation(link opens in new window) to help other congenital heart disease organizations. The foundation's food and wine event raises $100,000 each year.
"After going through the pain and tragedy of losing a child, what we got out of it was seeing a lot of good in people," Hinkle said. "You learn to let the negative things go away."
On a similar path, Ortyl and his wife Becky formed the Mighty Oakes Heart Foundation(link opens in new window) shortly before Oakes died in 2012. The organization provides financial support to families going through CHD treatment. In five years, it has raised more than $1 million.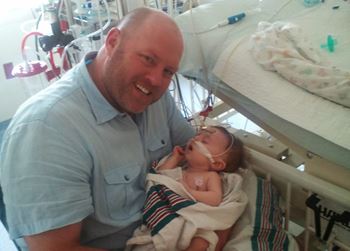 Opened last fall, the restaurant has received rave reviews from food critics. It features a wall filled with photos of Oliver, Oakes and other "heart babies," Hinkle said. A neon red heart attached to a tree trunk overlooks the bar, and a heart-shaped oak tree sculpture towers over diners. Small heart graphics appear within the polished cement floors. Felt hearts, worn by many of the staff, and large wooden heart cutouts are sold to benefit the foundations.
"You get that crowd of people who are familiar with our cause," Hinkle said. "Hopefully they love the food and wine [too]."
The couples met by chance. Jennifer noticed Becky's Mighty Oakes Heart Foundation T-shirt and introduced herself.
Despite a career in fiber optics, Ortyl had always wanted to open a restaurant. "I thought, 'I wish I could find someone from the industry so I could keep my day job,'" he said. "And lo and behold, my son Oakes led me to meeting up with Mark.
Hinkle runs the day-to-day operations of Olive + Oak, located just outside St. Louis in Webster Groves, where both families live.
"From day one [Olive + Oak] sounded like the perfect name," Ortyl said. "I got chills thinking about it. I knew we would be successful."
The couples admit being relatively clueless about congenital heart defects before their sons were born.
"Now we get it — more and more people around us get it," Hinkle said.
Oliver was born with a hole between the two lower chambers of the heart, known as a ventricular septal defect. The family expected a "very simple fix," Hinkle said.
After a successful surgery to close the hole, Oliver developed complications that required a pacemaker. Several months later, 1-year-old Oliver died after contracting the flu.
Becky was five months pregnant when doctors discovered Oakes had truncus arteriosus, a condition in which only one blood vessel branches from the heart instead of two separate ones that carry blood to the body and the lungs. With the normal course of three surgeries, Oakes could live a relatively normal life, doctors had said.
But unexpected problems led to additional surgeries, including a lung transplant. Despite the challenges, "up until the last 30 days of his life, he had a spirit and a fight," Ortyl said. The family nicknamed him "Mighty Oakes."
Oakes died at 15 months old.
Neither Hinkle nor Ortyl allowed their grief to impede their drive to help others facing congenital heart disease or to pursue their own professional dreams.
"I'm not a flashy guy," Ortyl said. "But it's humbling to see a restaurant that tells a story."
Photos courtesy of Rose Dalba, Mark Hinkle and Greg Ortyl
---