Preeclampsia doubles women's stroke risk, quadruples later high blood pressure risk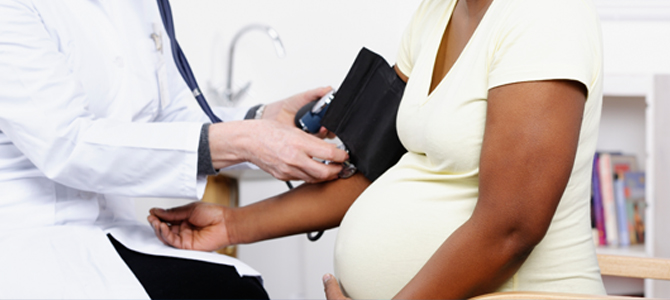 Millions of women with a history of preeclampsia should be screened and treated for high blood pressure, obesity, smoking and high cholesterol to reduce their risk for stroke, according to the first-ever guidelines from the American Heart Association for preventing stroke in women.
Of the nearly 4 million women who give birth each year, experts estimate 6 percent to 10 percent of them develop preeclampsia, a dangerous spike in blood pressure that occurs late in pregnancy.
Preeclampsia doubles the risk for stroke and quadruples the risk for high blood pressure later in life, said Cheryl Bushnell, M.D., a neurologist and director of the Stroke Center at Wake Forest Baptist Medical Center who chaired the committee that wrote the guidelines.
"Many women and even clinicians are not aware of this association," Bushnell said.
"Women who may think of themselves as very healthy may have this little blip of vascular disease during their childbearing years. What happens during those years is extremely important."
In the U.S., stroke is now more common in women than men. More than half of the 795,000 strokes that occur each year occur in women. The disease is also more deadly, with about 60 percent of stroke deaths happening in women.
The importance of nonsmoking is stressed throughout the guideline. Smoking is the leading cause of preventable death in the U.S., and a recent Surgeon General's report found that stroke risk from secondhand smoke exposure increases an estimated 20-30 percent.
While women share many of the same risk factors for stroke as men – such as high blood pressure, smoking and diabetes – women have other risk factors that make them uniquely vulnerable, said Monique Chireau, M.D., an obstetrician and gynecologist at Duke University Medical School who helped write the guidelines.
Those vulnerabilities include common pregnancy complications, use of birth control pills, hormone replacement therapy and a higher prevalence of migraines with visual disturbances and atrial fibrillation after age 75.
The new stroke prevention recommendations for women are based on the most current scientific research and include:
All women with a history of preeclampsia should be regularly evaluated and treated for cardiovascular risk factors such as high blood pressure, obesity, smoking and high cholesterol. Screening for risk factors should start within one year after delivery.
Pregnant women with high blood pressure or who experienced high blood pressure during a previous pregnancy should talk to their healthcare providers about whether they should take low-dose aspirin starting the second trimester until delivery to lower preeclampsia risk.
Expecting mothers with severe high blood pressure (160/110 mmHg or above) should be treated with blood pressure medications that are safe during pregnancy.
Pregnant women with moderately high blood pressure (150-159 mmHg/100-109 mmHg) should be considered for safe blood pressure medications.
Women should be screened for high blood pressure before starting birth control pills because the combination increases stroke risk. Women should not smoke, and they should be aware that smoking while taking birth control pills increases the risk of stroke.
Women smokers who have migraines with aura (visual impairments) should stop smoking to avoid a higher stroke risk.
Women over age 75 should be screened for atrial fibrillation. Women in this age group are more likely than men to develop the heart rhythm disorder, which increases stroke risk five-fold.
Scientific evidence linking preeclampsia, gestational diabetes and other pregnancy complications with future cardiovascular disease is getting stronger, Chireau said. "The big concern I have as an obstetrician is that we're seeing increasing rates of cardiovascular disease in younger women. The most important thing is for women to understand their risk factors, especially pregnancy-related ones."
From there, women can work with their primary care physicians to reduce their risks through dietary changes, increased physical activity and medications if needed, Chireau said.
"Know your stroke risk" has been Tia Timpson's motto since 2010, when an undiscovered hole in the Maryland college student's heart caused a blood clot to form and travel up to her brain.
"Most women know about the risks for breast cancer and heart attack. But stroke is still a bit hidden," said Timpson, who's now 23. "I didn't even know what a stroke was or what it looked like before I had one."
Every woman should talk to her doctor about stroke risk, Bushnell said. "If we can help women understand more about stroke and cardiovascular risk, they could jump-start healthy living at an earlier age. That's going to prevent a lot of strokes in the future."
---