---
Kids and added sugars: How much is too much?
By American Heart Association News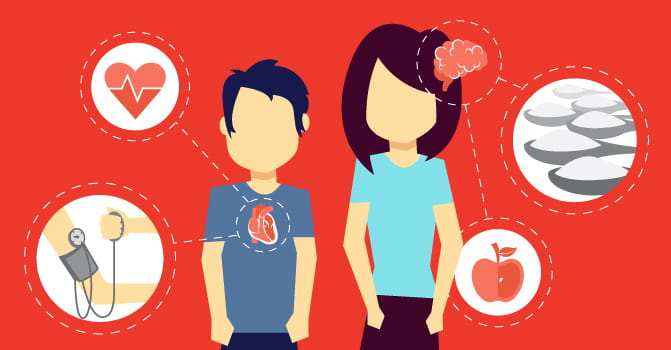 Children and teens should consume less than 6 teaspoons of "added sugars" a day and drink no more than 8 ounces of sugary beverages a week, according to the American Heart Association's first-ever scientific statement recommending specific sugar limits for kids.
Publishing in the journal Circulation on Monday, a panel of researchers took a deep look at how sugar impacts cardiovascular health between the ages of 2 and 18. Their statement also said children younger than 2 shouldn't have any added sugars, but instead have nutrition-packed diets for growing healthy brains and bodies.
Some foods and drinks contain sugar naturally, but added sugars – which go by many names and find their way into many products – are introduced during processing or preparation.
"I hope our recommendations help parents feel more confident limiting sugar. This statement helps answer the question how much is OK so parents can choose the right combination of foods and drinks so their children are healthier," said Dr. Miriam Vos, lead author of the statement and an assistant professor of pediatrics at Emory University School of Medicine in Atlanta. "If parents know how much they are looking for, it will help the food industry satisfy that goal."
Studies linking added sugars and conditions that lead to cardiovascular disease – the No. 1 cause of death in the world – have been around for years. Diets high in added sugars have been connected to heart risk factors such as obesity, diabetes, high blood pressure and unhealthy cholesterol levels.
A 2014 study published in JAMA: Internal Medicine was one of the first to tie too much sugar to an increased risk of dying from heart disease. The study said people who got 17 to 21 percent of their calories from added sugars had a 38 percent higher risk of dying from cardiovascular disease compared to those who ate 8 percent of their calories from added sugar.
Families can begin training their children's taste buds early, said Rachel K. Johnson, a former chair of the AHA's Nutrition Committee who served on the panel that wrote the scientific statement.
"Children are developing eating habits and taste preferences that will last a lifetime," said Johnson, a professor of nutrition and pediatrics at the University of Vermont in Burlington. "The sooner families begin to limit the amount of added sugars in their diets, the better."
The typical American child eats about triple the recommended amount of added sugars, half from food and half from drinks, said Vos, who also is the author of the book The No-Diet Obesity Solution for Kids.
Added sugars have a host of names on food ingredient labels, such as high fructose corn syrup, dextrose, fructose, fruit juice and more. Added sugar isn't just present in cakes and cookies, it can show up in a wide variety of foods such as Chinese chicken salad, barbecue sauce, hamburger buns and salad dressings.
"There is consistent evidence that cardiovascular risk increases as added sugars consumption increases," the statement says.
Beginning July 2018, the Food and Drug Administration will require manufacturers to show not just all sugars on food labels but also those that were added.
Companies already are beginning to respond. For example, Kind, the maker of the snack bars featuring fruit and nuts, this month began posting on its website the amounts of added sugars for more than 60 products. The information will appear on the bar labels early next year.
Advocates say the FDA rule gives consumers a better idea what sugars are there naturally, such as from fruit, and what was added later. The Sugar Association, a trade group founded by the U.S. sugar industry and seeks to educate people about the benefits of sugar, called the FDA's label ruling "a dangerous precedent that is not grounded in science."
Dr. Robert Lustig, a pediatric endocrinologist at the University of California San Francisco's Benioff Children's Hospital, said sugar itself – and not just the calories it represents in a diet – is the culprit in numerous health problems.
A study authored by Lustig this year showed that restricting added sugars improved heart disease and diabetes markers for a group of obese children, even when calories were held constant, in just nine days. The kids ate a diet where sugar was substituted with starch instead, but still saw immediate reductions in their blood pressure, and improvement in their blood sugar and cholesterol levels.
"The take home of this study is that a calorie is not a calorie. Never was, never will be," said Lustig, whose study was among those reviewed for the AHA statement. "The biochemistry of fructose, the sweet molecule in sugar, is completely different."
The AHA's new recommendations, Vos said, emphasize that families need to limit food with low nutritional value and that sugars need to be put in perspective in a healthy diet of fruits, vegetables, whole grains, low-fat dairy products, lean meat, poultry and fish.
Johnson said she hopes the statement also will spur further research into added sugars, its effects, and its place in family diets. The statement pointed out several research gaps and questions, including:
Can the food industry gradually lower added sugars in food, and what's the expected outcome?
Does 100 percent juice have the same heart and biologic effects as sugar-sweetened drinks?
Is there a direct relationship between heart risks and added sugars – do the risks directly improve as the amount of sugars decrease?
How does routine use of artificial sweeteners affect children?
What are the differences in how the body metabolizes added sugars from beverages versus from food.
---