---
Experts criticize new study about salt consumption
By American Heart Association News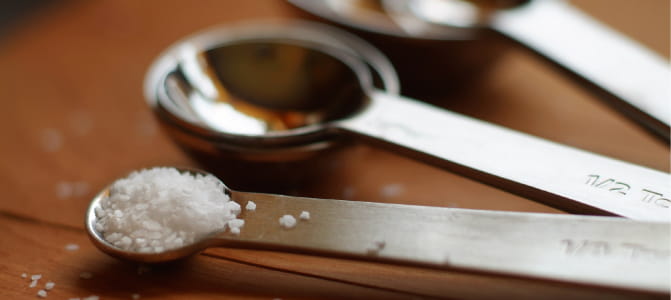 A new study suggests reducing excessive salt benefits some people with high blood pressure, but low-sodium diets don't help people with lower risks for heart disease, stroke or death – findings that were quickly criticized by medical experts as unreliable due to faulty scientific methods.
Previous research has linked excess sodium consumption to an increased risk for high blood pressure and thus an increase in the risk for heart disease and stroke, the two leading causes of death in the world.
But the study released Friday in the scientific journal The Lancet, which involved more than 130,000 people from 49 countries, concluded that low-salt diets in people with and without high blood pressure may actually increase the risk of cardiovascular disease and death compared to average salt consumption.
"While our data highlights the importance of reducing high salt intake in people with hypertension, it does not support reducing salt intake to low levels," Andrew Mente, Ph.D., lead author of the study, said in a news release. Mente is a principal investigator at the Population Health Research Institute of McMaster University and Hamilton Health Sciences in Canada.
Mark Creager, M.D., president of the American Heart Association and director of the Heart and Vascular Center at Dartmouth-Hitchcock Medical Center at Dartmouth College, questioned the validity of the study.
"The link is proven between excess sodium and high blood pressure, and I find it worrisome that adoption of the authors' recommendations may reverse the progress that has occurred in modifying dietary sodium intake and reducing the risk of high blood pressure and its effect on heart disease and stroke," Creager said. "Today's widely accepted sodium recommendations are based on well-founded scientific research – and that's what people should understand."
Elliott Antman, M.D., associate dean for clinical/translational research at Harvard Medical School and senior physician in the Cardiovascular Division of Brigham and Women's Hospital in Boston, said the findings of the new study should be disregarded.
"This is a flawed study and you shouldn't use it to inform yourself about how you're going to eat," said Antman, immediate past president of the AHA. "The AHA has reviewed the totality of the evidence and we continue to maintain that no more than 1,500 milligrams of sodium a day is best for ideal heart health."
The AHA is one of numerous health organizations and governmental bodies that encourage sodium limits for health reasons.
The U.S. government recommends no more than 2,300 milligrams a day, and the World Health Organization recommends 2,000. While these limits are intended for broad populations, evidence shows there are specific people who should not lower sodium intake including those regularly working in extreme heat, or those with specific but uncommon illnesses.
Mente, whose Population Health Research Institute has published previous research questioning widely accepted links between sodium intake and health, said the latest study indicates most people are probably eating about the right amount of salt.
But that suggestion runs counter to established recommendations as well as the recent movement toward limiting sodium in the food supply – which Antman and others say is important because nearly 80 percent of the sodium people consume comes from processed or restaurant food so it's very difficult for those who want to control how much sodium they actually take in.
Earlier this month, Nestlé, the world's largest food and beverage company, became the latest to announce plans to reduce the amount of sodium in its products, joining a long and growing list that includes Mars Food, General Mills, Subway, Aramark, Domino's, Schwan's and Revolution Foods.
The Food and Drug Administration also is expected to issue voluntary targets for food makers to follow. Several food companies already have endorsed the FDA's plan.
More than 50 countries around the world already have adopted voluntary or mandatory reductions in the salt content of certain foods.
As momentum builds toward a less-salty environment, AHA CEO Nancy Brown said in a statement that she was concerned about how people may interpret this new study.
"There is a growing recognition across the world that lowering salt intake is vital, and people everywhere need to know that cutting back on that salt is part of a healthy diet that can keep you healthy and prevent deadly diseases," she said.
Technically speaking, Antman said, the problem with this study and others like it is the difficulty in tracking people's sodium intake over extended periods and then accurately correlating that information to people's health.
In this case, researchers combined results from four studies that used a single urine test at the start of the study to extrapolate long-term information about dietary habits and health outcomes.
As an example of how this could go wrong, Antman pointed out the wildly different results that one person could have over two days: A day after eating salad and fruit, someone's urine sample would indicate a heart-healthy intake of sodium. But a day after a lot of pizza and pretzels, the answer is far different.
"If we followed you for two years and made assumptions on whatever that first meal was, it just wouldn't be accurate all along the way," Antman said. "There are a lot of assumptions being made in this study, and the results are not reliable."
---