---
App can detect irregular heartbeat by looking at your face
By American Heart Association News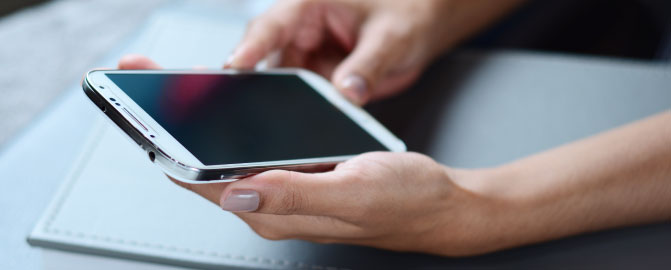 Researchers in Hong Kong have successfully used an iPhone camera and smartphone app to identify people with a type of irregular heartbeat called atrial fibrillation.
Users simply align their face with a red circle on the phone screen, and the app, called Cardiio Rhythm, calculates a regular or irregular heart rhythm using subtle beat-to-beat variations in facial skin color.
Among 85 patients at an average age of 72, the technology was near-perfect: It was 93 percent effective in recognizing AFib and 95 percent effective in recognizing patients without the condition.
"It's pretty amazing that you can actually detect AFib just by analyzing signals coming off a person's face," said electrical and medical engineer Ming-Zher Poh, Ph.D., a study investigator and co-founder of Cardiio, a Cambridge, Massachusetts-based company developing the app and technology for detecting AFib.
The findings, presented at the American Heart Association's Scientific Sessions in November, were confirmed with an electrocardiogram, which measures electrical impulses as they move through the heart. Twenty-five patients were ultimately diagnosed with AFib.
Early on, when Poh asked doctors and others about possible medical uses for his company's app, "AFib tended to come up quite often," he said.
AFib affects 3 million to 6 million Americans and increases the risk for strokes, heart failure and other heart-related complications.
But it can be difficult to diagnose, said the study's lead researcher Bryan Yan, M.B.B.S., an associate professor at The Chinese University of Hong Kong.
"If you find it and confirm it, you can treat it to prevent stroke," he said.
Poh noted that some people with AFib don't have symptoms. "That's where screening could be beneficial."
Due to the wide use of smartphones and the low cost of apps, Yan said the technology could provide a cost-effective way to mass-screen people for AFib.
Plus, unlike other heart rate sensors, the app does not require skin contact to take a reading. This is particularly appealing in Asia, where people tend to be cautious about hygiene, Yan said.
It was Poh who developed the technology for measuring heartbeats using the face in 2010 as a graduate student at Massachusetts Institute of Technology. Each heartbeat changes the volume of blood in the body, he said. Hemoglobin in the blood absorbs light, so more hemoglobin means more absorbed light, and vice versa.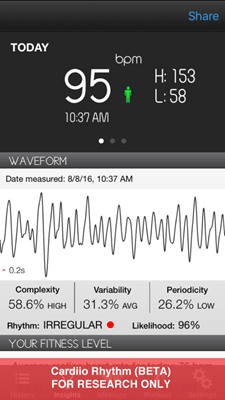 A smartphone camera can detect very slight changes in the amount of light reflected by the face, Poh said. Based on a 20-second look, the app rapidly translates variations of light into waveforms that correspond to the heartbeat.
Using a concept called "machine learning," the phone's internal computer can "learn" to detect normal or abnormal waveforms, in this case AFib.
"You show the computer different examples of waveforms, and teach the computer to recognize a specific pattern," said Poh. "At Cardiio, we developed algorithms that are smart enough to recognize arrhythmia, particularly AFib."
Yan said the app would only be used for initial screening, not to diagnose AFib, which would still require an ECG. "It could be put into a lot of places: at home in your mirror, or in clinic reception areas or pharmacies," he said.
The Cardiio Rhythm app has not been cleared by the Food and Drug Administration and isn't publicly available.
For now, the researchers said studies are needed to test the app in people with various skin tones in real-world settings, where lighting and other factors aren't controlled. But eventually, the technology could potentially detect high blood pressure or very high or very low heart rates, Yan said.
Yan and Poh are currently exploring the "one-to-many" concept, using the app within a fixed, high-resolution camera.
"If no one moves," Yan said, "it could pick up who has AFib in a crowd."
---