Reining In Uncontrolled BP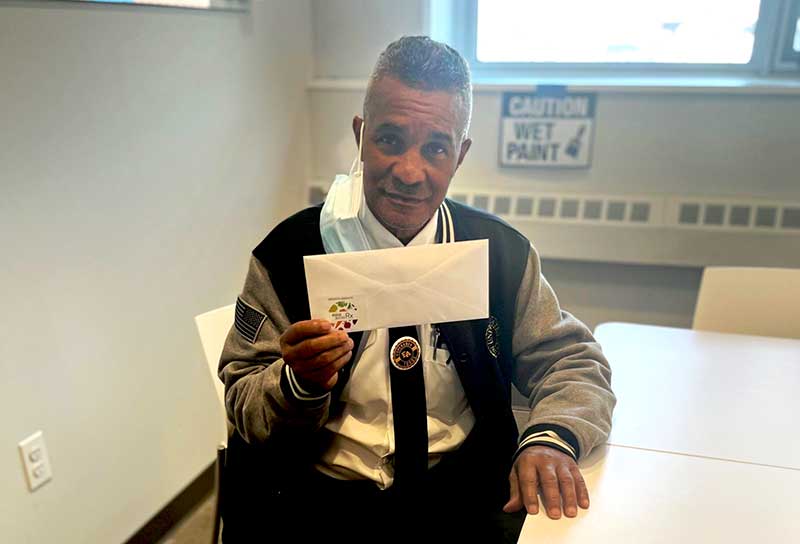 (Photo: Jose, a participant in Congreso Health Center's self-measured blood pressure initiative, also receives "food bucks" vouchers to spend on fresh produce.)
Sharing a mission to reduce health disparities, the American Heart Association and Congreso Health Center, a health care provider to over 3,000 residents in North Philadelphia, have joined forces to launch a self-monitoring blood pressure program for patients with uncontrolled hypertension.
At 54%, North Philadelphia has a higher poverty rate than any other neighborhood in the city. Median household income is $14,586. People living in neighborhoods with physical and socioeconomic disadvantages are at higher risk for hypertension, stroke and coronary artery disease.
Congreso's self-monitoring blood pressure program, launched in September 2021, provides eligible patients a Bluetooth-enabled blood pressure monitor, AHA self-measurement blood pressure resources and self-monitoring training. Congreso clinical staff monitor patients' blood pressure readings through telemedicine and in-person appointments, and the readings automatically link to Congreso's electronic medical records system.
Over one-third of Philadelphians have high blood pressure, a key risk factor for heart disease and stroke — which together killed about 4,100 residents of the city in 2019. Non-Hispanic Black adults in Philadelphia report significantly higher rates of hypertension than non-Hispanic white adults (48% vs. 29%).
Since 2018, Congreso has participated in AHA's Target: BP™ program, designed to improve blood pressure control among patients with the greatest health challenges. As part of the Target: BP program, Congreso implemented annual staff training on accurate blood pressure measurement and use of the "technique quick check" tool, providing clinicians opportunities to improve and refresh their skills to ensure patients receive precision care.
Congreso also has adopted a nutrition security screening program to identify patients unable to access healthful quantities of nutritious foods. Patients with uncontrolled blood pressure who are identified as nutrition insecure receive "Food Bucks" vouchers they can spend to fulfill a fruit and veggie "prescription" at no cost.
A diet rich in vegetables and fruits can lower blood pressure and reduce the risk of heart disease and stroke and other chronic diseases.
Judy Emmons, vice president of healthcare services for Congreso de Latinos Unidos, noted the AHA has been the driving force for a partnership between the Congreso Health Center and The Food Trust to connect Congreso's patients with hypertension to the Food Bucks Rx program. The program provides patients access to healthy foods through partnerships with farmers markets and local grocery stores.
---