Michael Roffler Continues Fundraising Efforts for Bay Area AHA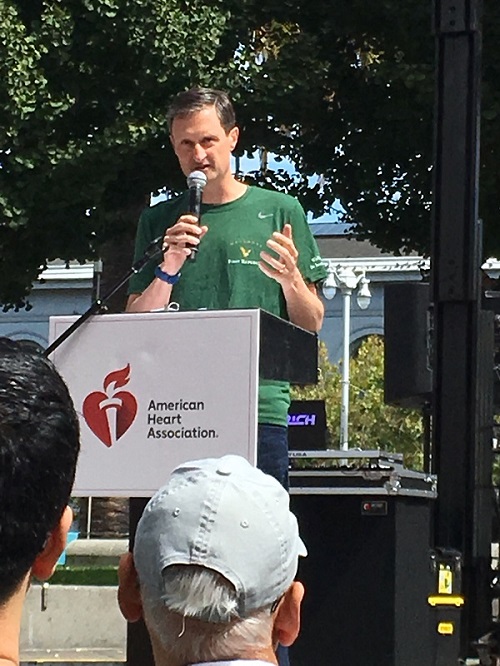 A personal commitment to bettering his health led Mike Roffler to a philanthropic commitment and the American Heart Association. Engaging his company, First Republic Bank to join him, the bank has been a top fundraiser since 2017 for the AHA.
As CEO and President of First Republic Bank(link opens in new window), Roffler rallies its employees to participate in the Bay Area Heart Walk's annual campaign, and 2021 marks his 5th consecutive year leading First Republic's efforts. The team claimed the No. 1 spot in Western States since 2018 and consistently ranks among the top 10 in the U.S. for funds raised.
Roffler has always been passionate about employee and community wellbeing. His own journey toward making lifestyle changes and losing excess weight gave him the incentive to inspire others to not only take care of themselves, but to pay it forward by helping to raise much needed funds toward the nation's No. 1 killer: heart disease. He has tirelessly advocated for healthy lifestyle initiatives for employees, championed the AHA's health equity initiatives in the Bay Area and supported the scientific research that is at the core of the American Heart Association's mission.
Chairing the Bay Area Heart Walk in 2018 and 2019, Roffler joined the Bay Area Board of Directors in 2019 and helped form and chair the Friends of Heart Circle, a local group comprised of those who give $100,000 or more in individual gifts.
Roffler's enthusiasm and dedication has motivated other First Republic executives and leaders from other Bay Area companies to join him in volunteering with the AHA and many of them are involved not only with Heart Walk, but with Heart Ball, Go Red for Women and other campaigns in Northern California, too.
"The American Heart Association has given me the incentive to not only stay healthy but to see what needs to happen in order for everyone to have that same opportunity for a healthy life," says Roffler. "I'm always looking for those who will join me in helping our community move toward that health equity."
---