Stroke Warning Signs, Bilingual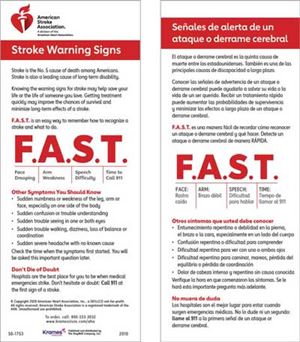 Published by: American Stroke Association
Product Code: 50-1753
Stroke is the No. 5 cause of death among Americans and a leading cause of serious, long-term disability. Recognizing stroke warning signs can save a life yet many people don't know what they are. This 2-sided 3-1/2" x 8-1/2" card provides a quick-reference guide in English and Spanish for how to spot a stroke F.A.S.T. and what to do if symptoms occur (Face drooping, Arm weakness, Speech difficulty, Time to call 911).
Want to know more about how to prevent a stroke?
Visit our information request page and select the "Stroke Prevention" packet to receive this brochure along with other helpful information.
For Health Care Professionals
If you are interested in placing an order for multiple copies of brochures, receiving print samples or viewing online e-samples, visit our distributor, Krames. Registration is required to request samples and order online. Bulk Orders
---