Power 21
Spend this season with a heart-healthier you!
Your 21-day Health Journey
What better time to focus on your own well-being? Did you know mental well-being is closely linked to heart health? That's why for the next 21 days we'll text an easy activity to center, nourish or get you moving for a heart-healthy season. As your ally in good health, we'll be with you each step of the way!
Sign up for daily reminders!
Text the keyword AHA21Days to 51555 to receive a mix of Summer mental well-being tips through August 1st, 2022 via text from AHA.
Once the challenge has ended, you may also periodically receive text messages from similar programs. Message and data rates may apply. Reply STOP to stop messages or HELP for questions.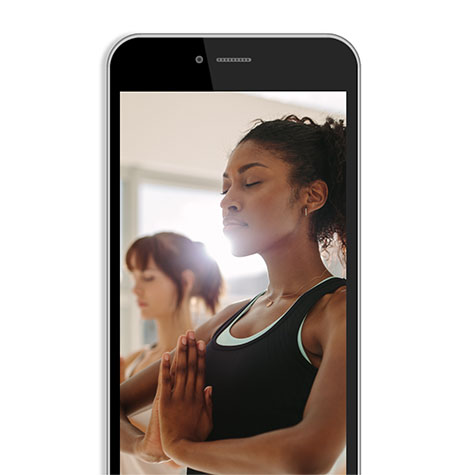 Don't feel like getting text tips? Bookmark this page to check back for a new tip at your own pace alongside your heart community with an easy action that creates heart-healthy lifestyle changes.
Healthy Hearts & Minds Summer Tips
Week 1
| | |
| --- | --- |
| Day 1 | We know bad habits can be hard to break, but have you ever heard of "habit stacking" — building a healthier lifestyle by incrementally adding positive habits to your daily routine? |
| Day 2 | When summer temps are high and your energy is low, you may need help staying active. |
| Day 3 | Splash into summer with AHA's top 7 swimming safety tips. |
| Day 4 | Even Fridays can feel stressful, but chronic stress can be a killer if it's happening every day of every week. |
| Day 5 | Question: What are the 8 most important factors for cardiovascular health? |
| Day 6 | AHA's homemade frozen yogurt bark recipe is a cool snack perfect for hot summer days. |
| Day 7 | Let's try disconnecting to find "JOMO" or the joy of missing out! It's a real thing. |
Week 2
| | |
| --- | --- |
| Day 8 | It's a great day for habit stacking - to tie (and eventually, stack) tiny but beneficial new habits onto your old ones every day. |
| Day 9 | Summer vacations are back! Take these 7 healthy habits on your summer road trip. |
| Day 10 | Can you tell the difference between heat exhaustion and heat stroke? |
| Day 11 | Did you know research suggests that women may feel some effects of stress differently than men. |
| Day 12 | Sleep apnea isn't a fancy name for snoring. It can bring about life-threatening consequences. |
| Day 13 | Try this trio of berry flavors with a hint of nuttiness to brighten your day. It's a super simple shake to make and chock full of nutrients. |
| Day 14 | What if someone nearby needs CPR? You can help save a life and still stay safe from COVID-19 by learning Hands-Only CPR. |
Week 3
| | |
| --- | --- |
| Day 15 | Setbacks are normal when changing old habits, so don't get discouraged if you don't hit your goals right away. These tips can help keep your momentum going. |
| Day 16 | Feeling lonely? You're not the only one. Study after study confirms that so many of us struggle to connect with others. Here are 7 tips to connect and overcome loneliness. |
| Day 17 | Do you like to sleep late on the weekends to catch up on your zzz's? Ever feel like you're not getting enough during the week? |
| Day 18 | Did you know walking, running, dancing, and even hula-hooping can be done mindfully as a form of meditation? |
| Day 19 | Weekend naps are the best! Research has shown that, even among adults, naps provide many benefits to help you make it through the day. |
| Day 20 | This no-cook cold soup makes an easy, refreshing, and delicious appetizer or side on a hot summer day. |
| Day 21 | Feeling thirsty when you're out in the heat? You could already be dehydrated. Here are tips to hydrate whether you're active or relaxing in the sun |
Give the gift of a healthy summer
Make a gift today and receive our Heart-Smart Summer digital download with fun, simple ways to make this summer a season full of heart health and mental well-being.
What's inside:
Sizzling summer cookout recipes
Delicious ways to satisfy your sweet tooth
Fun, simple ways to make this a heart-healthy summer