Volunteer testifies before Congress about coverage for pre-existing conditions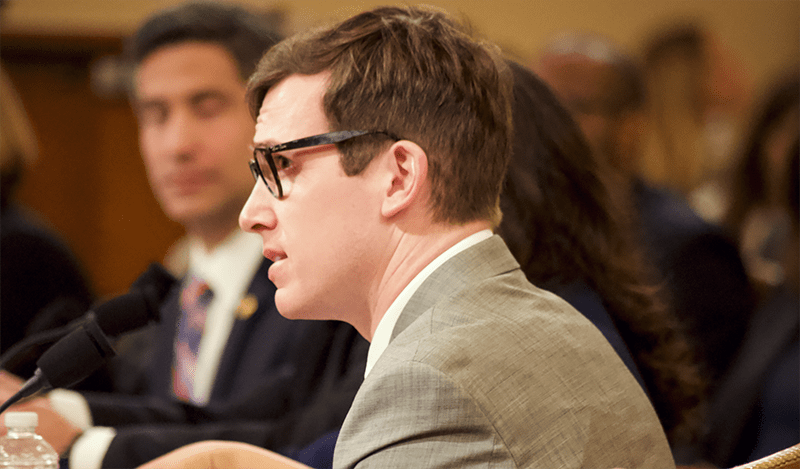 Andrew Blackshear testifies before the House Ways and Means Committee on Jan. 29. (Photo courtesy of House Ways and Means Committee.)
After leaning over to his untie his shoes, 27-year-old Andrew Blackshear felt a pain in his chest.
He tried to brush it off, but the pain persisted, and the next day he developed a severe fever.
Concerned about losing his job at a restaurant near his hometown in Benicia, near San Francisco, Blackshear decided to go back to work. But on his first night back, he collapsed on the floor.
An echocardiogram after that 2015 event revealed fluid had built up around his heart, and he needed emergency open-heart surgery to drain the fluid. He had a condition known as "Valley Fever," caused by inhaling fungal spores released from dry soil.
After that surgery, medical bills started pouring in. His insurance company refused to cover nearly $200,000 in medical bills until Blackshear could prove his heart disease hadn't been caused by a pre-existing condition.
"It was as if my health was being held hostage by an insurer who was supposed to help me get better when I got sick, but instead was leaving me out in the cold," Blackshear recently told members of Congress on the House Ways and Means Committee.
Blackshear, a patient and American Heart Association volunteer, was invited to testify at a hearing about the importance of insurance coverage for pre-existing conditions.
During his Jan. 29 testimony, Blackshear shared his story of fighting for access to critical care while also fighting for his life.
Still recovering from surgery, he was forced to go on a paperwork scavenger hunt, contacting every doctor he had ever visited to collect the information the insurer demanded.
Blackshear said the relief from his heart surgery was only temporary. Eventually, doctors at the Mayo Clinic diagnosed him with heart failure. He underwent a second open-heart surgery to remove the sac around his heart.
But he was no longer worried about mounting medical bills. This time, his short-term plan agreed to cover the care leading up to his first surgery after Blackshear threatened to sue. And before his second surgery, he had enrolled in a different health plan – this time through the Affordable Care Act, or ACA.
"The best part about the second surgery was feeling better, hands down," he said. "But the second-best part was knowing that I couldn't be bankrupted just because I had gotten sick. My ACA plan did what it was supposed to do. It paid for my doctors' bills instead of punishing me for being ill."
Unfortunately, Blackshear's bad insurance experience isn't unique. Prior to the ACA, millions of Americans with pre-existing conditions struggled to pay exorbitant medical bills because their care wasn't covered.
Blackshear, a volunteer with the American Heart Association, had his first experience as an advocate in Washington, D.C., in 2017. As part of the American Heart Association's bi-annual Lobby Day, he and hundreds of other advocates met with lawmakers from both parties to emphasize the need to protect coverage for pre-existing conditions.
"No one should face the prospect of being unable to afford the care they need to stay alive," he said in his congressional testimony.
---