Back to search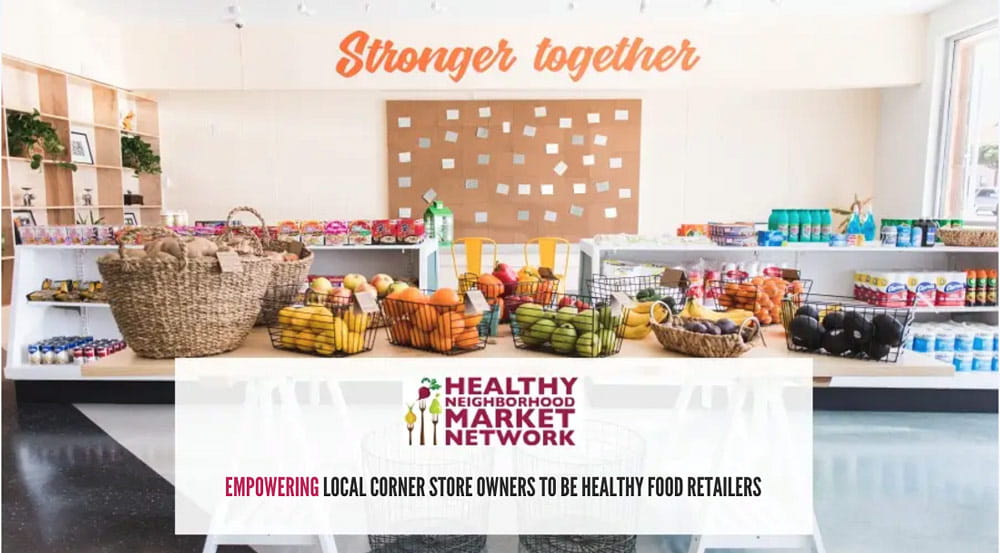 Healthy Neighborhood Market Network
HNMN builds the capacity of small market owners to operate as successful healthy food retailers in neighborhoods that lack access to affordable healthy food.
How it started
The Los Angeles Food Policy Council is a nonprofit cross-sector collaborative working to make Southern California a Good Food region—where food is healthy, affordable, fair and sustainable for everyone. LAFPC serves as a backbone organization to a network of more than 400 actively participating organizations and 6,500 engaged practitioners and advocates. Its objectives are to ensure equitable access to healthy food and food assistance programs, grow a fair local food economy, strengthen climate resiliency and environmental stewardship, and build a diverse movement to advocate for "Good Food For All."
LAFPC spearheaded the Healthy Neighborhood Market Network about six years ago with the goal of bringing fresh produce and healthy food options to small markets in underserved communities. It has evolved to a comprehensive business development program that serves up to 20 corner store owners annually, providing training and technical assistance.
How it works
HNMN is a citywide program that works with small businesses in South Los Angeles, Westlake/MacArthur Park and Boyle Heights — low-income communities that have faced decades of disinvestment and the flight of full-service grocery stores from their neighborhoods. Often, store owners also live in the communities their businesses are in.
HNMN understands the importance of building up the store owner as a healthy food advocate and community leader. We invest in local store owners by training them on business development strategies that will encourage them to continue to sell healthy food options. We help them become healthy food entrepreneurs, offering affordable fresh produce, healthy snacks and staple grocery items.
We work directly with store owners on a strategy to ensure a sustainable business model when transitioning to healthy retail so the changes last.
HNMN has trained more than 200 small business owners and helped 51 stores in underserved neighborhoods make lasting changes toward healthy retail. Our program currently assists businesses that are 58% female-owned and 100% minority-owned.
What's next
The program can continue to scale as potential new entrepreneurs are identified.
What's needed
Funding to help us scale.