Making Our Community Healthier
To be a relentless force for a world of longer, healthier lives, the American Heart Association provides resources and speakers for corporate and community events such as health fairs, lunch & learns, Hands-Only CPR education and more. Click one of the links below to submit your request today.
Contact Us
2630 West Freeway, Suite 250
Fort Worth, TX 76102
Phone: (817) 698-5400
There are no upcoming events in your area at this time. Please participate in a Virtual Heart Walk.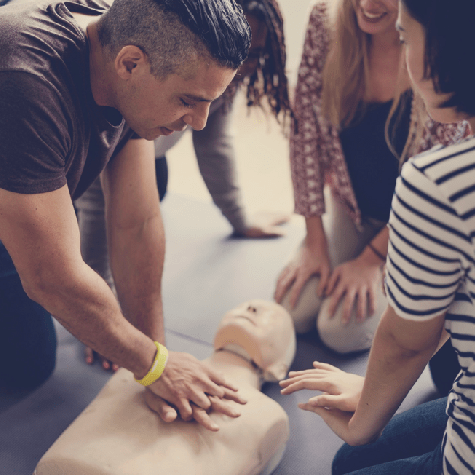 Teaching local students to save lives
When CPR is preformed properly and promptly during cardiac arrest, survival rates can double or triple. We fought to make this lifesaving training a graduation requirement for all Texas students. By filling our city with bystanders equipped to take action, we are helping to improve survival odds for everyone in Texas.
Improving Quality of Life
Living healthy and free of disease makes a critical difference in quality of life. Check. Change. Control. is working within our community to raise awareness about the vital effect lifestyle as on health, make healthy options accessible and available for all. Our programs help children form healthy habits that will last a lifetime, by removing obstacles to making healthy choices.
Policy Chance
You're the Cure is working within our community to empower citizens to take informed action on local and state policies, and champion policies and laws that help people avoid unhealthy practices and create safer communities. Our advocates are addressing critical healthcare concerns by advocating for policies that can improve access and boost the quality and value of care.
Two Steps Can Save a Life
During National CPR Week (June 1st -7th) and throughout the entire month of June, we're shining a spotlight on the importance of learning Hands-Only CPR. In just two simple steps- calling 9-1-1 and pushing hard and fast in the center of the victim's chest- you could help save a life.