American Heart Association
Texas
Help us ensure everyone in Texas has the opportunity to live longer, healthier lives.
AHA Safety Tips for Extreme Heat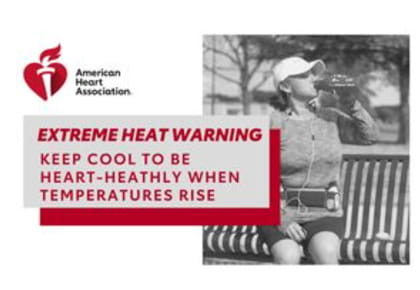 With temperatures soaring in Texas, it's important to stay cool and hydrated. Watch this video to learn how to keep cool and heart-healthy when temperatures rise!
Know Your Numbers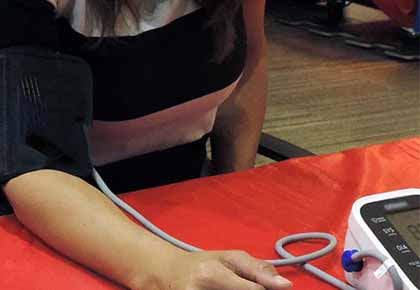 Accurate blood pressure measurement is critical for timely diagnosis and treatment of individuals with high blood pressure. That's why we work closely with community gathering spaces such as barber shops, thrift stores and fitness centers to empower Ioved ones to measure and track their blood pressure and take steps to prevent heart disease and stroke.
Shifting gears: Pilot bike program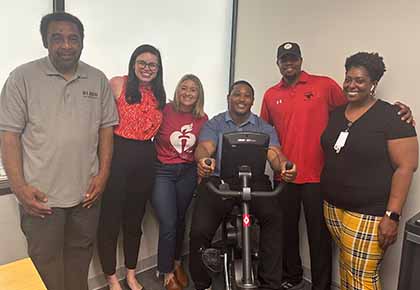 Shifting gears: Pilot bike program prescribes movement over medicine to address poor health outcomes of Central Texas' Black men. The BikeRx program is a new initiative that provides Black men with access to a stationary bike and educational materials to help them improve their health.
YOUR GIFT NOW MATCHED $-for-$!
Don't miss this chance to make 2X the difference! When you share your heart with a gift now, it will be MATCHED to help save more lives.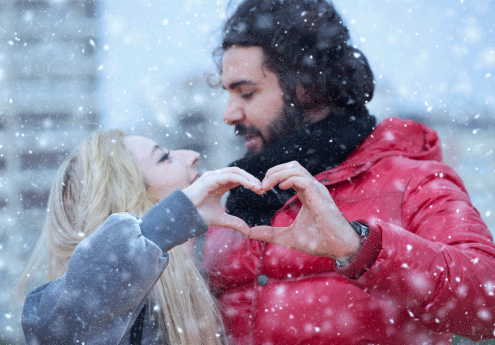 The American Heart Association hosted the inaugural SouthWest Region Rural Health Summit in Dallas, Texas. The summit brought together nearly 200 attendees from Texas, Arkansas, Wyoming, Colorado, Oklahoma, and New Mexico to discuss the health disparities that exist in rural communities.
Keynote speaker Jackie Stiles, a renowned women's basketball player who grew up in rural Kansas, shared how the lessons she learned growing up in a rural community helped her to succeed. A "Voices from the SouthWest" panel discussion gave insight from those working with and supporting rural communities, providing invaluable firsthand insight on the challenges they are addressing and the unique initiatives that are changing lives.
During breakout sessions, participants heard from experts on various topics relevant to emergency response, prevention, and healthcare quality improvement while discussing barriers to care. Attendees also had the opportunity to get involved with a Grassroots team and learn about AED delivery via drones.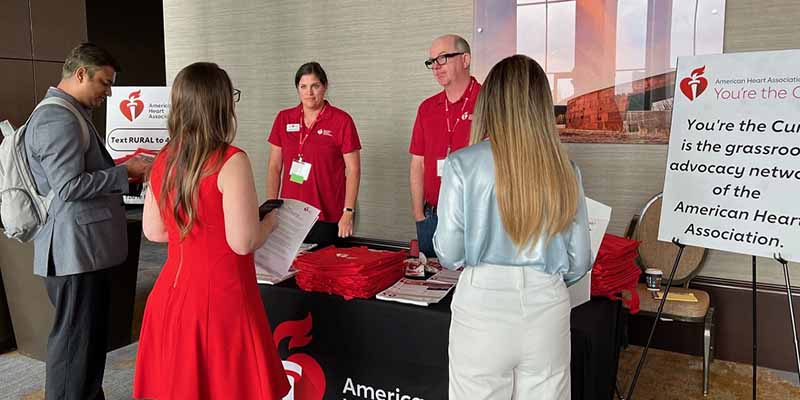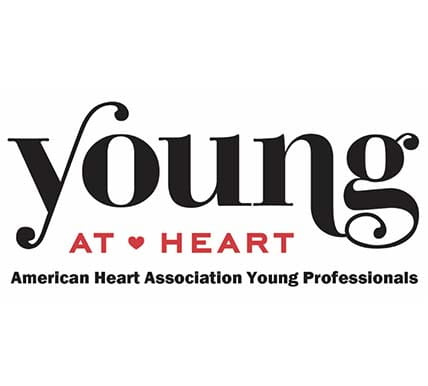 YOUNG AT HEART (YAH)
A social network of young professionals who support the American Heart Association's Dallas HEART CHALLENGE through fun events and volunteer opportunities. Young at Heart members are able to serve the mission of the American Heart Association while building professional and personal relationships through social networking events year-round.
Mission of the AHA
The mission of the American Heart Association is "To be a relentless force for a world of longer, healthier lives."
Mission of YAH
Young at Heart (YAH) is a relentless group of young professionals that support the mission of the American Heart Association through healthy lifestyle initiatives, community awareness, and both social and professional development to improve the wellbeing of any personal or business relationship.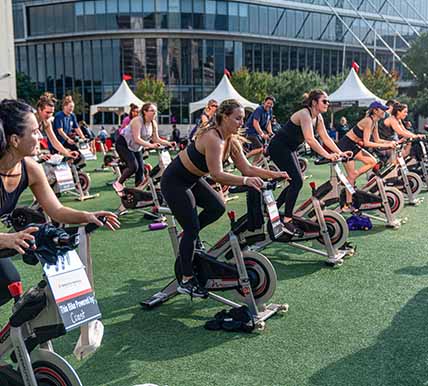 Benefits of Young at Heart
Executive Membership: $500 fundraising minimum to any Heart Challenge event (Heart Walk, Cycle Nation, Field Day)
Network of emerging leaders in the Dallas Region
Year-round Volunteer Opportunities
Invitation to the VIP Breakfast for The Dallas Heart Walk
Networking events with Dallas leaders
Ask your employer for a sponsorship!
Advocate Spotlight: Chloe Burke
Chloe Burke was born with a rare congenital heart defect called a myocardial bridge. She was a D1 collegiate athlete and cheer captain at the University of Houston, but she experienced a cardiac event on the field of a University of Houston football game. After over a year of trying to find a proper diagnosis, she was eventually diagnosed with her heart defect. Doctors told her that if she did not get open-heart surgery, she would most likely not live to see age 25. After her surgery, Burke began working with the American Heart Association as a way to use her experience and her story to help others. She has been a featured speaker at the American Heart Association's lobby day and speaks to K-12 schools across the state of Texas about how to realistically achieve lifelong preventative heart health. Her story as a survivor and former elementary school teacher has been shared with the Texas Senate Finance Committee and the House of Appropriations to encourage annual funding for all public school students to receive hands-on CPR training before graduation.
Outgoing Chairperson
Virginia Visser
Alfred Williams & Company
President
Caitlin Giesler, M.D.
Ascension Seton
Leadership Development Chair
Bobby Jenkins
ABC Home & Commercial
Members
Matt Ashley, M.D., Jd
Centre For Neuro Skills
Tannon Carroll, M.D.
Ascension Seton
Charles Fraser, M.D.
Ut Health Austin
Rich Gergasko
Texas Mutual Insurance
Vivek Goswami, M.D.
Austin Heart Hospital
Mark Hauerland
H-E-B
Matt Hoglund
Dpr Construction
C. David Huffstutler
St. David's Healthcare
Greg Johnson, M.D.
Dell Children's
Susan Johnson, Ph.D
Community Volunteer
Eric Lassberg
KXAN | KNVA | KBVO
Brian Lehman
Abbott
Heather Mckissick
Community Volunteer
Curtis Page
Higginbotham Insurance
John Recker
KPMG
Erich Sanchack
Salute Mission Critical
Nina Seely
Seely Real Estate Team | Kw Luxury
Steven Warach, M.D., Ph.D
Dell Medical School
Greg Weaver
Catellus Development
Chair
Michael Klein
Community Volunteer
Chair – Elect
Sam Kang
President
Anita Krueger, MD, FACS
Vice Chief, Cardiovascular and Thoracic Surgery
Medical Director, ECMO Program
Baylor Scott & White Medical Center - All Saints
President – Elect
Tyler Bloomer, MD

Leadership Development Chair
Hatice Dalton
Deloitte
Board Members
Tyler Bloomer, MD
Cardiologist
Texas Health
Marcelo Cavazos, Ph.D
Community Volunteer
Retired – Superintendent of Arlington ISD
Ashley Donahoe
CEO
Encompass Health - MidCities
Michelle Gaulding
Vice President
Medtronic
Sreenivas Gudimetla, MD
Cardiologist
Texas Health
Joe Harrington, Ed.D
Superintendent
H-E-B ISD
Melissa Huffman
Vice President
Omni Group
Sam Kang
President
Schwab Charitable
Monika Mathur, MD
CMO
Texas Health - Alliance Hospital
Tammy Middleton
VP & General Counsel
BNSF
Scott Sandlin
Owner, CEO
Sandlin Homes
Jaimeson Smith
Sr. Driector of Customer Experience
Robinhood
Karen Thornton
Community Volunteer
Daniel Vance
Managing Director
KPMG
Matt Zavadksybr /> Managing Director
KPMG
President
Dr. Sandeep Das
UT Southwestern
Board Chair
Mark Sanders
Retired Executive
Leadership Succession Chair
Doreen Griffith
Grant Thornton
Members
Joe Brayton
Paragon
Jeff Buchanan
Toyota
Dr. Mark Chassay
BCBS of TX
Chris Chastain
Ernst & Young
Chris Clark
BKD
Jenny Cochran
Denbury
Sandeep Das
UT Southwestern
Jennifer Durbin
Commercial Metals
Igal Elbaz
AT&T
Fred
Retired Executive
Dr. Lanny Hall
UT Southwestern
Joe Jouvenal
McCarthy Building
John Levis
Deloitte
Howard Mudrick
Winstead PC
Jim Mutrie
Switchback
Stacy Nahas
KPMG
Sunita Koshy-Nesbitt
Texas Health Resources
Allen Nye
Oncor
Andrew Olowu
Axxess
Dr. Lori Rapp
Lewisville ISD
Donna Robinson
Change Healthcare
Dr. Jeffrey Schussler
Baylor, Scott & White Healthcare
Dr. Bharath Thankavel
Medical City Healthcare
Susan Wetzel
Haynes & Boone
Steve Woodward
Retired Executive
AHA Board President
Dawn Hui, MD
Associate Professor, Cardiothoracic Surgery
UT Health San Antonio
AHA Board Chair
J.K. Baxter
Senior Vice President
Machine Sales, HOLT CAT
AHA Leadership Development Committee Chair
Gary Dudley
President & Co-Founder
SWBC
Members
S. Hinan Ahmed, MD
lnterventional Cardiologist
Cardiology Clinic of San Antonio
Allen S. Anderson, MD, FACC, FAHA
Chief, Janey & Dolph Briscoe Division of Cardiology
Director of UT /UHS Heart and Vascular Institute
James Anderson
Chief Executive Officer
Bartlett Cocke General Contractors
John Archer
Director
Rogers-O'Brien Construction
Sasha Begum
Managing Partner
Begum Pelaez-Prada PLLC
Lee Birnbaum, MD
Director of Vascular Neurology
UT Health San Antonio
Gabriela Black
Partner & Tax Manager
Gonzalez & Black, PLLC
Adam R. Blanchette, MD
Neurohospitalist
Methodist Physician Practices
Patricia Burns
President
Christus Hospital-Westover Hills
Sandra Guerra, MD
Chief Medical Officer
Texas Health Action (Kind Clinics)
Jerry Hoog
Chairman of the Board
Bartlett Cocke General Contractors
Gary Joeris
Chief Executive Officer
Joeris General Contractors
Vanessa Mayfield,
Senior Vice President
Corporate Banking Frost Bank
Carlos Ochoa, Ill
Division Vice President
Cardiovascular Services
Methodist Healthcare
James Ogletree, MD
Vincent Real
President & Chief Executive Officer
Big State Electric
William B. Reeves, MD
Chairman
Department of Medicine
UT Health San Antonio
Christopher Sandles, MBA, FACHE
President, Hospital Operations
University Health
Brian Woods, Ed.D.
Superintendent
Northside Independent School District
Rachel Clingman
Chair
Executive Vice President
Chief Legal Counsel
McDermott International
T. Douglas Lawson
Board President
Senior Vice President
Divisional Operations and CEO
CHI St. Luke's Health, CHI
David Callender, MD
CEO
Memorial Hermann Health System
William Clayton
Vice President
Customer Care and Retention
Reliant Energy
Chuck Davidson
Venture Partner
Quantum Energy Partners
Bonnie Houston
Chief Administrative Officer
National Oilwell Varco
John King
Vice Chair – Assurance
EY Americas
Roderick Larson
President and CEO
Oceaneering International, Inc.
Jack B. Moore
Cameron International (Former CEO)
Sean Muller
Partner-in-Charge
Weaver & Tidwell, LLP
Daniel Penny, MD, PhD, MHA
Professor and Chief of Pediatric Cardiology
Texas Children's Hospital
Baylor College of Medicine
Esmaeil Porsa, MD, MBA, MPH
President and CEO
Harris Health System
James J. Postl
Pennzoil/Quaker State
(Former President and CEO)
Rupa Puttappa, MD, FACC
Cardiology Specialist
Kelsey-Seybold
Evan Ray, FACHE
Executive Vice President and Chief Administrative Officer
HCA Houston Healthcare
Luis Silva
Vice President and General Manager – South Texas
AT&T
Kimberly Gee Stith
Vice President and General Counsel
WM
Lee Tillman
President and CEO
Marathon Oil
Jim Trimble
President and CEO
Tanda Resources
Pam Wells, EdD
Executive Director
Wells Education Consulting, LLC
Kelly Youngblood
Executive Vice President and CFO
MRC Global
TJ Tijerina
Chair
President & CEO
First Community Credit Union
Spring
Jim Parisi
President
St. Luke's Heath
The Woodlands, Lakeside
And Springwoods Village Hospitals
Montgomery County
Ben Bentley
Executive Vice President
Kiewit & TIC
Montgomery County
Stacy Davis
Sr. Executive President
Chief Executive Officer
Stellar Bank
Northwest Harris County
Kerrie S. Guerrero, DNP, MBA, RN, NE-BC
Vice President
Chief Nursing Officer
Houston Methodist
The Woodlands
Misti Jeter
President & CEO
Black Pearl Technology
Casey Rhodes
Responsible Care Director
DOW Chemical Company
Dr. Ketrese White, DNP, MHA, RN, NE-BC
Senior Vice President
Texas Children's Hospital
The Woodlands
Matt Davis
Chief Executive Officer
HCA Houston Healthcare Conroe
Conroe
Jason Glover
Vice President, Operations
Memorial Hermann
The Woodlands Medical Center
The Woodlands, TX
Dr. Walter Jackson
Superintendent
La Porte Independent School District
Keaton Kainer
Vice President,
Healthcare Commercial Banking
Woodforest National Bank
Lonny Soza
President
The Post Oak Collection
Nicole Robinson Gauthier, CFRE
Executive Director
Lone Star College Foundation
Live Fierce City Champions
Bryan, College Station, Corpus Christi, Longview, Lubbock, Midland, Odessa, San Angelo, Tyler, and Waco communities
Phone: (866) 698-5420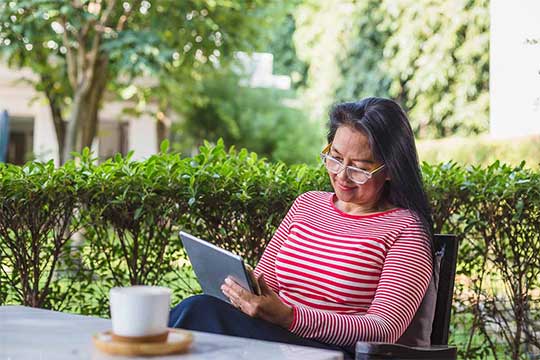 Heart and Stroke News
Find science-based stories about heart and brain health and inspiring survivor profiles from American Heart Association News.