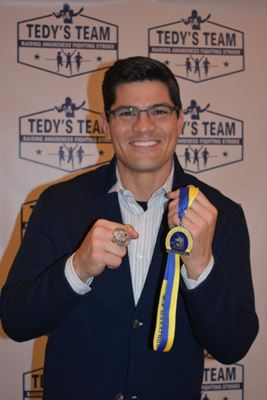 In 2005, New England Patriots Super Bowl Champ, Tedy Bruschi, suffered a stroke, at the age of 31, just weeks after winning his third Super Bowl and days after returning from playing in the Pro Bowl in Hawaii. Bruschi woke up in the early morning hours of February 15, with his fists clenched and arms raised, experiencing an "odd" feeling in his left arm and leg. Trying to get out of bed, Bruschi fell down and had to crawl to the bathroom. His equilibrium was off, his left side was numb, his muscles were weak, and his head ached.
Still, because pain was part of Bruschi's life as a professional athlete, he tried to shrug off the discomfort. "I thought it was from the Pro Bowl two days before," Tedy remembers. "It never occurred to me something was really wrong." He took some Tylenol and tried to fall back asleep. Heidi spoke to her father (a physician's assistant in Arizona) at 10 a.m., Bruschi was getting scared. He had "the worst headache ever," and when his son entered the bedroom, Bruschi couldn't see him until he appeared on Bruschi's right side.
At Massachusetts General Hospital, Bruschi was stabilized to prevent another stroke. A CT angiogram showed the major blood vessels leading to his brain weren't blocked, but an MRI showed that Tedy had suffered an ischemic stroke in the back, right side of his brain. An echocardiogram revealed that Bruschi—like 25–30 percent of the population—had what is called a patent foramen ovale, a hole in the heart that allows blood to pass between the atria, or upper chambers of the heart. In Bruschi's case, this hole contributed to his stroke.
Leaving the hospital after three days of observation, diagnostic testing, and treatment, Bruschi was experiencing vision and coordination problems, but he had survived. A surgical procedure was scheduled to repair his heart by sealing the patent foramen ovale. As he recovered, Tedy committed himself to being an advocate, spokesperson, and inspiration for stroke and heart disease survivors in our area.
Tedy and his wife, Heidi, created "Tedy's Team" and met with the American Stroke Association to help him make an impact. Tedy's Team started out as a group of runners raising money for the American Stroke Association and training to complete such events as the Boston Marathon® and the Falmouth Road Race.
As of 2018, Tedy's Team is now it's own 501c3 registered in the Commonwealth of Massachusetts and it is dedicated to raising awareness of stroke and heart disease while supporting survivors on their journey, giving them the means for a comeback.
Still a vital collaborator with the American Stroke Association, Tedy's Team has committed to continue raising funds that support ASA as well as raising funds for their own programs, which ASA is proud to help promote. For more information on those programs and the endurance events they participate in, please see www.tedysteam.org or contact Elizabeth Perry Tirrell at [email protected].
---
Stroke Warning Signs:
Stroke is a medical emergency. Know these warning signs of stroke and teach them to others. Every second counts!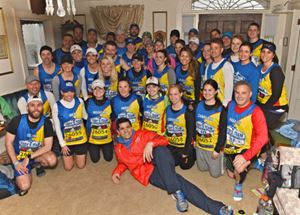 Sudden numbness or weakness of the face, arm or leg, especially on one side of the body.
Sudden confusion, trouble speaking or understanding.
Sudden trouble seeing in one or both eyes.
Sudden trouble walking, dizziness, loss of balance or coordination.
Sudden, severe headache with no known cause.
Call 9-1-1 immediately if you experience symptoms! Time lost is brain lost!
Connect with Tedy's Team on Facebook, Twitter and Instagram or follow #tedysteam.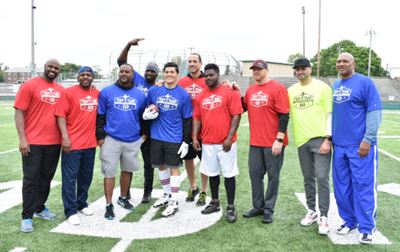 ---