STEPS Kicks Off in Harvard Park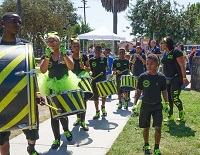 A drum squad known as "Drummers With Attitude" led the inaugural walk around Los Angeles' Jackie Tatum Harvard Park to kick off an innovative program that invites community members to get to know some of the police officers who patrol their neighborhood by taking a stroll together.
The initiative is called Community STEPS, short for Strategic Dialogue That's Empowered by Public Safety.
More than 700 community members joined Los Angeles Police Department officers for a day of activities that included a 40-yard dash competition, a tennis clinic and a basketball skills competition as part of the Sept. 9 event. Free health screenings, including blood pressure, cholesterol and body mass index, were available to attendees. Small trees and shrubs were offered to participants to take and plant at home, while the "Adopt a Cop" tent allowed people to interview their neighborhood police officers and get to know them on a much more personal level.
The STEPS program is the brainchild of Eric Batch, the American Heart Association (AHA) Western States Affiliate Vice President of Advocacy.
"The STEPS program goes right to the intersection of 'Community and Health.' One of the best things that the AHA has to offer is our message of being physically active, and STEPS does this by bringing the police and community together." Eric says. "This program has enormous potential and we are already seeing some very positive early results."
The STEPS program came about as a result of a challenge issued a year ago by AHA CEO Nancy Brown. The "Culture of Health Community Innovation Challenge" attracted 110 submissions from across the country. The prize? A $100,000 budget toward implementation of a replicable initiative that could be a catalyst for improving health in local communities.
The STEPS initiative was selected, and the AHA, the Los Angeles Police Department, the Department of Recreation and Parks and the Urban League joined forces to bring the vision to life.
Subsequent walks around the park, sans the drum squad, will take place biweekly, at 9 a.m. on Saturdays.
---